Newsmax Amps Up Victimhood Over DirecTV Cancellation
Topic: Newsmax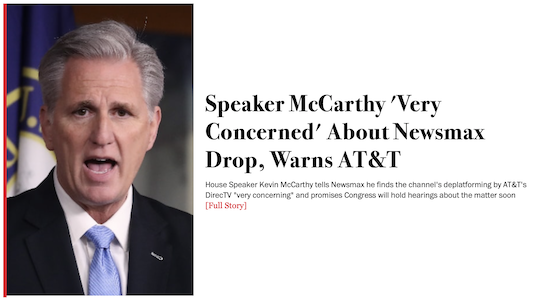 Newsmax knows from its years in right-wing politics how to play the victim, and it's very much doing that after DirecTV dropped it from its lineup in a dispute over licensing fees, calling in every Republican politican and right-wing activist to complain about it. Newsmax continued to rack up those conspiratorial complaints last weekend -- including demands for federal investigations -- over just Jan. 28-31 alone:
There's also no explanation of how demands that the government harrass DirecTV for dropping Newsmax comports with conservative principles of keeping the government out of private business.
Newsmax has also set up a website filled with its talking points to encourage its viewers to harass DirecTV and its AT&T parent , including the demonstrable lie that "DirectTV wants to silence conservative voices in favor of liberal channels." In fact, DirecTV replaced Newsmax with another right-wing channel, The First, so there is in fact no "censorship" of right-wing views happening as a result of Newsmax's removal.
By our count, Newsmax has published at least 56 articles attacking DirecTV in the week after being dropped, and no articles that gave DirecTV a chance to defend itself. That campaign of hate doesn't seem very fair or balanced -- and perhaps justification that DirecTV made a sound business decision.
Newsmax also had columnists weight in as well. James Hirsen used his Jan. 30 column to peddle the corpporate argument that "a host of channels that are filled with radical-left programming are still readily available to DirecTV users, even though viewing audiences remain in short supply," though he named only one:
One of the outlets with an extreme left-wing agenda that is allowed to freely prattle on is Vice Media. The channel is a virtual promoter of the trademark liberal political violence that has been witnessed over the past several years.

Not only does Vice Media get to remain on the platform, it turns out that it is being subsidized financially by a managing owner of DirecTV.

Newsmax has experienced tremendous growth precisely because it continues to deliver to audiences the content they consitently seek; information largely denied to them elsewhere.
Hirsen named no examples of the "extreme left-wing agenda" purportedly beingpushed by Vice Media., nor did he admit that DirecTV replaced Newsmax with another right-wing channel. Instead, he went conspiracy-mongering in an attempt to link DirecTV to the hot new cause on the right, attacking ESG investing:
House committees may be taking a closer look at an entity called TPG Capital.

This is a private equity fund that reportedly owns a 30% stake in DirecTV and also appears to oversee the cable company's operations.

A few more details:

TPG Capital is the private equity arm of the global asset firm TPG, which has fully adopted a woke-oriented agenda referred to in the business world as Environmental, Social and Governance (ESG).

ESG is a sort of measuring tool to gauge whether or not business organizations are sufficiently onboard with the woke agenda in order to qualify for financing and other advantages that equity firms provide.

[...]

The politics of those at the top rung of TPG are of the ultra-liberal kind.

TPG's executives have given Democratic candidates 90% of their political donations. The private equity firm has also subsidized the aforementioned far-left news network Vice Media to the tune of hundreds of millions.
Hirsen did not explain how giving to Democratic candidates made one "ultra-liberal."He concluded by ranting that Congress needs to act fast to rescue free speech from the clutches of the stealth partners in the censorship battle" even though, again, no viewpoints have been "censored." He also completely censored the fact that this is a business dispute about licensing fees that Newsmax is demanding but DirecTV decided it didn't want to pay.
Posted by Terry K. at 2:53 PM EST
Updated: Friday, February 3, 2023 4:33 PM EST