MRC's Pelosi Derangement Syndrome Lingers On
Topic: Media Research Center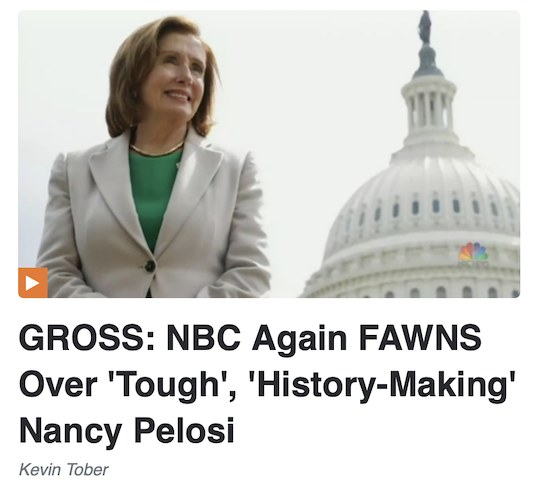 The Media Research Center continued to have fits of Nancy Pelosi Derangement Syndrome as she wound down her tenure in House leadership, raging that anyone was saying nice things about her. First a few more from immediately after the midterms:
Weeks after Pelosi's announcement, though, the MRC was still lashing out at her. Tim Graham spent part of his Dec. 21 podcast raging over a tiny provision in the recently passed omnibus spending bill: "The networks are urging everyone on board with the latest $1.7 trillion omnibus spending bill, and no one needs to read its 4,155 pages. Just vote yes. For any Republicans to argue against this newest deluge of many billions is apparently horrendous. What we're going to get is more opportunities for a Speaker Pelosi Federal Building in San Francisco and a Michelle Obama Trail in Georgia."
The MRC continued to melt down over any coverage of Pelosi that wasn't hostile. Tober groused in a Jan. 3 post:
On Tuesday, which saw the official kick-off of the 118th Congress, NBC Nightly News dedicated their last segment usually reserved for superficial human interest stories to fawn, gush and drool over now-former Speaker of the House Nancy Pelosi,and what Capitol Hill correspondent Ali Vitali described as being "famous for her toughness and deep understanding of her caucus."

Before turning to Vitali, anchor Lester Holt swooned over Pelosi's "lasting impact on the women who have come to Washington." From there, Vitali took over the Pelosi stenography. "Ask these Democratic lawmakers about House Speaker Nancy Pelosi and it doesn't take long for the Pelosi-isms to start flowing," Vitali said before turning to three Democrat members of Congress who were lined up to cheer on Pelosi with her:
Alex Christy served up his own grumbling in a Jan. 6 post: "CNN's Chris Wallace travelled to CBS's The Late Show on Thursday to discuss his career, the new season of Who's Talking To Chris Wallace, and the on-going drama in the House of Representatives. While Colbert argued the Speaker battle is proof that God exists, Wallace argued it proves Nancy Pelosi was a genius."
Graham returned for a Jan. 23 post raging over even more non-negative coverage of Pelosi:
How much does The New York Times look like a partisan Democrat rag? Look no further than the yoooge 3,700-word Nancy Pelosi puff piece on the front of the Sunday Opinion section (and two entire pages inside) by Maureen Dowd. You could see the massive color photo on the outside, and a massive color photo on the inside, with Pelosi posed primly outside the "Speaker Nancy Pelosi Caucus Room."

The most preposterous sentence in the whole thing is Dowd claiming "She never won over pundits, as Tip O'Neill did, despite accomplishments to match his." Pundits especially loved her under Trump. The Time columnist enjoyed lunch with Pelosi at the hoity-toity Four Seasons Hotel, and Dowd touted her religiosity:
When Wallace did an interview with Pelosi, Graham raged about that too the next day:
How bad could the Chris Wallace talk show on CNN be? Could it be as liberal-leaning as their longtime star Larry King? It certainly looked like it when Brent Baker tweeted out the promo for last Sunday night's edition of Who's Talking to Chris Wallace? It looked more like Who's Chris Wallace Flattering?

[...]

This came in the second half of the Wallace interview. He came out of commercial insisting "Whether you agree with her politics or not, there is no denying Nancy Pelosi has been one of the most effective politicians in Washington for the last two decades. I picked up our conversation asking the former speaker how she's done it."

You can tell that Alexandra Pelosi's dearest-mommy documentary is clearly part of the Pelosi PR packet, as Alexander was featured heavily in the Maureen Dowd puff piece in Sunday's New York Times. Wallace played a clip of Pelosi playing hardball with a Democrat as they passed "Obamacare" in 2010. Then Wallace played a clip of Pelosi talking in the documentary about never tiring in a negotiation.
We've documented how the MRC labored to trash the Pelosi documentary.
Imagine hating someone so thoroughly and viciously that even seeing the smallest bit of positive coverage of that person sends you into fits of partisan rage. That's the space Graham and the MRC are in with Pelosi right now.
Posted by Terry K. at 8:36 PM EST