Newsmax Goes Full Victim After Getting Dropped By DirecTV
Topic: Newsmax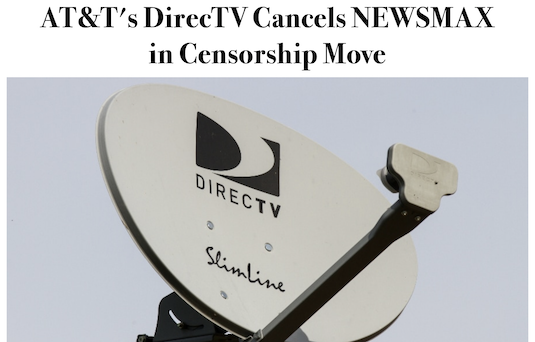 There's nothing right-wingers like to do better than play victim when they feel even the least bit slighted. So when satellite provider DirecTV dropped Newsmax TV from its lineup last week in a dispute over carriage fees that Newsmax demanded and DirecTV didn't want to pay -- admittedly, a fairly large slight -- so it has been calling in all the favors it can to help it act like a victim of "censorship" (even though Newsmax is available though other means such as streaming platforms). An anonymously written Jan. 25 article started the squealing:
At midnight Tuesday, AT&T's DirecTV cut Newsmax's signal, immediately shutting the network off from more than 13 million customers of the satellite service, DirecTV Stream, and U-Verse.

This is the second time in the past year AT&T has moved to cancel a conservative channel, with DirecTV deplatforming OAN in April.

Despite Newsmax being the 4th highest-rated cable news channel in the nation, a top 20 cable news channel overall, and watched by 25 million Americans on cable alone, according to Nielsen, DirecTV said it was taking the step as a "cost-cutting" measure and would never pay Newsmax a cable license fee.

DirecTV pays cable license fees to all top 75 cable channels and to all 22 liberal news and information channels it carries. Almost all of these channels are paid hefty license fees significantly more than Newsmax was seeking — and despite the fact that most of the channels have much lower ratings than Newsmax.

"This is a blatant act of political discrimination and censorship against Newsmax," Christopher Ruddy, CEO of Newsmax said.

"The most extreme liberal channels, even with tiny ratings, get fees from AT&T's DirecTV, but Newsmax and OAN need to be deplatformed," Ruddy added.
The article did not name those "22 liberal news and information channels" DorecTV continiues to carry, suggesting that the number may be a bit inflated. The article then tried to reframe the situation in its favor by accusing DirecTV of lying:
As news reports indicated the likelihood of a Newsmax deplatforming Tuesday night, DirecTV representatives made false claims to the media about Newsmax and its negotiations.

DirecTV falsely claimed to media outlets that Newsmax is asking for a fee but still wants to keep a free stream on OTT platforms (over-the-top service is a type of service offered directly to viewers).

But this is false; no operator pays a fee while Newsmax streams free and DirecTV was fully aware the free stream will end this year.

"We've discussed with Newsmax on several occasions that we'd like to offer their programming, however, the network is now seeking significant fees that we cannot pass on to our broad customer base," a DirecTV representative claimed in a statement.

But an analysis shows that Newsmax was seeking a fee with a 75% discount to its market value, and compared to fees currently paid by DirecTV, almost all 50 channels below Newsmax in ratings get higher fees.
Newsmax did not make this alleged analysis publicly available, making it impossible to verify its claim. Newsmax was certainly not going to ask DirecTV for a comment.
The article also added that "AT&T DirecTV's decision to drop OAN and Newsmax comes on the heels of a February 2021 letter written by Rep. Anna Eshoo, D-Calif., and then-Rep. Jerry McNerney, D-Calif., demanding that cable and satellite TV providers explain their alleged role in the 'spread of dangerous misinformation' by carrying conservative networks." But it did not admit that Newsmax and OAN did, in fact, spread misinformation about the 2020 presiential election -- specifically, repeated false attacks on election tech company Dominion -- over which Dominion has sued Newsmax and OAN. Newsmax eventually reached an out-of-court settlement with a Dominion executive who faced threats as a result of the false reporting, so yes, one can consider that misinformation quite dangerous.
Newsmax also failed to tell readers that this particular channel slot would continued to be occupied by a right-wing channel; DirecTV replaced Newsmax with The First, whose biggest name is disgraced ex-Fox News host Bill O'Reilly.
Over the next few days, Newsmax seemed to devote a significant amount of its programming to whining about being dropped by DirecTV and soliciting comment from other right-wingers, if the articles and clips posted on its website are any indication -- where threatening DirecTV owner AT&T with government harrassment and boycotts was also a theme:
Given that Newsmax is effectively Trump TV -- and Trump is Morris' current meal ticket -- it was inevitable Trump was brought in. Both Donald Trump Jr. and Lara Trump were given space for their opinions, as well as a rant from The Donald himself:
Former President Donald Trump Wednesday night joined the outcry against AT&T DirecTV's removal of Newsmax from its satellite and cable systems, calling it "disgusting" and saying that the move was a "big blow to the Republican Party and to America itself."

In a post on his Truth Social, Trump wrote:

"WOW. AT&T DIRECTV REMOVES NEWSMAX FROM ITS CHANNEL LINEUP. This disgusting move comes after "deplatforming" OAN last year. The Radical Left seems to have taken over the mind and soul of AT&T. This is a big blow to the Republican Party, and to America itself."

Trump continued: "For DIRECTV to drop very popular NEWSMAX, without explanation, will not be accepted. I, for one, will be dropping all association with AT&T and DIRECTV, and I have plenty. This is just one of many reasons why we must WIN IN 2024!!!"
Very few, if any, of these articles, mentioned that DirecTV replaced Newsmax with another right-wing channel -- probably because admitting that fact would blow up the "censorship" and "cancel culture" arguments its commentators were making.
Speaking of which, Newsmax also got mad that Twitter did a fact-check exposing the controversy as the business dispute it is. The apparently uniroinically named Charlie McCarthy huffed in a Jan. 26 article:
Twitter has added what it claims is a user-generated context description to at least one tweet concerning DirecTV's decision to drop Newsmax from its service.

Rep. Elise Stefanik, R-N.Y., tweeted Wednesday afternoon that "it would be unacceptable to de-platform Newsmax, a popular news channel that many of my constituents in #NY21 depend on for news." She also attached Newsmax's story reporting on DirecTV's move.

Stefanik's post now includes a gray-shaded box with a bold headline: "Readers added context they thought people might want to know."

"Newsmax wasn't cancelled, as it can be streamed for free on YouTube and directly on Newsmax.com still," the box's text reads. "DirecTV and Newsmax couldn't reach an agreement on the new rights or licensing fees after they were free for years."

The context verbiage included links to two stories (Newsweek, Daily Beast) and a link to Newsmax's YouTube page.
Even McCarthy couldn't argue with that. Still, he uncritically repeated his employer's talking point that "DirecTV continues to carry 22 liberal news channels, many with low ratings and all get paid hefty license fees" without naming those channels or listing the "hefty license fees" they supposedly receive.
Posted by Terry K. at 1:50 PM EST
Updated: Tuesday, January 31, 2023 6:14 PM EST