MRC's Double Standard On President Classified Document Scandals
Topic: Media Research Center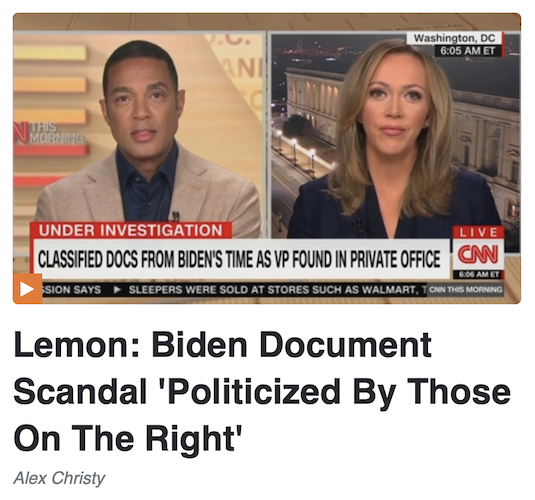 After the FBI raid on Donald Trump's Mar-a-Lago to retrieve numerous classified documents that he had refused to return despite repeated requests from the National Archives, the Media Research Center was slow to respond to the story, then quickly moved into defense-and-deflection mode. When a handful of classified documents were discovered among Joe Biden's papers at private offices outside the White House and his Delaware home -- which, in contrast to Trump, he immediately returned when they were discovered -- the MRC moved exponentially faster and immediately went into full pounce mode. A Jan. 9 post by Kevin Tober kicked things off, with the usual MRC complaint that non-right-wing media was failing to embrace right-wing narratives -- and, even worse, pointed out that the Biden and Trump situations were different:
On Monday afternoon, CBS was given an exclusive that revealed that classified documents were found at President Biden's private office at the Penn Biden Center in Washington D.C. After the amount of handwringing and nonstop negative coverage of the news that Trump had classified documents at his home in Mar-a-Lago, you would think the media would take this story seriously. Predictably, they sought to downplay the news and deflect blame from Biden and distance him from any comparisons to what happened with Trump's storage of classified documents.

[...]

Meanwhile, on CBS Evening News, national correspondent Adriana Diaz ran to former federal prosecutor Scott Fredericksen to get assurance that what Biden reportedly did was different from what Trump was accused of.

"How significant is it that these documents were self-reported, and voluntarily turned over?," Diaz asked.

Predictably, Fredericksen let Biden off the hook by explaining "the self-reporting here is probably the single most important part of this situation. It indicates a lack of intentional conduct. It's completely different from the Mar-a-Lago case, which tends, based on reporting, to indicate there was intentional activity to take those documents."

Yes, so "predictable" to point out differences between the two.
A couple hours later, Tober found someone to peddle a conservatively correct narrative:
On CNN's Anderson Cooper 360, senior political commentator Scott Jennings slammed President Joe Biden over his reportedly mishandling classified documents at his private office at the Penn Biden Center in Washington D.C. What made this revelation especially rich was the fact that Biden was so outraged at former President Trump allegedly having documents marked classified at his home in Mar-a-Lago. Jennings even got in a Michael Scott reference during his Monday night appearance.
The pouncing continued in full force the next day:
Curtis Houck, meanwhile, served up the requisite daily take that right-wing media aren't sounding like Fox News:
Along with the Monday night network evening newscasts, the Tuesday morning broadcast network news shows tried to dial back the heart rates of liberal viewers by insisting there's no there there to classified documents being found in the Washington D.C. office of President Biden's University of Pennsylvania think tank. Instead, it was a case of Republicans "pounc[ing]" despite "key differences" between Biden and what they hope to be the jailing of former President Trump for classified documents found in Mar-a-Lago.

And predictably, none of them mentioned how the Penn Biden Center has received over $50 million in money from communist China.
In a Jan. 11 post, Christy looked at the reaction of late-night comedy hosts, complaining in particular that Jimmy Kimmel pointed out that "for the MAGA crowd, this was like Christmas and the McRib coming back at the same time." Other coverage complaints continued, again largely focused on non-right-wing media not attacking Biden like right-wing media would (and did):
Tim Graham's Jan. 11 podcast pretended that the "liberal media," not right-wingers, are the one with the real double standard:
CBS broke the news on Monday that Biden's lawyers disclosed they have discovered classified documents in an office at the University of Pennsylvania's Biden Center in the nation's capital. The "roughly 10" documents are from President Biden's vice-presidential office at the center, which opened in 2018.

This triggered serious news coverage....and a rash of comparisons suggesting Joe Biden couldn't possibly be half as careless with classified information as Donald Trump. Journalists implied Biden's a seasoned professional who understands national security, while Trump is the King of Recklessness. On NPR and other networks, they insisted you couldn't compare these two incidents "apples to apples."

NPR media reporter David Folkenflik argued "There really haven't been a ton of scandals during the Biden presidency affecting Joe Biden himself, beyond his troubled son, Hunter. So consider it a little bit of a media test case." Just like they said for Obama, there aren't many Biden scandals...because they're not looking for any Biden scandals. After all, it was NPR that insisted in the last weeks of the 2020 campaign that any focus on Hunter Biden was a "pure distraction."
Fact check: Right-wing media, including the MRC, have been pushing attacks on Hunter Biden precisely because they are a distraction from everything Trump (whom the MRC will never completely repudiate, despite instigating a violent insurrection).
Meanwhile, Fondacaro unironically ranted:
On Thursday morning, news broke that the second batch of classified documents President Biden took when he was vice president was found in the garage of his Wilmington, Delaware home, next to his Corvette. And conspiracy theories flew around the set of ABC's The View as the co-hosts whine about how these documents just appeared, with some apparent suggestions that Republicans were "behind" them getting into the garage and the President's former office at the Penn Biden Center.
Fondacaro somehow forgot mention that Trump himself accused the FBI (or, at least, the "Marxist thugs" therein) of planting those classified documents at Mar-a-Lago. You'd think he'd acknowledge there's precedent for such a view, but we know Fondacaro is not an honest guy.
The MRC did find a couple instances of non-right-wing outlets sounding sufficiently like Fox News to be worth promoting:
But it still found other instances of non-Fox-News media behavior to complain about:
P.J. Gladnick, meanwhile, got assigned the duty of complaining that Republican (and MRC) double standards on possession of classified documents were being called out:
ABC News appears to be in such a state of urgency to defend Joe Biden in the wake of the documents scandal that they regurgitated a term that was thought to have been mocked out of existence. The worn cliché, "Republicans pounce" or as the title of ABC News reporter-producer Ben Gittleson's story put it on Wednesday, "GOP pounces," as you can see in "Biden leaves questions unanswered on classified documents, as GOP pounces."

[...]

If Gittleson did not write the title to his story, then he needs to warn the editor who did to never again use the "GOP pounces" in a title since it has long ago become a worn cliché that now only serves as a red flag for mocking any article using that term. Even its replacement "Republicans seize" has already become another cliché.

Perhaps Gittleson and his ABC News editors should consult the thesaurus for a suitable replacement. "Republicans swooped." That could work... but only for a brief time until it joins "GOP pounces" and "Republicans seize" in the stale cliché category.
Despite whining about the phrasing, Gladnick did not dispute that Republicans are exhibiting a double standard.
Posted by Terry K. at 7:44 PM EST
Updated: Tuesday, February 7, 2023 8:22 PM EST