Without New 'Twitter Files' To Promote, MRC Engages In Musk-Fluffing
Topic: Media Research Center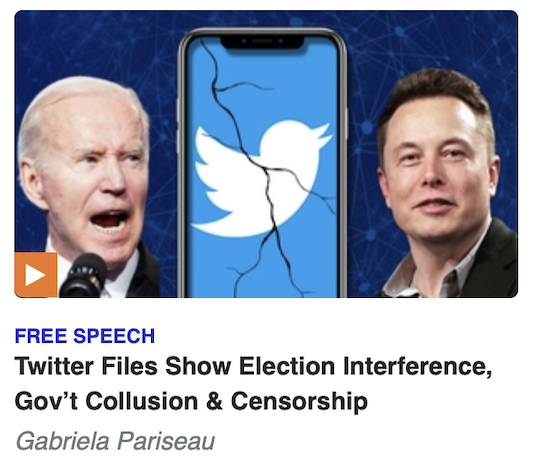 The Media Research Center's electively released "Twitter files" to Elon Musk's hand-picked journalists continued with a Jan. 16 post by CatherineSalgado declaring that "The latest Twitter Files showed Big Pharma "directly" pressured Twitter to help censor users offering any alternative treatments to COVID-19 besides Big Pharma's vaccines." Salgado didn't mention that "alternative treatments" like hydroxychloroquine and ivermectin don't really work in treating COVID.
After that was a bit of a fallow period. Even without any new selectively released "Twitter files" to promote, the MRC's Elon Musk stenography continued with Gabriela Pariseau being stuck summarizing previous releases in a Jan. 16 article:
The Twitter Files have uncovered the internal mess that Twitter has become over the last six years as the company has interfered in American elections, directly colluded with federal government agencies and censored Americans.

Thanks to new Twitter owner Elon Musk, some of the platform's past misgivings have been laid bare for all to see. To date, 15 Twitter Files have been published by 6 nonpartisan journalists. Musk's release of the Twitter Files has given us a closer look at what exactly happened when the platform mass-censored the Hunter Biden laptop story, interfering in the 2020 election. The files have revealed Twitter's deep entanglement with numerous federal government agencies and how those agencies used Twitter to censor speech that they themselves could not. Finally, the files pulled back the curtain on Twitter's internal conversations about censorship and complete disregard for free speech.

"Twitter did everything they could to deliver the 2020 election to Joe Biden," said Media Research Center President Brent Bozell. "Now we need Congress to investigate the rest of Big Tech and uncover the same for Facebook, Google, and the rest."
Neither Bozell, Pariseau nor the rest of the MRC has ever questioned why nearly all the files Musk has selectively release conveniently advance right-wing narratives against "big tech," or why Musk doesn't give those "Twitter files" to journalists who aren't right-wingers -- they're just happy to be subservient to Musk and advance those narratives.
The next day, Autumn Johnson cheered that a class-action lawsuit by former Twitter employees was dismissed, supporting the idea they deserve to have to be forced to go through arbitration:
A federal court judge ruled on Friday that five former Twitter employees from the old censorship-obsessed regime must pursue their claims against the company in arbitration.

The layoffs, which heavily impacted the platform's content moderation team, were part of Musk's changes to save the company money while turning the platform into one that supports free speech. However, five former employees disputed Musk's terms for severance pay and alleged he failed to provide adequate notice before the layoffs, according to The Verge.

[...]

Twitter employees from the pro-censorship regime have to realize they can't always get their way as many content moderation and Trust and Safety employees formerly did, according to the Twitter Files.
Geoffrey Dickens served up yet another complaint that non-right-wing media are not obsessing about this right-wing-bubble story:
The bombshells from the Twitter files keep on coming, yet the liberal media elite keep ignoring them. Last month when Tesla founder and Twitter owner Elon Musk began tweeting out former Rolling Stone editor Matt Taibbi's explosive reporting on how Twitter (under pressure from government agents) suppressed the New York Post's Hunter Biden laptop story in the final days before the election.

[...]

Of course the tiny amount of network coverage of the Twitter files story does a disservice to the scope and depth of Taibbi's reporting on how the government forced Twitter to censor the Hunter Biden laptop scandal.
Note how Dickens describes Taibbi as a "former Rolling Stone editor" in an attempt to create some sort of mainstream credibilty for him, even though any association with Rolling Stone -- as well as his history of being a sexist creep -- would be mentioned only in a disparaging way if Musk ever allowed him to report on "Twitter files" that didn't advance right-wing narratives. (Also, Musk was not the founder of Tesla.)
Johnson had more pro-Musk stenography to crank out, this time in the service of bashing an organization of "elitists":
Independent journalist Michael Shellenberger said Tuesday that Elon Musk's purchase of Twitter is a significant obstacle to the radical World Economic Forum's agenda.

Shellenberger, who has reported on batches of Twitter Files exposing the FBI exerting pressure on Twitter's censorship operations, joined Blaze Media podcast host Glenn Beck to discuss the pro-free speech changes Musk has made to Twitter since he acquired it last year, including an end to one-sided censorship.

"He's basically said ordinary people should be on an equal platform...and we should stop censoring ordinary folks because the elites demand it," Shellenberger said on the Jan. 17 edition of The Glenn Beck Program, referring to elitists in organizations like the World Economic Forum (WEF).

The WEF is a leftist organization that promotes Orwellian initiatives, such as the "recalibration" of "free speech" online. The WEF is also the same radical organization that legitimized an insane idea of microchipping children.
Pro tip for Johnson: If Schellenberger is Elon Musk's errand boy and running to right-wing radio host to uncritically repeat those errands in a forum where he knows he will get only softballs and will not be seriouslly challenged, he's not an "independent journalist."
P.J. Gladnick spent a Jan. 19 post raging that someone said something less than laudatory about Musk:
On Tuesday, New York magazine published a looooooong hit piece on what a horrible boss Elon Musk supposedly is at Twitter yet the biggest revelation was its admission that it favors censorship. This admission by the authors Zoë Schiffer, Casey Newton, and Alex Heath appeared innquot;Twitter's staff spent years trying to protect the platform against impulsive ranting billionaires — then one made himself the CEO."

Before getting around to slamming Musk, the New York authors celebrated the early free speech era of Twitter before absurdly claiming it was somehow ruined by Orange Man Bad.

[...]

So just one man, the "tyrant" Donald Trump, caused Twitter to give up on free speech and embrace censorship.

And this was the reason that Musk bought Twitter; to return to its era of free speech by ditching the censorship which was blamed on Trump. For this embrace of free speech, Musk earned the derision of New York magazine -- including the bizarre charge that although he approves free speech for the platform, he disapproves of it in the workplace, when he was letting go of staff who liked everything censorious:
When the article pointed out Musk's tyrannical treatment of Twitter employees, Gladnick huffed in response: "Psst! It's a private company owned by Elon Musk. A lot of bosses have rules for the office that have nothing to do in relation to how it treats the customers or, in this case, the Twitter users." We don't recall anyone at the MRC offering the "it's a private company" defense to Twitter before Musk bought it.
Gladnick even defended Musk and his lackey Taibbi publishing the names and emails of now-former employees involved in communications with government officials as part of the "Twitter files" releases, which resulted in harassmsent and abuse targeting them: "The names but not the homes or phone numbers were revealed. Hardly the doxxing as practiced by Taylor Lorenz." In fact, as we've documented, Lorenz identified the operator of the hate site Libs of TikTok, Chaya Raichik, through publicly available information, and only briefly linked to her real estate license that included an address and employer, which was also publicly available. Gladnick didn't explain why such publicly available information was off limits.
Posted by Terry K. at 8:50 PM EST
Updated: Sunday, February 12, 2023 10:35 PM EST