MRC Can't Stop Defending Melania Trump
Topic: Media Research Center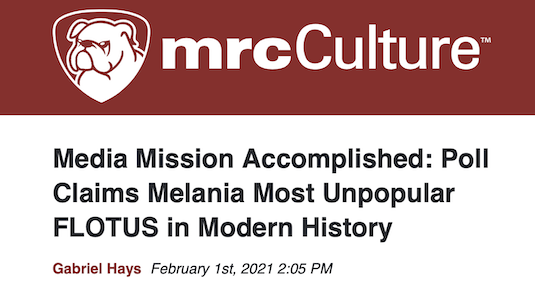 The Media Research Center was such a safe space for Melania Trump that it couldn't get outraged over the surfacing of her nude photos, which would likely have gotten her labeled as a slut had she not been married to a Republican presidential candidate (and later president). On her way out the door, the MRC was defending her -- and it still is.
Gabriel Hays whined in a Feb. 1 post:
Former First Lady Melania Trump can't ever catch a break. According to a new poll, Donald Trump's wife has been labeled the least popular first lady in history. Of course we all know it has much less to do with Melania than with a media whose unhinged hate for her husband sloshed over the entire family.

The CNN poll, published in January, found that only 42% of people polled found favor with the First Lady at the end of her tenure. Not only was that the lowest approval rating of her time under the title, but according to the outlet, it was the lowest rating among First ladies in the history of the poll.

According to popculture.com, which published the findings of the CNN survey, Michelle Obama departed the White House with a 69% favorable rating, Laura Bush at a 67% favorable rating, and Hillary Clinton at a 56% favorable rating. Compared to those numbers, Melania's measly 42% meant she practically left the White House in disgrace.

But the real story is that Melania received much the same press treatment that painted her husband as the literal worst president in American history. This hostility, which she herself has called "shameful," no doubt contributed to her low favorability. Most first ladies who've kept as low a profile as Melania haven't been targets. (Hillary Clinton, elected to nothing at the time, stepped into the policy arena in the first year of her husband's administration. Michelle "I've never been really proud of my country before" was the lefty media's fantasy FLOTUS.)

As Fox News Contributor Joe Concha said, Melania was "treated the worst of any first lady we've seen in the modern era."
Hays whined that Michelle Obama got more fashion shoots than Melania did, not-so-subtly suggesting that Melania deserved it more because she's better-looking:
Another over-the-top display of bias towards Melania Trump involved fashion magazines like Vogue snubbing the former supermodel from its cover shoots, but putting First Ladies like Michelle Obama on the cover of its fashion magazine on multiple occasions. InStyle acknowledged that Obama graced the cover three times over the years, though reported that the Vogue's editor-in-chief, Anna Wintour, admitted they'd never put Trump on the cover in the near future.

Of course beauty is in the eye of the beholder, but when Michelle Obama gets Vogue three times during her time as First Lady and a former supermodel-turned First Lady can't get even a spread in Home & Garden, then you know the media has it out for her. It's fair to say that making the beautiful Melania look bad in the public eye was their goal and the poll proves they tried their damndest.
Of course, Hays gets paid to make non-conservatives like Michelle Obama look bad in the public eye, so he's just projecting here.
Tim Graham similarly whined in his Feb. 19 column:
Melania Trump began her tenure as First Lady behind the Eight ball. First, the liberal media always adores First Ladies who are Ivy League-educated lawyers or career educators, not just – ick – wives. Second, Melania Trump's beauty was deployed against her: she was seen as "arm candy," a "trophy wife." She resisted any attempt at public affection for the cameras. Comedians mocked their marriage, insisting she wanted to claw out of it, like it was a prison. She didn't go for magazine cover articles or go "out and about in Washington" for fear of all the poison pens.

The same media outlets who treated the Trump marriage as a cynical ongoing negotiation lunged to portray Bill and Hillary Clinton as an inspiring romance, a baby-boomer Belle and the Beast.
Of course, part of the MRC's right-wing agenda over the past few decades was to denigrate both Hillary and Michelle, so he's projecting too.
Posted by Terry K. at 3:27 PM EST