Newsmax Still Getting Defensive Over Its Biased Reporting
Topic: Newsmax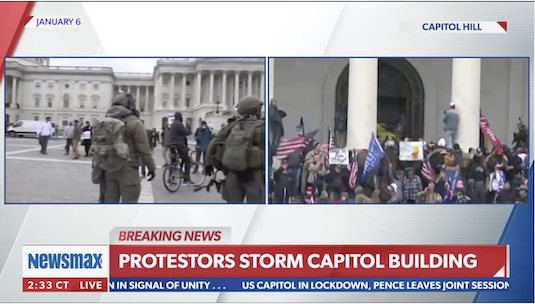 Newsmax got busted parroting Donald Trump's bogus claims about the election being stolen from him, and it seems to have left a mark, because it's gotten quite defensive about it.
In a Feb. 17 article on Dominion Voting Systems suing MyPillow guy Mike Lindell for defamation, Newsmax tried to distance itself from the controversy (and avoidgetting sued by Dominion itself):
The suit is the latest in a series of multibillion-dollar court actions taken by voting machine companies against high-profile supporters of Donald Trump, including Rudy Giuliani and Sidney Powell, claiming they spread disinformation about voter fraud.

Newsmax received a letter from Dominion in late December threatening litigation.

While Newsmax covered and reported on allegations made by President Trump and his attorneys, it never claimed such allegations were true. Newsmax published and aired several stories and reports sharing Dominion's response to the President's allegations.

To further clarify its position, and before any legal action was threatened against it, Newsmax stated that it had had found no evidence that Dominion manipulated voting software during the 2020 election.
As we've pointed out, Newsmax did, in fact, present those claims without question, never subjecting them to the kind of fact-checking one would expect from a legitimate news organization -- thus implying to its readers that the claims are true -- and it wasn't until Newsmax received a cease-and-desist letter from another voting firm, Smartmatic, that Newsmax unequivocally stated that the claims were false.
In a Feb. 22 article, Marisa Herman complained about a letter from two "Democrat [sic] House lawmakers" who are "demanding answers from cable television providers on the role they play in the 'spread of dangerous misinformation,'" one of them being Newsmax:
Newsmax issued a statement Monday decrying what the company said was an attack on the First Amendment. The Newsmax statement read:

"The House Democrats' attack on free speech and basic First Amendment rights should send chills down the spines of all Americans. Newsmax reported fairly and accurately on allegations and claims made by both sides during the recent election contest. We did not see that same balanced coverage when CNN and MSNBC pushed for years the Russian collusion hoax, airing numerous claims and interviews with Democrat leaders that turned out to be patently false."

Newsmax noted that the Eschoo-McNerney letter makes several false or misleading characterizations of its coverage.

While Newsmax reported on President Trump's contest of the 2020 elections, covering the claims he and his attorneys made, the Democrats said such reporting was "incendiary."

The letter also states, "As a violent mob was breaching the doors of the Capitol, Newsmax's coverage called the scene a 'sort of a romantic idea.'"

The claim was made on Newsmax by a Touro College law professor and prominent liberal, Thane Rosenbaum, who was describing the rally before any violence or illegal activity had taken place at the Capitol.

In fact, Newsmax hosts began condemning the illegal activity that took place at the Capitol in real time, and did so repeatedly throughout the day.
The article was accompanied by compilation clip of Newsmax TV's Jan. 6 "news coverage." But it's hours of coverage condensed to less than two minutes, which means that Newsmax edited out any coverage that wasn't critical of the riot -- including the "sort of a romantic idea" statement. (Also: Newsmax couid only find two minutes of people denouncing the riot on its TV channel across hours of programming?)
Many of these claims are repeated in a Feb. 24 article by Eric Mack touting a letter from Newsmax CEO Christopher Ruddy responding to the House members' letter:
"In general, Newsmax reported fairly and accurately on allegations and claims made by both sides during the recent election contest. Newsmax called the election for President Joe Biden as soon as the states had certified their election results. Further, Newsmax forcefully and repeatedly used its airwaves to condemn the insurrection at the Capitol on Jan. 6."

Ruddy's letter to the committees also provided myriad examples of Newsmax TV's Jan. 6 coverage of the storming of the Capitol, in which on-air talent said, "We condemn the violence" (">Greg Kelly Reports"); "We certainly don't condone" violence (Tom Basile on "America Right Now"); and "This is un-American, this is not what we do. We are better than this and we must denounce this" (Sean Spicer on "Spicer & Co.").
Ruddy again threw Rosenbaum under the bus without proving a clip of the full segment in which he appeared.
Newsmax needs to give the public access to the entirety of its Jan. 6 TV coverage -- not a highly edited two-minute highlight reel -- so we can judge exactly how biased it was that day.
Posted by Terry K. at 6:55 PM EST