CNS Devotes Four Articles To Democratic Congresswoman Retweeting A Swear Word
Topic: CNSNews.com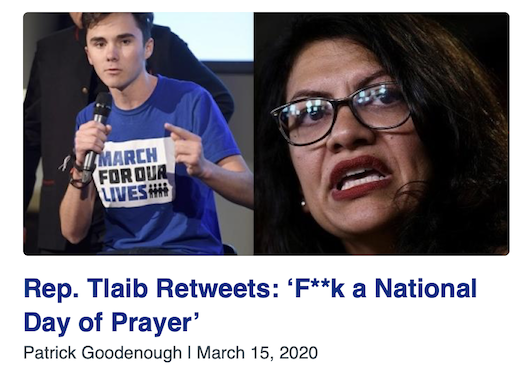 CNSNews.com these days is mostly just pro-Trump stenography and negative news about non-conservatives, with particular emphasis on flooding the zone on the latter. And it's done the latter again.
When Democratic Rep. Rashida Tlaib -- whom it already despises and targets with highly biased reporting -- retweeted Parkland massacre survivor David Hogg criticizing a national day of prayer regarding coronavirus and calling for "immediate comprehensive action" instead, using a swear word in doing so, CNS was quick to flood the zone. Under the headline "Rep. Tlaib Retweets: 'F**k a National Day of Prayer'," Patrick Goodenough highlighted the tweet and noted that Hogg's original tweet included a clip of HUD secretary Ben Carson lecturing that "we've gotten away from prayer and faith a lot in this country."
Goodenough didn't mention the fact that Hogg is a survivor of a mass shooting that killed several of his high school classmates, but he made sure to link to an earlier attack he wrote on "Muslim congresswomen" Tlaib and Ilhan Omar. CNS also made sure to use the most unflattering photo of Tlaib it could find.
Goodenough followed up the next day with an article featuring CNS friend (and dishonest Catholic) Bill Donohue attacking Tlaib and demanding that the House of Representatives reprimand her.
It was two days after that that CNS finally got around to telling more than one side of the story, in a blog post by Craig Bannister on Tlaib's "response to backlash over her retweet of a vulgar condemnation of the Sunday's National Day of Prayer for coronavirus victims declared by President Donald Trump." He also touted Donohue's demand for the House to reprimand her.
Finally, Donohue was granted his own column to rant further about Tlaib, insisting her walkback was not sincere:
Let me be clear, Rep. Tlaib: You are fooling no one. You not only have a record of offending people, your anti-Semitic comments have mobilized friends of mine like Rabbi Aryeh Spero to hold a sit-in at Rep. Nancy Pelosi's congressional office to protest your bigotry (and that of your fellow "Squad" member, Rep. Ilhan Omar). Your record of hate speech is incontestable.

You say your retweet "was not an attack on prayer." How lame. What you manifestly chose to do is attack the one day when Catholics, Protestants, Jews, Mormons, Muslims, and others come together in a national day of prayer. Your point was to insult us. Mission accomplished.
By contrast, when then-candidate Trump sent out a tweet with a picture of Hillary Clinton accompanied by a six-pointed star with the phrase "most corrupt candidate ever!" -- widely viewed as anti-Semitic -- CNS did only a single article (that apparently is no longer online) dedicated to Trump denying the image was anti-Semitic.
Posted by Terry K. at 2:43 AM EDT