MRC Hides Facts To Defend GOP Governor's Abysmal COVID Death Rate
Topic: Media Research Center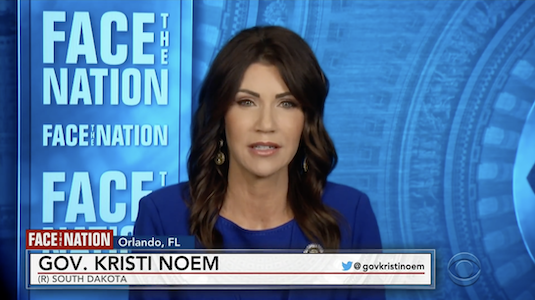 The Media Research Center's Nicholas Fondacaro spent a Feb. 28 post complaining that "Face the Nation moderator Margaret Brennan singled out Republican Governor Kristi Noem of South Dakota to be the target of her ire because of her fair handling of COVID in her state." But as we've come to expect from Fondacaro, he's being dishonest in his defense of Noem.
Fondacaro asserted that "Brennan mischaracterized Noem's CPAC speech and whined about people cheering" -- but he never identified what, exactly, Brennan "mischaracterized" about the speech in which she took a shot at Anthony Fauci. Fondacaro sounded more like Noem's press secetary and less like the "media researcher" he purports to be as he jumped to her defense:
When Noem finally appeared on the show, she wasted no time in schooling Brennan on her lies. "Well, I'd like to respond to something that you said. You indicated I ignored medical advice, I didn't listen to my health experts. And I most certainly did," she shot back. "In South Dakota, we took this virus very seriously. What I did though was tell my people the truth."

Decrying how Noem refused to destroy small businesses and harm students with isolation via lockdowns, Brennan tried to distort reality by citing the state's deaths per capita. "As of today, the CDC says your state has the eighth-highest death rate per capita in the U.S. That's the rate of deaths per 100,000 residents. Don't you think your decisions as an executive contributed," she sneered at her guest.

Looking at the numbers according to The New York Times, South Dakota had less than 2,000 deaths from COVID. And only seven on Saturday.
Fondacaro's claim that Brennan "distort[ed] reality" by citing per-capita deaths is quite hilarious when you know that three months earlier, the MRC's Kristine Marsh cheered Noem for citing per capita statistics as a way to "put the journalist [George Stephanopoulos] in his place" when he noted rising coronavirus cases and deaths in South Dakota. Only in the world of the MRC where Republicans must be protected at any cost would "less than 2,000 deaths from COVID" be considered something to cheer about.
Fondacaro went on to rant that "At one point, Brennan accused her of being personally responsible for seeding nearly every case in the Midwest, as if it couldn't have come from anyplace else." But Brennan was specifically citing the annual motorcycle rally last August in Sturgis, S.D., attended by hundreds of thousands of bikers. Researchers say the rally may have been responsible for as many as 266,000 new cases of coronavirus at a public health cost of more than $12 billion. (State officials claim to have found only around 300 cases it could link to the rally.)
Fondacaro then played New York whataaboutism in an attempt to take the heat off Noem:
Back in reality, we know that New York had seeded most of the country as residents fled the state because of the lockdowns. And COVID deaths in New York nursing homes (roughly 15,000) greatly overshadowed the deaths in all of South Dakota. That's not to mention that New York also spawned a new virus variant that's worrying researchers.
Fondacaro provided no evidence to back up his claim that New York "seeded most of the country" with coronavirus. Also, he failed to concede that deaths in an entire state as big as South Dakota should not be competing with deaths in the close quarters of nursing homes (where, as much as he deseprately wants to, Fondacaro can't blame them all on Andrew Cuomo), let alone the entirety of New York, which has a much higher population than South Dakota.
This is yet another example of how the MRC tries to ensure the right-wing narratives it pushes trumps the facts.
Posted by Terry K. at 9:42 PM EDT