MRC Throws Ex-Parler CEO Under The Bus (And Still Won't Talk About Rebekah Mercer)
Topic: Media Research Center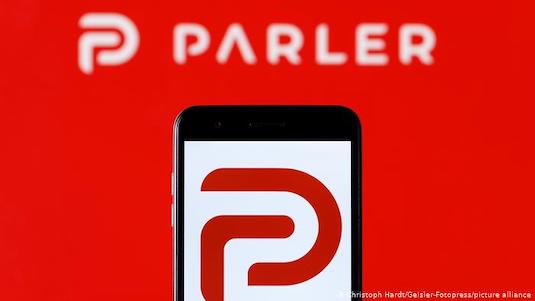 The Media Research Center's Alexander Hall sounded a lot like a paid hype man-slash-PR representative for Parler in a Feb. 15 post:
The wildly popular free speech platform Parler has made a sudden return after being nuked from the internet by Amazon Web Services back in January.

"Parler, the world's #1 free speech social media platform with over 20 million users, is announcing its official relaunch today, built on sustainable, independent technology and not reliant on so-called 'Big Tech' for its operations," the social media platform revealed on Monday in a press release. "Parler's relaunch—open to Americans of all viewpoints—is available immediately."

Parler's interim CEO Mark Meckler explained how Parler has risen from the ashes of being deplatformed earlier this year: "When Parler was taken offline in January by those who desire to silence tens of millions of Americans, our team came together, determined to keep our promise to our highly engaged community that we would return stronger than ever."

The platform explained in its press release that "Parler's new platform is built on robust, sustainable, independent technology." It also specified that the platform will only be available first for "its current users only in the first week, with new users being able to sign up starting the following week."

The email assured readers that Meckler is a "free speech advocate" with "expertise in launching, growing and developing effective business and technology models for two of the largest grassroots organizations in modern American history, Tea Party Patriots and Convention of States."
The mention of Meckler as interim CEO might come as a surprise to MRC readers who weren't told that the former CEO and co-founder, John Matze, was fired a few weeks earlier. But Hall was eager to throw Matze under the bus:
Meckler has been tapped to temporarily lead the company as it overhauls its leadership after its previous CEO left amid controversy.

Ex-Parler CEO John Matze explained to Axios on HBO that Parler's negotiations to bring Trump onto their platform never materialized. "I didn't like the idea of working with Trump, because he might have bullied people inside the company to do what he wanted. But I was worried that if we didn't sign the deal, he might have been vengeful and told his followers to leave Parler," Matze stated.

Matze had also written a memo to employees with dubious claims regarding why he had been terminated. "However, Fox News contributor and Parler co-owner Dan Bongino doesn't see eye to eye with Matze's version of the ousting," Fox news reported. "Bongino said there were 'two separate visions for the company' and the 'free speech vision' originated from Bongino and other owners of the company."
Hall linked to a Fox News article on the controversy that included a fuller quote from Matze stating that "the Parler board controlled by Rebekah Mercer decided to immediately terminate my position as CEO."Yep, that's the same Rebekah Mercer whose family has donated millions of dollars to Hall's employer and sits on the MRC board.
Weird how Hall didn't mention that detail; indeed, Hall made no mention of Mercer at all, evn though she's reported to have played a major role in firing Matze. As NPR reported:
In an interview with NPR, Matze claimed that there was a dispute with Mercer over just how far Parler would take its openness to free speech. He said that if the company wanted to succeed, Parler would have crack down on domestic terrorists and any groups that incite violence, including the Trump-supporting conspiracy theory QAnon.

"I got silence as a result," Matze said.

Matze said that after the attack on the Capitol, he felt that the site had to step up its content-policing efforts.

"To me, it was a clear indication of what could have happen if we didn't change the ways were being done," he said.
It has since been claimed that the Parler board stripped Matze of his entire ownership stake, despite his being a co-founder. Further, seemingly contrary to its right-wing reputation of allowing all speech no matter how offensive, Parler has not only reportedly banned far-right provocateur Milo Yiannopoulos, it also allegedly suspended Matze's account for a time. Meanwhile, despite having an interim CEO, Mercer appears to be the one running the show at Parler.
But fully reporting the happenings around Parler was not Hall's concern. It was time for him to go back into hype-man mode:
Conservatives and free speech commentators are abuzz over the fact that Parler has come back online.

"The internet is a better place with @parler_app!" Conservative commentator Brigitte Gabriel proclaimed on Twitter.

Parler had originally been kneecapped by multiple tech companies in January.
Hall conveniently didn't mention those pesky posts filled with hate and threats of violence that were the actual reason Parler was "kneecapped." But the truth isn't really his concern.
Posted by Terry K. at 9:13 PM EST
Updated: Wednesday, March 3, 2021 10:02 PM EST