CNS Reporter Remains Overly Excited Over Minor Israel Deals -- And Ready To Attack Biden
Topic: CNSNews.com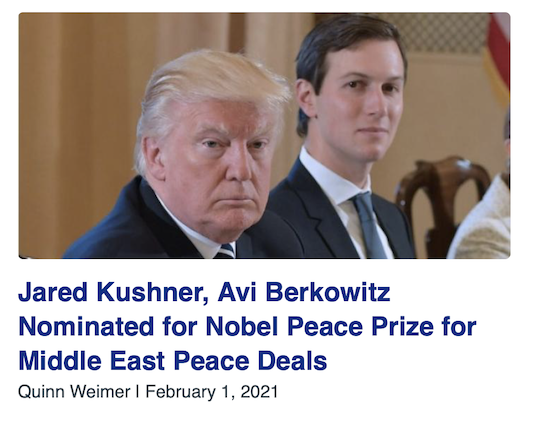 We've documented how CNSNews.com -- particularly reporter Patrick Goodenough -- has been enamored of the normalization deals Israel made with minor Islamic countries (some not even in the Middle East) that were negotiated under the Trump administration. That enamor, for the deals and Israel itself, hasn't faded. Goodenough gushed in a Jan. 25 article:
Building on the foundation of the normalization agreement brokered by the Trump administration last summer, Israel on Sunday opened an embassy in the United Arab Emirates, and the Gulf state's cabinet approved the establishment of an embassy in Tel Aviv.

The progress came despite the coronavirus pandemic. Israel is currently in its third national lockdown, and an uptick in deaths attributed to COVID-19 prompted Prime Minister Binyamin Netanyahu on Sunday to announce a week-long shutdown of almost all flights in and out of the country.

Goodenough went on to complain that "some critics of President Trump played down their significance, arguing for instance that they were not peace agreements per se, since the Arab countries had not been at war with Israel."
Quinn Weimer supported the narrative in a Feb. 1 article touting how "President Trump's son-in-law Jared Kushner and his business partner Avi Berkowitz were nominated by Harvard Law Emeritus Professor Alan Dershowitz for the Nobel Peace Prize, to be awarded in October 2021," for their work on the normallization deals.
Meanwhile, Goodenough used a Feb. 17 article to complain that President Biden hadn't called Netanyahu already, pointing out that "Netanyahu, whose relationship with President Trump was a warm one, is known to be wary of Biden's plans to re-engage Iran, and his offer to re-enter the Obama-era nuclear deal if Tehran returns to compliance" and adding that "the length of time taken does appear to be a departure from the norm." But Goodenough had to revise his article later in the day after it was revealed that Biden did call Netanyahu.
Strangely, even though Goodenough and CNS care so much about Israel, it has completely censored an mention of the corruption trial Netanyahu is currently undergoing (though he petulantly walked out of the trial). Even though the trial has been going on since last May, CNS has devoted no article to it. Goodenough arguably has the time to do one, considering 1) he's the international editor and it's his beact, and 2) there was purportedy so little to do on that beat that he devoted a story to the "sexually explicit" lyrics of rappers campaigning for Democratic Senate candidates in Georgia (the state, not the country).
Posted by Terry K. at 12:25 AM EST