CNS Touts Another Minor Arab Normalization Deal With Israel
Topic: CNSNews.com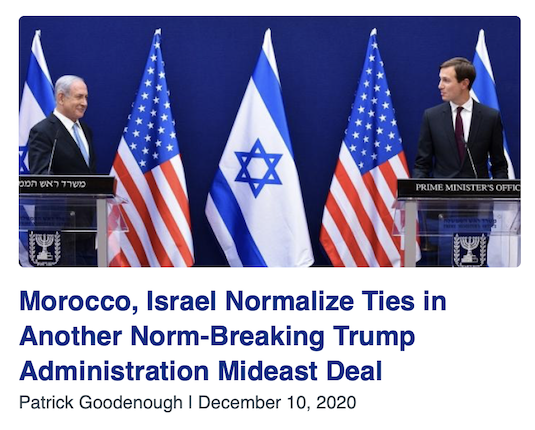 CNSNews.com reporter Patrick Goodenough is very much a pro-Trump and pro-Israel reporter, as evidence by his gushing over minor Arab countries making peace deals with Israel before the election. Goodenough kept that up after the election as well.
Goodenough grumbled in a Nov. 13 article: "The world may be grappling with a once-in-a-century pandemic, but World Health Organization member-states dedicated four hours of its annual gathering in Geneva on Thursday to discuss and condemn Israel, accusing it of violating the health rights of Palestinians in the disputed territories and Syrians in the Golan Heights." By contrast, you'll never hear Goodenough say, "The world may be grappling with a once-in-a-century pandemic, but a 'news' operation sent its interns to pester members of Congress about transgender students in locker rooms."
On Nov. 18, Goodenough declared it a "parting blow" when the Obama administration "chose not to veto a U.N. Security Council resolution" condemning Israeli settlements in Palestinian territory shortly before Obama left office, then touted how "Secretary of State Mike Pompeo was expected on Thursday to became the first top U.S. diplomat to visit Jewish communities on disputed territory." Goodenough went on to frame the issue in right-wing talking points, writing that "Many Israelis view those areas, known for millennia as Judea (more than 800 references in the Bible) and Samaria (more than 110 references), as the Jewish nation's historical and biblical 'heartland.'"
In a Dec. 1 article, Goodenough defended the honor of Jared Kushner for allegedly negotiating all those minor peace deals:
As President Trump's administration winds towards a close, critics took to MSNBC airwaves on Monday to tear into White House senior advisor Jared Kushner for traveling to the Middle East, characterizing the president's 39-year-old son-in-law as an abject failure and a "ridiculous" figure, and expressing relief that "serious, competent, intelligent people" will be returning to the executive branch soon.

In the space of less than three months Kushner, tasked to tackle a problem that has vexed U.S. administrations for more than half a century, helped to deliver three Israeli-Arab normalization agreements, with the UAE, Bahrain, and Sudan.

He attributed the achievements to the administration's rejection of "the failed conventional thinking of the past" – the dogma stating that the resolution of the Palestinian problem is the prerequisite for any progress in Middle East peacemaking.

[...]

Before the UAE, Bahrain, and Sudan agreed to normalize ties with Israel in the summer and fall of 2020, only two other Arab nations had taken similar steps since the establishment of the modern state of Israel in 1948 – Egypt in 1979 and Jordan in 1994.
And when Morocco signed a normalization pact with Israel -- with the help of the U.S. recognizing Morocco's sovereignty over a disputed African territory -- Goodenough was on hand to gush once more:
President Trump on Thursday announced a fourth Arab-Israeli normalization agreement in as many months, as Morocco agreed to recognize the Jewish state. In return he issued a proclamation recognizing Morocco's longstanding claim to sovereignty over a sparsely-populated disputed territory in north-western Africa – an attempt to break a decades-long stalemate.

"Another HISTORIC breakthrough today!" the president tweeted. "Our two GREAT friends Israel and the Kingdom of Morocco have agreed to full diplomatic relations – a massive breakthrough for peace in the Middle East!"

According to the White House, Morocco and Israel will restore diplomatic relations and expand economic and cultural cooperation, launch direct flights and grant overflight rights, and immediately reopen liaison offices in Rabat and Tel Aviv, followed "in the near future" by embassies.

As part of the agreement, the U.S. has agreed for the first time to back Morocco's claims in the Western Sahara.

The dealmaking is characteristic of the Trump administration's norm-breaking approach to the region: Sideline for now the Palestinian issue, and encourage Arab and Muslim states to normalize relations with Israel, offering concessions from the U.S. as an incentive.
It wasn't until the 21st paragraph of his article that Goodenough got around to admitting that "Morocco's human rights record in Western Sahara has been widely condemned. The territory is the seventh lowest-scoring country or territory in Freedom House's annual assessment of civil liberties and political freedoms, just one place above North Korea." He then let Kushner simply handwave the issue by declaring that "Obviously, we don't share the same values with all these countries" and that "we obviously respect the sovereignty of different places."
Posted by Terry K. at 11:48 AM EST
Updated: Sunday, December 27, 2020 4:50 PM EST