Surprise: WND's Conspiracy-Lovers Didn't Buy Into QAnon
Topic: WorldNetDaily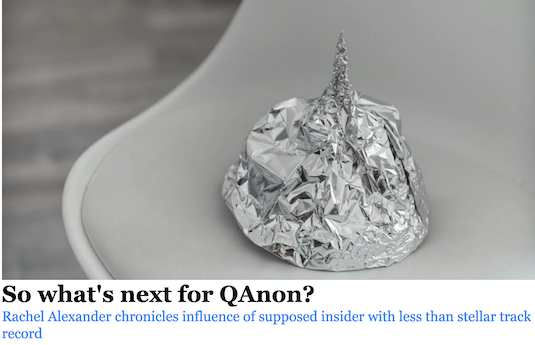 Credit where credit is due: even the conspiracy-happy WorldNetDaily largely stayed away from the QAnon conspiracy theory. Even more surprising, WND is publishing columns denouncing QAnon (albeit waiting only after Trump left the White House -- and, perhaps more importantly, after the right-wing-instigated Jan. 6 Capitol riot -- to do so).
Rachel Alexander shot down QAnon in her Jan. 25 column:
QAnon takes a grain of truth and adds on. Jeffrey Epstein, a billionaire who hung out with powerful Democratic politicians, was proven to be a pedophile. So it becomes easy to make the jump and claim that a lot of powerful Democrats are pedophiles. R. Kelly was arrested and indicted for being a pedophile, so it became easier to believe that other powerful entertainers who act inappropriately were too. I looked into Pizzagate in 2016 and concluded that while there were some very unsavory characters involved, the rumors were mostly unprovable.

Many of Q's drops are predictions that something big is going to happen, which are hard to immediately disprove. But they don't happen.

[...]

Now that a lot of the information spread by QAnon has been debunked – the military did not take over the country, Trump did not take any drastic action to remain president – social media is banning QAnon and Q has disappeared (probably due to fear of being investigated), the phenomenon should dissipate. Ron Watkins posted a Telegram message on Inauguration Day that said it was time for Q's followers to "go back to our lives as best we are able."
But Alexander also fretted that "the left now ties a lot of genuine concerns on the right in with QAnon. If QAnon questions the presidential election results, then suddenly they can lump in anyone who questions the election results as QAnon. It's a very sneaky tactic."
John Fraim wrote in a Jan. 26 column that "It is often overlooked that Donald Trump rose to power much on the wings of a conspiracy theory" presumably a reference to the Obama birtherism that WND turned into its brand during the Obama years -- "so it should not be surprising his presidency rose to power on the wings of another conspiracy theory." Fraim then detailed how QAnon imploded, with its chief promoters Robert David Steele, Simon Parkes and Charlie Ward, who he calls "the Trio," scrambling to deal with the wreckage:
All followers of the Trio and QAnon know what hit the old fan on the 20th when nothing happened. The forces of Good did not have their great confrontation with the forces of Evil. The Vatican was not implicated in the election fraud scheme via their DaVinci satellite. The pope was not arrested, nor were key American political leaders. Rather, they were all participating in the pageantry of Inauguration Day. The entertainment was great. Lady Gaga gave a powerful rendition of the national anthem. Other celebrities in attendance like Jennifer Lopez and Garth Brooks gave passionate performances. A band marched dressed in uniforms of the early American patriots. And that evening, Tom Hanks hosted a prime-time special titled "Celebrating America" with appearances of stars like Justin Timberlake, Demi Lovato, Ant Clemons and Jon Bon Jovi. Altogether, Inauguration Day was a celebration of America. Yes, it was of course for optics, but the optics were very effective, especially considering the Democrats own the entertainment industry.

On Jan. 21, the Trio had their work cut out for them. They admitted they knew how upset everyone was. A video of Charlie and Simon Parkes was posted on Simon's Bitchute site. It was hosted by world heavyweight boxer David "Nino" Rodriguez. Nino told the two he was being contacted by many depressed QAnon people. He told them that he was under attack by his listeners for giving them false hopes and information. In many ways, the video session (one of a number of QAnon "explainers" the day after Jan. 20) was an apology session for Q and the theory that had been growing since 2017. In effect, the jovial Simon and Charlie had become the face of Q, and millions were now in a state of limbo, waiting to hear what they would say. One Q follower compared it to opening a present wrapped in bright, shiny paper on Christmas day and finding a dirty lump of coal inside.
Fraim also highlighted investigations into Q's identity and the highly unreliable Gateway Pundit speculating that "QAnon might have been a type of planned "honey pot" of the deep state to attract Trump-following patriots all to one place so that they could be gathered up. " He concluded: "I move onto other things. But always in the back of my mind there is the comment about March 4, the day Charlie Ward claims Donald Trump will return as president."
After apparently passing on a previous column he wrote on the subject, WND did finally publish a Feb. 3 column by Michael Brown denouncing QAnon, declaring that "those who continue to believe in the QAnon conspiratorial myths are now espousing even more extreme and bizarre theories. There can be no reality check because reality no longer has any meaning."
Posted by Terry K. at 1:05 AM EST
Updated: Wednesday, March 3, 2021 1:07 AM EST