MRC Defends Melania On Her Way Out The Door
Topic: Media Research Center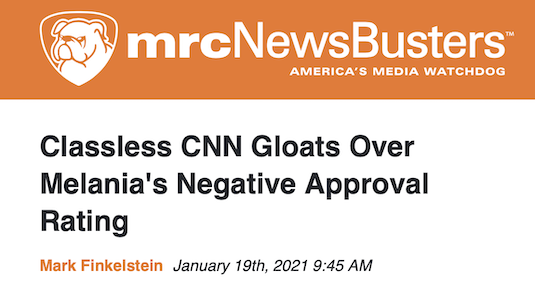 The Media Research Center has long worked to create a safe space for Melania Trump. It was totally cool with her posing nude -- in photos so explicit that Google AdSense made us delete it -- and didn't even criticize a newspaper for publishing them (it was the New York Post, though), whined that her plagiarism in her 2016 Republican National Convention speech was reported on, and it even found a way to defend her bizarre "I Really Don't Care, Do U?" jacket. That continued throughout the 2020 presidential campaign and its aftermath.
Back in October, it tried to defend Melania from secretly recorded phone calls of her complaining about having to decorate the White House for Christmas, huffing that reporting on the tapes omitted "the First Lady's anguished retelling of her intervention on behalf of a migrant child."
After years of defending Melania's odd Christmas design choices, the MRC did so again in a Nov. 30 post by Kristine Marsh that devolves into a bit of Obama-bashing:
CNN's New Day took a break from their feverish panicking over coronavirus and President Trump not conceding the election to taunt Melania Trump, Monday morning. Co-hosts John Berman and Alisyn Camerota relentlessly ridiculed and laughed at the First Lady over whether or not she likes Christmas decorations, even bringing their rival Fox News into the childish and mean-spirited mockery.

[...]

But Camerota and Berman were itching to attack the First Lady over her former friend's secretly recorded tapes where a frustrated Trump rants at how the media has demonized her and admits she doesn't care about Christmas decorations. The New Day co-hosts eagerly played a partial clip before the journalists relentlessly mocked the First Lady as being part of Fox News's "War on Christmas:"

[...]

To really take in how dramatic a swing the media has taken in their coverage of First Ladies, can you imagine CNN or any other liberal news network mocking former First Lady Michelle Obama on just about...anything?

In fact their devotion to Michelle Obama borders on parody. Last May, Don Lemon ranted how Melania was dumber and less attractive than Michelle.
On Dec. 14, Kyle Drennen complained that NBC defended Jill Biden from attacks on her use of the "Dr." title, though "This is the same network that just a few months ago criticized Melania Trump for condemning looting and has spent years hurling similar cheap shots at the First Lady." Two days later, on his podcast, "executive editor Tim Graham discusse[d] now the media have never been fair or balanced in their treatment of Melania Trump. They mocked her as merely a "former model" and routinely suggested she must be clawing her way out of her husband's clutches."
On Jan. 19, Mark Finkelstein complained:
How clueless is John Berman? On the one hand, the CNN anchor trumpets the fact that Melania Trump is the first First Lady to leave the White House with a net-negative approval rating. On the other hand, his own sneering remarks are a perfect illustration of the kind of negative coverage that Melania has received during her years as First Lady that have contributed to her negative ratings.

[...]

Who but a malicious Melania antagonist would offer a "pop quiz" on her negative ratings? Berman's maligning of Melania is in line with the kind of coverage the liberal media has given her for years.
The same day, Marsh weighed in again:
The View hosts talked briefly about President Trump's legacy to kick off Tuesday's show, but ended the segment with vicious gossip about First Lady Melania Trump. Moderator Whoopi Goldberg asked Joy Behar what she thought about the First Lady's farewell speech and that prompted a nasty rant from the far-left co-host.

If you can believe it, just a few weeks ago, Behar boasted that The View had "been respectful to Melania" over the last 4+ years. Go to that post linked to see just how wrong that statement was even then. The lying continued on today's show, as she delved into all sorts of nasty gossip about the First Lady, from suggesting she was afraid of the president, to too stupid to think for herself, to being a "co-conspirator" who is "as bad as Trump:"

[...]

Funny thing, The View hosts have never gossiped about Hillary Clinton being a "co-conspirator," protecting her husband when he was accused of rape and sexual assault.
Marsh went on to huff that "Behar ended her trash talk by attacking Mrs. Trump for her "I really don't care" jacket, which Trump denied was about the child separation policy, but actually about how the media treats her. Still, that didn't stop Behar from declaring that was what the jacket was about."
Posted by Terry K. at 10:08 PM EST