MRC Tries To Revive Coronavirus Conspiracy Theory
Topic: Media Research Center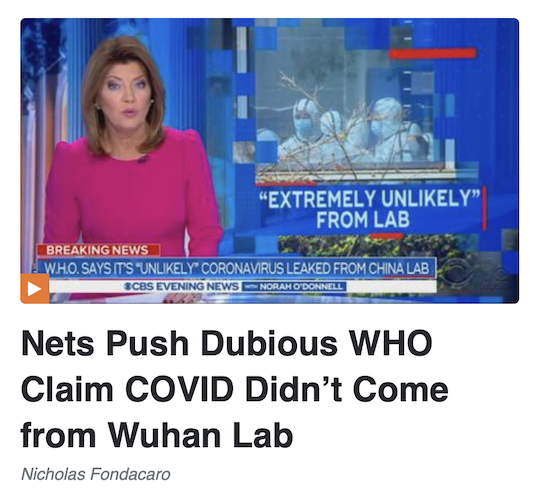 Last year, at the beginning of the pandemic, we documented how various places on the ConWeb pushed the idea that the novel coronavirus was developed by the Communist Chinese in a laboratory in Wuhan, China -- even the Media Research Center was sad that a far-right conspiracy blog was suspended by Twitter for pushing the bogus claim. Now, the Media Rsearch Center's Nicholas Fondacaro is trying to revive the conspiracy theory as a way to attack the World Health Organization. He wrote in a Feb. 9 post:
In the early days of the pandemic, the World Health Organization was caught covering for the murderous Chinese regime by pushing false information about how the virus spread. And ever since, the liberal media have been trying to downplay their lies, even going so far as to tout how China was shipping supplies around the world (they were defective), and complained when then-President Trump withdrew the United States the WHO.

But on Tuesday, ABC and CBS pushed a WHO claim that the coronavirus didn't originate from the Wuhan Institute of Virology. The assertion was dubious at best considering we knew that WHO scientists were only recently allowed into the country (over a year after the virus started spreading), they were being closely watched and followed by Chinese officials, and China had been trying to rewrite the fact the virus came from their country.

And according to a Fox News Channel segment on Special Report, there were no American scientists on the WHO team and even some Biden administration officials weren't buying their findings.
While there are questions about how much meaningful access WHO officials looking into the coronavirus' origin in China have had, they aren't idiots or CCP dupes as Fondacaro would like you to believe -- they are medical experts, unlike right-wing propagandist Fondacaro. WHO virologist Marion Koopmans, who was on the team that went to Wuhan, has said that while the exact source of the coronavirus may never be pinpointed, "we have not been able to find any credible link" between the virus and the Wuhan lab.
But the truth doesn't generate clicks for Fondacaro and the MRC; peddling conspiracy theories and right-wing hate does.
Posted by Terry K. at 9:02 PM EST