CNS Mocks Tlaib For 'Sobbing' While Recounting Capitol Riot
Topic: CNSNews.com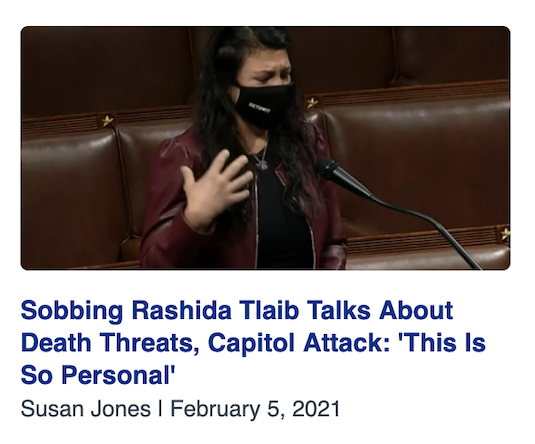 As a sidebar to its attack on Democratic Rep. Alexandria Ocasio-Cortez for expressing her sincere fears regarding the Jan. 6 Capitol riot and the Republican members of Congress she believes help instigate it, CNSNews.com felt the need to mock AOC's colleague, Rep. Rashida Tlaib, for telling her story of the day's events, making sure to highlight that she was "sobbing" as she told it.
Under the headline "Sobbing Rashida Tlaib Talks About Death Threats, Capitol Attack: 'This Is So Personal'," Susan Jones wrote in a Feb. 5 article:
Rep. Rashida Tlaib (D-Mich.) said the January 6 attack on the U.S. Capitol is "so personal" for her -- even though she wasn't there at the time -- because of the threats she's received since the day she took office.

At times, comforted by Rep. Alexandria Ocasio-Cortez, Tlaib told the following story:

"I asked to go last because I did -- (she cries) -- because this is so personal," Tlaib said:
Jones did not explain why she felt the need to emphasize that Tlaib was "sobbing." Was it to push the idea that she is a weak, emotional Democratic woman who can't handle the rigors of her job (even though she did endure a armed insurrection on her workplace)? We may never know -- execpt that CNS has previously attacked Tlaib for the sin of being an outspoken female Democratic, non-Christian politician.
Posted by Terry K. at 12:22 AM EST