Jealous? MRC Still Envious That Obamas Are Doing Well
Topic: Media Research Center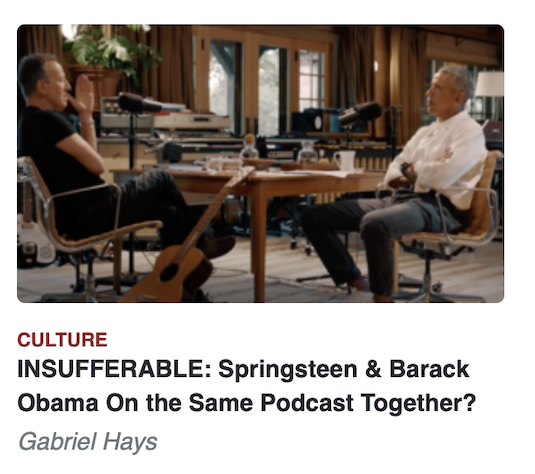 In a March 15 post, a Media Research Center writer suggested that CNN's Brian Stelter doing a segment on Fox News host Tucker Carlson's incendiary and offensive rhetoric meant that he was jealous of Carlson's ratings. By that logic, we can assume that the MRC's weird fixation on how productive Barack and Michelle Obama (and how much money they've made in the process) have been after leaving the presidency is an expression of jealousy as well. Obama hasn't been president for four years ,and it hasn't stopped.
Late last year, Clay Waters served up some late-breaking attacks (coming after our previous item) on book reviewers weighing in on Obama's presidential memoir: in one piece, he whined that the New York Times Sunday Book Review's "obeisant" and "almost reverent" take on the book "took up five full pages of the section; in the other, Waters huffed that former Times book critic Michiko Kakutani "fulfilled her reputation for sucking up to President Barack Obama" in an interview with him, further complaining that "Kakutani mined Obama's vast book (the first of a threatened two in a series) for more of Obama's mind-droppings."
In a Feb. 18 post, Gabriel Hays has decided it's perfectly fine to attack the child of a (former) president:
The Obama media empire continues to grow stronger as yet another Obama family member gets a cushy Hollywood gig. What's next? The Obama dogs getting their own late night talk show?

In addition to Michelle and Barack Obama having respective massive book deals, a Hollywood production company which has produced Oscar-award winning movies, and frequent guest appearances for Michelle on PBS, their daughter is now in on the action. News dropped recently that Malia Obama landed a lucrative screenwriting gig with Amazon Studios and Star Wars actor, Donald Glover.

It sure pays to be an Obama these days.
Hays sounds like he thinks he deserves that gig.
Obama's planned podcast with Bruce Springsteen prompted more MRC whining. Kyle Drennen huffed that the podcast was a "vanity project" and that coverage of it "made it clear journalists were still adoring fans eager for any new product being put out by the Democrat." Hays returned to ramp up the petulenace under the all-caps headline "INSUFFERABLE":
What is it with the entertainment industry giving radio and podcast gigs to people who should have shut up years ago? In what is probably another sign of the apocalypse, two of the more insufferable lefties in American history are teaming up for one podcast series.

Former President Barack Obama and "Glory Days" singer Bruce Springsteen have launched a podcast titled "Renegades: Born in the USA." Yeah, how's that for obnoxious?

[...]

And Barry's just being Barry, making media content with his mega-million dollar partnership with Netflix and his book deals, and talking trash about conservative Americans and Trump every step of the way. Yeah both of these jokers are real renegades, the way they are shilling for the all-encompassing liberal machine that is now looking to brand grandma's facebook posts as "domestic terrorism." Real outsider stuff, boys.
Hays is almost entertainingly oblivious to how much he's pegging the insufferably-obnoxious meter. But will he concede that Obama was, in fact, born in the USA? The jury's still out on that.
On March 3, Kristine Marsh grumbled that Michelle Obama had a book to sell, and that "ABC's morning show Good Morning America was happy to act as Michelle Obama's PR team, not only helping to sell her book to kids but also promote her well-crafted image of the wise and inspirational role model. There wasn't one critical or tough question in the exclusive ABC interview.
And on March 14, Tim Graham was shockec -- shocked! -- that People magazine failed to a harsh right-wing takedown of Michelle Obama, underthe headline "Lickspittle Olympics":
Just five weeks after their latest puffball cover story on Joe and Jill Biden, People magazine offers a cover story on Michelle Obama. The cover announced the theme: " Love, Family & What I Know Now: The former First Lady on keeping life fun, parenting grown daughters, and how marriage was shaken but stayed strong: 'I look across the room and I still see my friend'."

"We've learned to count our blessings" is the big takeaway inside, and "making the most of pandemic isolation with her husband and daughters (Baking! Eavesdropping!)"

But why now? What is she selling? The excuse for another six-page spread of sugar is a new "young readers edition" of her 2018 memoir Becoming. (They're counting their royalties, not just their blessings.)

[...]

Now who is buying the Obamas as "working class" folks now? After more than $100 million in book deals and Netflix deals and speaking fees, and so on, and so on? But People will still publish this syrup in all seriousness.
But aren't fluffy profiles the reason People magazine exists? And hasn't the MRC spent the past four years insisting that a self-proclaimed billionaire narcissist with a taste for gaudiness is the champion of working people?
Seems that Graham is still jealous that Michelle Obama's memoir sold many times more copies than the sum total of anything he ghost-wrote for his boss, Brent Bozell.
Posted by Terry K. at 4:35 PM EDT