CNS' New Authoritarian Friends
The Trump-lovers at CNSNews.com embrace right-wing foreign leaders who are trying to emulate Trump but have even more extreme policies.
By Terry Krepel
Posted 4/9/2019
---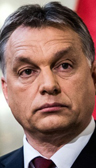 Viktor Orban
CNSNews.com loves Donald Trump -- to the point that even his even his false claims stand uncorrected in CNS' "news" articles. That fealty apparently also extends to Trump-like foreign leaders.

Over the past year or so, CNS has given positive, if not completely fawning, coverage to right-wing authoritarian leaders who actually go beyond Trump-esque -- but those leaders' extreme policies are largely hidden by euphemistic descriptions of them as "populists" or portrayals as being akin to mainstream American conservatives.

Let's take a look at how CNS has portrayed a few of these leaders.
Viktor Orban
Hungarian Prime Minister Viktor Orban is a right-wing autocrat, in a country with no genuinely free press, who promoted conspiracy theories about George Soros as part of his re-election bid (which was basically assured anyway due to the fractured nature of the opposition). But at CNS, Orban is just a misunderstood populist.
Patrick Goodenough wrote in a February 2018 article:
Hungary's foreign minister called Monday for U.N. Human Rights Commissioner Zeid Ra'ad Al Hussein to be removed from his post, after the U.N. official singled out Hungarian Prime Minister Viktor Orbán for sharp criticism.

During opening remarks at the Human Rights Council in Geneva, Zeid cited Orbán as an example of "xenophobes and racists in Europe."

He was the only leader mentioned by name by the high commissioner in his hard-hitting remarks to the HRC as it opened a month-long session.
Goodenough made sure to mention that Orban is a "democratically-elected prime minister" running a "populist government," then tried to explain things away:
The context of the quote cited by Zeid was a Feb. 8 speech in which Orbán argued that a diverse community is not necessarily preferable to a homogeneous one.

"The simple fact that something is colorful and varied in character does not make it more valuable than something which is not," he said.

"And it is very important for us to use this as a firm footing: we must not allow the ground to be cut away from under our feet in moral or ethical debates, because we must defend Hungary as it is now," Orbán said.

"We must state that we do not want to be diverse and do not want to be mixed: we do not want our own color, traditions and national culture to be mixed with those of others. We do not want this."
Doesn't exactly dispel the idea that Orban is a racist and xenophobe, does it?
Goodenough's companion article featured another Hungarian official sounding more than a little xenophobic:
Hungary's populist government ramped up a dispute with international institutions on Monday, accusing U.N. officials of promoting migration as a right, at the expense of "the right to a safe and secure life, where we live."

"It is not a human right to pick a country where one would like to live," Hungarian Foreign Minister Peter Szijjarto told the U.N. Human Rights Council in Geneva, adding that the crossing of borders must comply with international and national regulations.

[...]

"It is not a human right to pick a country where one would like to live. Crossing borders can only happen according to international regulations, and staying in another country can happen only in the case of respecting the national regulations."

"It's time to get rid of hypocrisy and political correctness," he concluded. "We have to offer solutions to help enhance the security of all our member-states, because the number one human right is that we all have the right to a safe and secure life, where we live."
In addition to once again claiming that Orban is a "populist," Goodenough suggested he was following in the footsteps of President Trump, adding that "The Trump administration formally withdrew from" the U.N. migration negotiations Hungary is railing against, "also citing sovereignty concerns."
The whitewashing continued in a May 2018 column by the Heritage Foundation's Mike Gonzalez:
Hungary's maverick prime minister, Viktor Orban, is once again stirring the pot of goulash.

Four years ago, Orban gave his critics ammunition when he said he was constructing an "illiberal democracy." This month he doubled down, declaring liberal democracy dead and urging other European leaders to stop trying to revive the corpse.

Instead, Orban exhorted them to get busy invoking a new democracy based on Christian principles.

[...]

For many reasons, Orban deserves our attention when he says his ambition—"now we want to hunt really big game" is precisely how he put it—is to change the course of Europe.

He is flushed with an electoral victory in which his party last month captured more votes than all of the opposition combined. He has defeated German Chancellor Angela Merkel on the important philosophical debate over immigration (Orban says it should be lowered). And he has vanquished the leftist billionaire George Soros, who just announced his NGO is leaving Hungary.

Most importantly, the question of values is the fundamental issue confronting the continent. Unlike the United States, modern European states are not founded upon creedal documents that lay out the constituting character and culture of the nation, and how to preserve them.
Gonzalez didn't mention Orban's history of removing governmental checks and balances, such as turning public broadcasting into propaganda outlets, or the whiff of anti-Semitism surrounding his Soros-bashing obsession (despite the fact that a Soros-funded scholarship paid for Orban's college education).
Gonzalez waited until the 12th paragraph to concede that Orban is perhaps not an American ideal, though he whitewashed Orban's ultra-nationalism in the process:
But first it is important to note obvious downsides. Orban is no Thomas Jefferson, and his emphasis on ethnicity, not civic nationalism contained within borders, is sui generis.

If you believe that all men are created equal, are endowed by their Creator with certain unalienable rights, and that governments are instituted "to secure these rights" and "the blessings of liberty," then the type of state that Orban wants to build is likely not your bag.

[...]

Most important, securing individuals' liberties is most assuredly not the central purpose of the state he is busy creating. As he said, again, in the 2014 speech:

"The new state that we are constructing in Hungary is an illiberal state, a non-liberal state. It does not reject the fundamental principles of liberalism such as freedom, and I could list a few more, but it does not make this ideology the central element of state organization, but instead includes a different, special, national approach." (Emphasis added.)

There is good reason why ethnic, rather than civic, nationalism gives us pause. Though ethnic nationalism is unassailable from a natural rights perspective, it does de-emphasize the individual's agency by making citizenship (belonging) non-volitional.
Still, Gonzalez was not terribly bothered by all that, declaring that "this is less of an indictment of Orban than one would think" because "he's building a state for Hungarians, not Americans—and we must remember that even though safeguarding freedom must be our central animating spirit, to do that, we too, must preserve America's unique culture."
And Gonzalez concluded with a more full-throated endorsement of the authoritarian: "By attempting to reintroduce the Judeo-Christian ethic into a secularized Europe, Orban arguably is giving Europe a chance to do just that. Even if the ethnic model he and his electorate may be pursuing is not replicable in America or most of Western Europe, the values model could have a lot to offer.---"
Gonzalez -- and, thus, CNS -- has to overlook a clear history of authoritarianism and anti-Semitism to reach this gushy conclusion.
However, CNS surprisingly published a Feb. 20 article featuring criticism of a poster issued by Orban's political party suggesting that Jean-Claude Juncker, the European Union's executive commission, was collaborating with Soros, who Orban has portrayed in propaganda as an "enemy of the state."
Jair Bolsonaro
CNS managing editor Michael W. Chapman found a new right-wing authoritarian to fawn over in a Nov. 1 blog post headlined "Brazil's New President is Pro-Life, Pro-Family, and Strong Supporter of Israel":
Jair Bolsonaro, the newly elected president of Brazil -- his four-year term starts in January 2019 -- is a Catholic married to an evangelical Christian and he is a strong supporter of Israel.

During his victory speech on Oct. 28, broadcast from his home, there was a Jewish menora in the background. Bolsonaro's middle name, Messias, is the Arabic word for messiah.

[...]

As for the Brazil, Bolsonaro has said, "God above everything. There is no such thing as this secular state. The state is Christian and the minority will have to change, if they can. The minorities will have to adapt to the position of the majority."

He has also said, "Brazil before everything, and God above all."

Jair Bolsonaro is a former military officer and he has served in Brazil's Chamber of Deputies since 1991. Bolsonaro's politics in general are those of a traditional, right-wing conservative.

He does not consider himself "far right" but simply "right wing," according to Estado.com. He is pro-life, pro-family, and he opposes gay marriage, homosexuality, affirmative action and secularism.
To nobody's surprise, Chapman papered over the more unsavory aspects of Bolsonaro's far-right views. Time reported that in an interview he with the publication, Bolsonaro "advocated the possibility of unbridled state violence; equated homosexuality with pedophilia; and defended Chilean dictator Augusto Pinochet, whose henchmen raped women with dogs, as well as Philippine President Rodrigo Duterte, who has boasted of personally killing criminal suspects." Time added that "Bolsonaro has stated that he would rather his son die in an accident than be gay, and would punch two men if he saw them kissing in the street.
Given how much Chapman virulently hates anyone who is not heterosexual, these are clearly sentiments he's down with. No wonder Chapman loves Bolsonaro.
That love extends to Bolsonaro's lieutenants. A Nov. 28 item by Chapman proclaimed that "Brazil's newly appointed foreign minister, Ernesto Frago Araujo, who starts his new job in January under President Jair Bolsonaro, has stated that the climate change issue was invented by 'cultural Marxists' to help push a globalist agenda that is anti-growth and anti-Christian." Chapman also highlighted Araujo's wild anti-gay, anti-socialism rant:
The incoming foreign minister also criticized Brazil's left-wing Workers' Party for promoting a "socialist ideal" while crushing individualism, freedom of thought, and economic freedom.

It is nothing more than totalitarianism, he wrote, because it "criminalizes everything that is good, spontaneous, natural and pure. Criminalizing the family on charges of patriarchal violence. Criminalizing private property. Criminalizing sex and reproduction, saying that any heterosexual act is rape and every baby is a risk to the planet because it will increase carbon emissions."

Socialism is "criminalizing faith in God," he said. "Criminalizing patriotism. Criminalizing biology by prohibiting the statement that a person is born a man or a woman. Criminalizing competition ("sport is a fascist thing," I once heard a leftist colleague). Criminalizing red meat. Criminalizing air conditioning [for climate science reasons]. Criminalizing beauty. Criminalizing all Western thinkers since Anaximander [d. 536 BC]. Criminalizing history and its heroes. Criminalizing Disney movies. Criminalizing love for children and ancestors. Criminalizing oil or any energy efficient and cheap."
Chapman probably thinks this is all true. Fact-checking isn't CNS' strong suit, after all.
A Jan. 1 article by Patrick Goodenough highlighted Bolsonaro's inauguration and his pledge to free Brazil from "corruption, crime, economic irresponsibility and ideological submission" and to respect its "Judeo-Christian tradition." Goodenough described Bolsonaro's ideology only as "conservative" but did concede that his critics "accuse him of homophobia and misogyny."
On Jan. 7, Chapman touted how Bolsonaro "suggested it is possible that a U.S. military base could be installed in Brazil dependent up on what happens in the world ... to counter Russian influence in nearby Venezuela, a socialist regime that is collapsing under the dictatorship of Nicolas Maduro, a Marxist."
Three days later, the homophobic Chapman cheered when Bolsonaro "signed an executive order removing LGBT concerns from the government's human rights ministry, apparently affirming his traditional Christian, pro-family views and his rejection of 'gender-based ideology.'"
Chapman loves Bolsonaro even when he gets facts wrong and Chapman must find alternative facts to back it up. Chapman wrote in an April 5 article:
After visiting Israel's Yad Vashem Holocaust memorial and museum on April 3, Brazilian President Jair Bolsonaro said he agreed that Nazism -- the National Socialist German Worker's Party headed by Adolf Hitler -- was a left-wing movement, "there is no doubt."

Brazil's foreign minister, Ernesto Arujo, has often explained this historical fact about the National Socialists of the Third Reich. On Wednesday, as reported by the Daily Mail, reporters asked Bolsonaro if he agreed with his foreign minister and the conservative president said, "There is no doubt, right?"
Actually, it's not a "historical fact," and there is plenty of doubt. Actual historians point out that Nazism was ultra-nationalist, socially conservative and fascist, which places it on the right side of the political ledger, and Hitler was always anti-Marxist.
But Chapman didn't consult any historians. Instead he relied on conservative writer Thomas Sowell, whose training is in economics, not history (despite Chapman's attempt to paint him as an "intellectual historian"). Chapman also relies on a documentary called "The Soviet Story" to push the idea that "ideological and political similarities between National Socialism and Soviet Communism" -- again, despite the fact Nazism was fundamentally anti-Marxist and anti-communist -- because their propaganda art styles were similar. But "The Soviet Story" has been accused of factual errors in trying to so closely align Nazism and Soviet communism.
But who needs facts at a "news" organization when there's a narrative to advance?
The Le Pens
CNS also found time to gush over a family of far-right French politicians.
Marion Marechal-Le Pen -- the similarly far-right granddaughter of Jean-Marie Le Pen, founder of the far-right National Front and niece of the current National Front leader, Marine Le Pen -- spoke at the CPAC gathering of conservatives in 2018, and CNS made sure to play it up, but it to hide Le Pen's extremism in order to favorably write about it. Chapman did the honors, under the overenthusiastic headline "France's Marion Le Pen at CPAC: 'Just Like You, We Want Our Country Back!' America First and France First!":
Speaking at the Conservative Political Action Conference (CPAC) on Feb. 23, conservative Catholic French politician Marion Marechal-Le Pen said the election of President Donald Trump proves that when "the people are given the opportunity to take their country back, they will seize it," and that she supports a policy of America First for the American people, Britian First for the British people, and France First for the French people.

Marion Le Pen, 28, also defended the family, the nation, natural law, and a common morality. "What do we want?" she asked. "Just like you, we want our country back."

[...]

Marion Le Pen is the niece of Marine Le Pen, who ran for the French presidency on the conservative National Front ticket in 2016-17. Marion Le Pen is also the granddaughter of Jean-Marie Le Pen, who founded the National Front, but who was removed from the party in 2015 by Marine Le Pen who denounced his extreme views. Marion Le Pen is in agreement with her aunt on most issues and she is seen as more traditionally Catholic and pro-family.

Marion Le Pen is a National Front party member and she served in the National Assembly from 2012 to 2017.
See what Chapman did there? He called Marion Le Pen "conservative," not far right, and portrayed Jean-Marie's expulsion from the National Front as evidence the party stopped being "extreme."
But Chapman was too busy gushing over Le Pen's speech to mention the fact that his fellow conservatives were denouncing CPAC for inviting her because of her affiliation with extreme politics.
Later the same day on which Chapman's fawning article appeared, CNS published another article by correspondent Faycal Benhassain in which he too tried to portray Marion Le Pen as merely conservative -- declaring that "In her speech at CPAC, she spoke about a resurgent conservative youth on both sides of the Atlantic" -- but he did use the "far-right populist" label on Marine Le Pen. Ultimately, though, Benhassain does move Marion further to the right:
Some experts argue that Maréchal-Le Pen's tone and committed ideas could well appeal to the right wing electorate, even as Le Pen struggles to recover from her election defeat.

Alexandre Devecchio, a reporter with conservative newspaper Le Figaro, says he believes Maréchal-Le Pen hopes to see an implosion of the FN, to make way for a large new right-wing party.
Ultimately, CNS did move toward accurate labeling, albeit involving Le Pen's aunt, the similarly named Marine Le Pen, leader of the far-right National Rally party (formerly known as the National Front). In a March 2018 article by Patrick Goodenough stating that "French far-right leader Marine le Pen said Thursday that the bringing of criminal charges for tweeting graphic images of ISIS violence was clearly an attempt to silence her." Still, Goodenough endeavored to portray Le Pen's graphic tweets as reasonable.
A Jan. 16 article by Benhassain highlighted Marine Le Pen launching "her campaign for the European Parliament elections in May." Benhassain did describe Le Pen as "far right," but he also gave her space to frame her political movement as "populist" and "the defender of the Europe of the people," as well as "a great alliance of French patriots opposed to the globalists." Benhassain then repeated French political analysts who touted Le Pen's chances, citing one who said that "many events happening in Europe and around the world are creating a political atmosphere favorable to the ideas of the National Rally," Le Pen's political party.
The latest from