CNS Piles On AOC Over Remarks About Cruz
Topic: CNSNews.com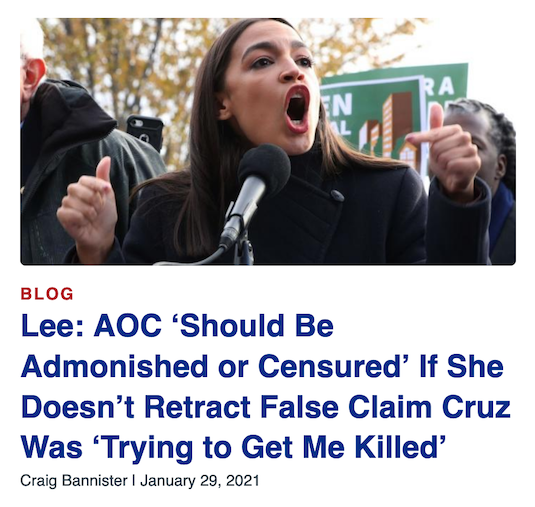 The Media Research Center wasn't alone in trashing Rep. Alexandria Ocasio-Cortez for expressing her sincere fears about her fellow members of Congress who supported the attempt to overturn the presidential election that culminated in the Capitol riot. Its "news" division, CNSNews.com, joined in as well.
In a Jan. 22 article, Susan Jones seemed offended that Ocasio-Cortez didn't attend President Biden's inauguration in part because "we still don't yet feel safe around other members of Congress," specifically citing Republican Sens. Ted Cruz and Josh Hawley. JOnes made sure to call Ocasio-Cortez a "non-senator" and tried to whitewash what the senators tried to do:
For the record, neither Sen. Hawley nor Cruz advocated "insurrection" or overturning the results of the 2020 election.
Hawley said he would vote against certification of the Electoral College tally because it was the only way to air his and his constituents' concerns about problems with the election and have a chance to debate it, as the law and Constitution allow.
Cruz and other Republican senators advocated a 10-day delay in congressional certification to make time for an audit of the results in swing states.
When Ocasio-Cortez explicitly claiming that Cruz was trying to get her killed through his support of overtunring the election (and he did effectively do that no matter what Jones thinks), CNS was quick to rush out Republicans demanding an apology in similarly headlined items, all by Craig Bannister:
Bannister let the Republicans claim that Ocasio-Cortez was making a false accusation without providing the context for it. In the Roy item, he wrote: "On January 6 of this year, when a mob stormed the U.S. Capitol while votes electing Joe Biden as president were being certified, Sen. Cruz was 'simply engaging in speech and debate regarding electors,' not threatening Ocasio-Cortez, Roy says" -- but he didn't tell readers that the attempt to overturn the election Cruz supported help instigated the riot.
Bannister comes off as doing PR for Republicans instead of being a reporter.
Posted by Terry K. at 3:45 PM EST