Even The MRC Won't Defend Texas In Winter Storm's Aftermath
Topic: Media Research Center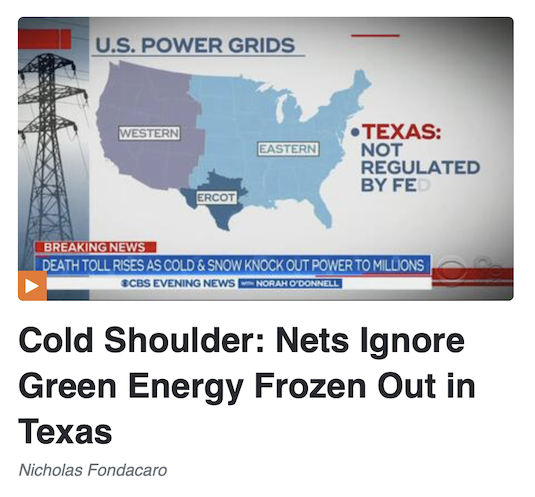 The Media Resarch Center was quick to rush to the defense of Texas after an unusual winter storm wreaked havoc on the state's power grid. Nicholas Fondacaro huffed in a Feb. 16 post:
Parts of Texas were in a dangerous situation Tuesday as back-to-back freezing weather systems left the Lone Star state with rolling blackouts as the power grid struggled to heat homes. But while the broadcast networks gawked at their plight, one even blaming it on a lack of federal control, they failed to tell viewers the truth: so-called green energy systems such as wind turbines were freezing over, preventing them from generating the much-needed power.
But Fondacaro was peddling his own (unsurprising) lie of omission: the reason the wind turbines froze over is beause they weren't properly winterized. It's not, as Fondacaro would link you to think, an issue solely of wind turbines that operate just fine in colder climates. And all forms of power generation, not just wind, were affected by the cold.
In a Feb. 18 post, Alex Christy complained that the media has pointed out why Fondacaro's argument was bogus, then tried to pivot toward a new defense:
MSNBC Live host Stephanie Ruhle asked correspondent Morgan Chesky the question that was on a lot of people's minds Wednesday morning: "why is this power grid failing so badly" in Texas? According to both of them, it's because Texas' conservative energy policies led to companies putting profits over people, which resulted in the failure to properly winterize equipment.

According to Chesky, the attempts to blame wind turbines that have stopped working in the low temperatures are misguided because, "that only makes up a small portion of the massive sources of energy that Texas has at its disposal."

Chesky, instead pointed to the "natural gas pipelines that froze up because they're being built without any insulation. And we saw a nuclear plant that provides energy have to temporarily shut down due to a safeguard caused by the cold."

At this point it would have been useful for Chesky to point out that Texas has not only seen very cold weather, but has shattered temperature records that are in some cases well over 100 years old.
That's quite a shift from blaming wind turbines to eclaring it an act of God that nobody could have prepared for (except, you know, by winterizing their power generation equipment).
This was followed by Tierin-Rose Mandelberg complaining:
Earlier this week wintry storms hit the southern part of the United States and so far, more than 20 people have died and 4.1 million people are left without power. This storm is a natural occurrence and everyone knows that ... except everybody's favorite pagan Bette Midler who thinks it's some sort of retribution from God.

Apparently Midler is so close to God she knows exactly who's on His naughty and nice list. According to her, since Sens. Ted Cruz and John Cornyn (R-TX) have not accepted Joe Biden's win, God wanted to punish the state they represent, Texas.

[...]

It's disconcerting that this type of behavior is common among leftists. The storm that hit Texas had nothing to do with politics or mother gaia. But, Tinseltown village idiots love jabbing the right however they can … even if it means telling conservative Texans they deserve to freeze in an ice storm.
Mandelberg seems so unhappy that it can't blame liberals for the storm, so she has to go to the celebrity-bashing well (and the MRC, for some reason, loves to obsess over Midler).
The MRC finally landed on an argument it could live with (if an ancient one), as detailed in a Feb. 22 post by Kyle Drennen: "Over the weekend, NBC's Today shows on both Saturday and Sunday eagerly tried to exploit the deadly winter weather in Texas to push the Biden administration's radical climate change agenda. ... The leftist media are never shy about using a crisis to help Democrats force through their agenda." As if attacking non-conservative media outlets for pushing an "agenda" isn't also an agenda.
And that's really all the MRC did. When the Texas storm's aftermath is so severe that even a right-wing apparatchik like the MRC won't come to the defense of a solidly Republican state -- as it became clear that state power officials ignored warnings about generation facilities vulnerable to cold weather and deregulation caused massive price spikes for electric power -- you know things in Texas are bad.
Posted by Terry K. at 10:04 PM EST
Updated: Thursday, September 23, 2021 10:45 PM EDT