WND Won't Fact-Check MyPillow Guy's Bogus Election-Fraud Film (But Will Promote It)
Topic: WorldNetDaily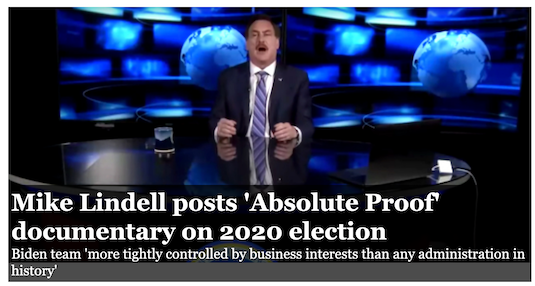 We know WorldNetDaily is capable of fact-checking when it wants to -- but it's also gotten caught publishing false information that it's had to sheepishly walk back. WND writer Art Moore -- who's had to do some of that walking back of late -- presumably doesn't want that to happen again. So he was stuck in bland PR stenography mode with minimal bnackground information in a Feb. 5 article:
One of President Trump's most fervent supporters, MyPillow CEO Mike Lindell, released on Friday a two-hour video documentary titled "Absolute Proof" presenting the claim that fraud and irregularities affected the outcome of the 2020 election.

It's available on a website Lindell created and was scheduled for airing on the One America News cable network three times on Friday, at 1 p.m., 4 p.m. and 7 p.m. Eastern time.

"Everyone needs to share it with everyone you know, because anyone that sees it, even if it's nine Supreme Court justices, everyone will say, 'Wow, this is an attack on our country,'" Lindell said in an interview Wednesday with The Revival Channel on YouTube.

"Once you guys see what I've seen you're gonna be so excited," he said.

OAN has put a disclaimer on "Absolute Proof" stating it is paid programing and "opinion only."

Following threats of a lawsuit, the network, along with Newsmax TV and others, has distanced itself from claims that equipment by Dominion Voting Systems and Smartmatic USA were designed for fraud and were manipulated to steal the election from President Trump.
As he has before, Moore refused to do a fact-check of Lindell's film, just promoted its existence -- even though fact-checks are out there that prove the film is filled with lies. Moore undersold the disclaimer OAN put on Lindell's video, which was much lengthier than he described.
Moore also repeated a falsehood in claiming that Lindell saw the "withdrawal of his products by several major retailers in response to his claims of election fraud. The consumer organization Media Action Network launched a boycott of Bed, Bath & Beyond, which saw its stock plunge 36% in one day of trading last week." As we've documented when Moore first reported it, the boycott had nothing whatsoever to do with the stock drop.
A few days later, Moore still couldn't be bothered to do a fact-check, but he did do an article on Dominion officials saying that Lindell's film has basically invited a lawsuit. The closest thing to a fact-check he referenced was a note that "Larry C. Johnson, a former analyst for the CIA and the State Department's Office of Counterterrorism, outlined what he saw as the strengths and weaknesses of Lindell's documentary in a post for the Gateway Pundit blog on Monday." But Moore didn't mention that Gateway Pundit is one of the most discredited far-right websites out there, or that Johnson is best known for discrediting himself by promoting a hoax that there is somewhere out there a secret tape of Michelle Obama using the word "whitey."
Moore also noted that "Newsmax TV and others also have distanced themselves from claims that Dominion and Smartmatic systems were designed for fraud and were manipulated to steal the election from Trump" -- but he didn't mention that WND has left itself open to a lawsuit because of a column by James Zumwalt repeating an apparently false and inflammatory attack on a Dominion official (which somehow is still live and uncorrected on WND's website despite the fact that the Dominion official has sued others for publishing it).
Posted by Terry K. at 1:06 PM EST