CNS Slobbers Over Trump's Minor Israel Peace Deals
Topic: CNSNews.com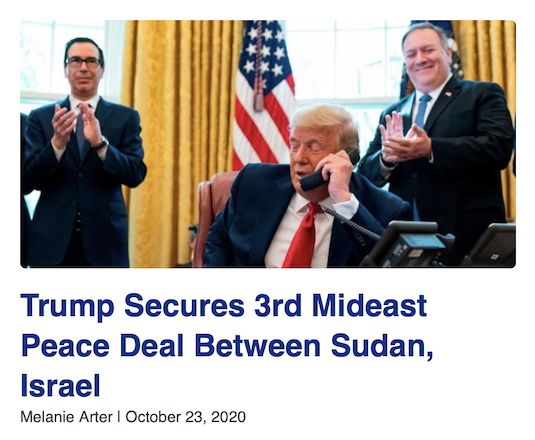 CNSNews.com reporter Patrick Goodenoughused to be a relatively unbiased repoerter (by CNS standards, anyway). Over the past couple years, he's been sliding toward pro-Trump hagiography and anti-Democratic attacks. His articles drooling over President Trump's deals with minor Arab countries to recognize Israel is one more step down for him.
On Aug. 31, Goodenough gushed over "the first commercial flight between Israel and the United Arab Emirates" and how "White House senior adviser Jared Kushner and National Security Advisor Robert O'Brien both expressed optimism Sunday that other Arab countries would follow the UAE in normalizing relations with the Jewish state" after thte USE ended a boycott of Israel.
A week later, after Kosovo did something similar, Goodenough was sounding like a Trump White House press release:
It took more than four decades for the first two Muslim-majority countries to recognize and normalize ties with Israel, and now that number has doubled in less than a month, with Kosovo's decision to follow the United Arab Emirates in taking the step.

Making that observation at the White House on Friday, National Security Advisor Robert O'Brien called it "a very remarkable breakthrough."
Never mind, of course, that neither country was ever at war with Israel.
Goodenough was in press-release mode again in a Sept. 11 article, declaring that "President Trump on Thursday portrayed himself as a Middle East peacemaker, pointing to breakthroughs between Israel and Arab states, looming U.S. troop drawdowns, and apparent signs of progress in Afghanistan." A few days later, he was the willing scribe for Secretary of State Mike Pompeo, who "repudiated House Speaker Nancy Pelosi's jibe that President Trump's progress in the Middle East is a "distraction" from the coronavirus crisis. He also warned that "opponents" like "The Council on American-Islamic Relations (CAIR), Code Pink, and dozens other organizations are planning to protest near the White House during Tuesday's signing ceremony."
Goodenough was in full stenography mode for the signing ceremony:
As President Trump on Tuesday presided over first diplomatic agreements between Israel and Arab nations in 26 years, Israeli Prime Minister Binyamin Netanyahu urged naysayers to "rise above" political divides and to "put all cynicism aside.

"Despite the many challenges and hardships that we all face, despite all that, let us pause for a moment to appreciate this remarkable day," he said at the White House ceremony.

[...]

The signing took place on the exact spot where, 27 years and two days earlier, President Clinton oversaw the signing of the interim Oslo accords between Israel and the PLO.

The interactions between the principals – even despite the coronavirus-related absence of handshaking – seemed considerably warmer and less awkward on Tuesday than they were on that day in 1993.
Goodenough didn't all the hagiography fun; Susan Jones uncritically repeated National Security Adviser Robert O'Brien obsequiously declaring that Trump "will be known as a peacemaker. And an op-ed from wacky pro-Trump rabbi Aryeh Spero slobbered that "This is yet another outstanding achievement by President Trump regarding Israel and the Middle East and demonstrates our president's unique abilities to bring to life that which has eluded other leaders. This is truly a manifestation of 'The Art of the Deal.'"
Last week, when a deal was announced between Israel and Sudan, Goodenough was on hand to gush again:
Another foreign policy achievement weeks before the election? President Trump tweeted Monday that the U.S. will remove Sudan from its list of state-sponsors of terrorism, once Khartoum pays $335 million as agreed to U.S. terror victims. As a kicker, Sudan may then become the third Arab country in two months to normalize relations with Israel.

The news of the first part of that reported deal came in the form of tweet from the president: "New government of Sudan, which is making great progress, agreed to pay $335 MILLION to U.S. terror victims and families. Once deposited, I will lift Sudan from the State Sponsors of Terrorism list. At long last, JUSTICE for the American people and BIG step for Sudan!"

[...]

If that materializes, it would be another example of the type of unorthodox deal-making, which last month delivered Israel another Muslim-majority diplomatic partner, Kosovo, as part of a broader U.S.-brokered economic normalization agreement between Kosovo and Serbia. (As a bonus, both Balkan countries also reportedly agreed to locate their embassies in Jerusalem, rather than Tel Aviv.)
This was followed by an Oct. 26 attempt to dunk on John Kerry for no reason other than that he's shilling for the Trump campaign:
The Trump administration now appears to be doing something that former Secretary of State John Kerry said could never be done.

In late 2016, Kerry told a think tank audience, "There will be no separate peace between Israel and the Arab world."

[...]

Kerry is a top foreign policy adviser to Democratic presidential nominee's Joe Biden's campaign.

[...]

After years of following that conventional thinking and frustrated attempts by a series of U.S. administrations to secure an Israel-Palestinian accord, President Trump's team took a different tack. It marginalized the Palestinian leadership – while undercutting its diplomatic initiatives at the U.N. – and focused on encouraging Arab states to make separate deals with Israel.
If Goodenough was ever an objective reporter, he certainly isn't one anymore -- he's been fully assimilated into the right-wing CNS borg.
Posted by Terry K. at 1:47 AM EDT
Updated: Thursday, October 29, 2020 2:45 PM EDT