MRC's Houck Gets A Chance To Crush On McEnany Once More
Topic: Media Research Center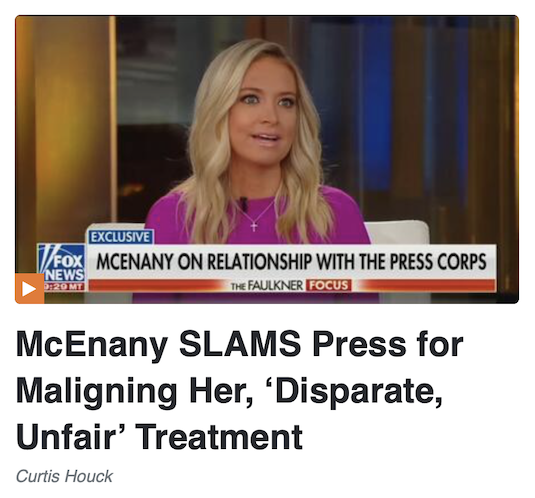 We've documented Media Research Center writer Curtis Houck's massive crush on Trump White House press secretary Kayleigh McEnany -- in whom he can see no flaws and who performed her job perfectly as far as he's concerned -- so when McEnany resurfaced for a Fox News appearance on March 2, Houck predictably gushed over his crush once more and uncritically treated her biased complaints as the indisputable truth:
In her first interview since the end of the Trump administration, former White House Press Secretary and newly-minted Fox News contributor Kayleigh McEnany spoke Tuesday about what she viewed as a "disparate" and "unfair" treatment from liberal journalists who refused to give her "a modicum of respect," while current Press Secretary Jen Psaki had been able to skate by relatively unscathed.

Speaking with Harris Faulkner, McEnany said that, when asked to evaluate how she was treated in the briefing room, it was "disparate, unfair in the sense of....a Democrat woman standing at that podium would never have had a Playboy reporter in the back of the room shouting at her as she left, and nor should a Democrat woman ever have to face that, and nor should a Republican woman."

Building on having name-checked carnival barker Brian Karem, McEnany added that there should be "a modicum of respect that I think reporters and those at the podium in a political role should have for one another," but was sullied by "reporters who were more interested in being political operatives, let's say, than journalists."

McEnany left viewers to conjure up which reporters she was talking about and, in contrast to many of the reporters she dealt with, she took the high road by making clear that "there are some incredible reporters who, to this day, represent the kind of journalism I think is good."
McEnany's attack on Karem is part of a grudge against him that dates back months.
What McEnany (and Houck) don't seem to understand is that respect has to be earned, and because McEnany spent her sporadic press briefings attacking reporters who ask reasonable questions and telling them lies starting from her very first day on the job, she didn't.
Houck also gave McEnany a pass for shirking her job at the end: "The interview also touched on how McEnany had wanted to give a final briefing to recap the administration's many, many successes, but the events of (and the fallout from) January 6 inhibited that." There was nothing stopping McEnany from doing her job in the final two weeks of Trump's presidency;' instead, the day after the pro-Trump Capitol riot on Jan. 6, McEnany read a brief statement, refused to take questions, then fled the room, never to be seen again. She could have answered questions about the Trump administration's response to the riot -- which might have earned her a modicum of respect -- but she chose not to do her job.
But that doesn't matter to Houck. As for as he's concerned, McEnany is perfect in every way, especially in their shared loathing for journalists who refuse to parrot right-wing narratives.
Posted by Terry K. at 6:22 PM EDT
Updated: Friday, March 26, 2021 6:33 PM EDT