MRC Still Censoring Its Mercer Conflict of Interest When Promoting Parler
Topic: Media Research Center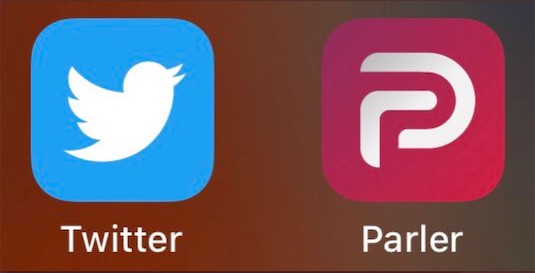 The Media Research Center has long defended right-wing Twitter clone Parler as a purported "free speech" app -- glossing over the fact that the Capitol riot was planned in part on it and it contains racism, pornography and violent threats, and it has completely censored from its readers the fact that Parler the fact that the MRC and Parler share a deep-pocketed funder in Rebekah Mercer.
After Parler's deplatforming by Amazon Web Services, Joseph Vazquez spent a Jan. 14
post
complaining that "The Washington Post Editorial Board praised the shutdown of free-speech platform Parler by the company owned by the same 'world's richest person' that owns The Washington Post." Vazquez couldn't compain that the Post editorial didn't disclose that Jeff Bezos owns the Post -- instead, he huffily acknowledged it by complaining that the editorial "even admitted that Bezos owns both the newspaper and the company it praised for shutting down a tech competitor" -- but he didn't disclose that his paycheck comes in part from Parler's major funder.
The same day, Alexander Hall complained:
The censorship frenzy that began with the suspension of President Donald Trump put the conservative movement on notice: Conform and comply or be destroyed.

The conservative solution to Big Tech censorship isn't as simple as "just build your own platform." Despite years of the right being told just that. Multiple Big Tech companies worked together to deplatform free speech app Parler, a move which the platform's CEO suggested may prove fatal.
Also on Jan. 14, Kayla Sargent cheered how Texas Attorney General Ken Paxton (R) has demanded answers from several Big Tech companies about the suppression of the free speech-oriented platform Parler." Not only did Marsh and Hall fail to disclose their financial ties to the funder of Parler, Marsh failed to tell her readers that Paxton is under federal investigation for corruption.
Alex Christy grumbled in a Jan. 15 post that folks on CNN argued that Parler can't be fixed to get rid of the hate. He worked in some good old-fashioned Soros fearmongering: "CNN was roughing up Facebook on Friday, using a report from the Tech Transparency Project -- which is described as 'nonpartisan' but is transparently funded by leftist George Soros."
Vazquez returned on Jan. 21 to help then-Parler CEO John Matze play the victim:
Parler CEO John Matze flipped the script on Amazon, which had accused his platform of inciting violence and removed it from its web services as a result.

Matze and his family have since gone into hiding after reportedly receiving death threats.

Matze accused Amazon Web Services (AWS) of running a "PR campaign" with other tech companies against his company Parler. He said that these companies claimed "falsely, you know — without any evidence really other than a couple of articles that didn't have any evidence either — that, you know, Parler, somehow, was responsible for inciting violence." Matze said that such an accusation against his company was "crazy because their statements alone — on the first day that it was released, you know, had over a thousand death threats to our lawyer alone. Our employees are harassed, you know. We're harassed."

Matze didn't mince words during the Jan. 18 edition of &Hannity and fired back at Amazon: "[T]he one inciting violence is AWS — Amazon — who incited, you know, economic violence against our company and has, you know, created people who actually want to threaten us and our employees too."
Vazquez didn't note any example of Matze offering evidence that anyone from Amazon Web Services explicitly threated Matze or his family. He also let Matze's denial that Parler incited violence go unchallenged, even though there's plenty of evidence to support the claim that it did. And, of course, Vazquez said nothing about the fact that his paycheck is funded partly by the same women who funds Parler.
More victimization came from Alex Schemmel in a Feb. 2 post complaining that Bezos' successor as Amazon CEO is the man who runs Amazon Web Services, "the division of Amazon that canceled services to the free-speech site Parler following the Jan. 6 riot in the U.S. Capitol building," disingenuously adding, "Parler is the free-speech alternative to Twitter that conservatives began flocking to after social media firms started aggressively censoring conservative content." Schemmel certainly knows that "conservative content" is not the reason AWS deplatformed Parler -- unless he's telling is that hate and violence is now considered "conservative." He too failed to disclose the Mercer conflict of interest.
Meanwhile, other things were happening with Parler: In a bid to get back online, it signed a deal with with a Russian cybersecurity firm that has ties to the Russian government, and Matze was fired as Parler CEO reportedly after tanging with Rebekah Mercer. The MRC devoted no posts to those developments; a Feb. 8 post by Hall noted that Matze was Parler's "ex-CEO" but didn't explain why he was fired.
Finally: We'd previously noted a Jan. 12 post by Sargent touting a lawsuit Parler filed against Amazon, whose web services operation deplatformed Parler over the above-mentioned hate and violence. But Sargent and the MRC have yet to tell its readers that the lawsuit was swiftly thrown out of court because Amazon can't be forced to host Parler's hate because that's a breach of Parler's hosting contract with Amazon.
Posted by Terry K. at 9:16 PM EST
Updated: Tuesday, February 16, 2021 8:44 PM EST