MRC's Lord Knows Who's To Blame For Capitol Riot, And It Is ... Democrats?
Topic: Media Research Center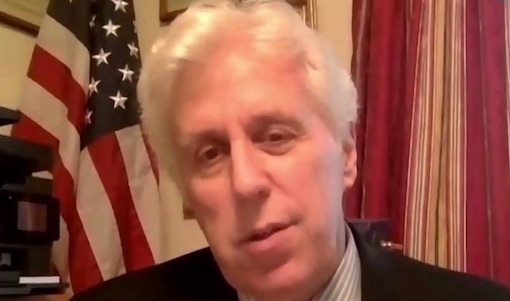 Jeffrey Lord whined in a Feb. 13 Media Research Center post:
As the impeachment week unfolded, Maryland Democratic Congressman Jamie Raskin, the impeachment manager, has made a point of showing videos illustrating in graphic detail the attack on the Capitol.

And no one has been more emphatic in support of Trump's impeachment for the events of January 6th than Senate Majority Leader Chuck Schumer of New York. Schumer, of course, sat front and center in the Senate chamber and watched the video clips Raskin showcased.

But there's something curious going on with the media coverage of Raskin and Schumer.

[...]

Now. What are we not seeing in the media? Let's start with what we know.

Who runs the Capitol Police? That would be the Architect of the Capitol, the House and Senate sergeants at arms, as well as four committees, two each from both Houses of Congress. The Capitol Police web site identifies those four as one oversight committee from each body, plus, as always with Congress, the appropriating committees from the House and Senate.

In practice, this means the House Administration Committee and the Senate Rules and Administration Committee are the congressional committees in charge of the Capitol Police.

In the aftermath of the attack on the Capitol, the House sergeant at arms, Paul Irving, resigned - and this was announced by House Speaker Nancy Pelosi. Shortly afterward, Michael C. Stenger, the senate sergeant at arms, resigned. Incoming Senate Majority Leader Schumer had made it clear that upon taking office he intended to fire Stenger.

Hmmm. What is the media not saying?

The number two Democrat on the House Administration Committee is…Congressman Jamie Raskin. And who sits on the Senate Rules and Administration Committee? That would be Senator Chuck Schumer.

[...]

But strangely there is no one in the media asking of Raskin and Schumer what was famously asked of Nixon by then-Tennessee Senator Howard Baker of the Senate's Watergate investigating committee. To wit:

What did Raskin and Schumer know and when did they know it?

And why didn't they do anything to protect the Capitol, their colleagues and staff from what was coming?
Lord is careful not to note that those two Senate committees were controlled by Republicans on Jan. 6, the day of the riot. Raphael Warnock and Jon Ossoff, Democrats who won Senate runoff races on Jan. 5, were not sworn in until Jan. 20. Which tells you that Lord is not going to ask any of his fellow Republicians what they knew and when they knew it and why they didn't do anything to protect the Capitol and their colleagues.
That's an example of bias so ridiculous that it could only come from Jeffrey Lord.
Posted by Terry K. at 10:44 PM EST