MRC's Houck Can't Stop Gushing Over Doocy's Hostile Questions
Topic: Media Research Center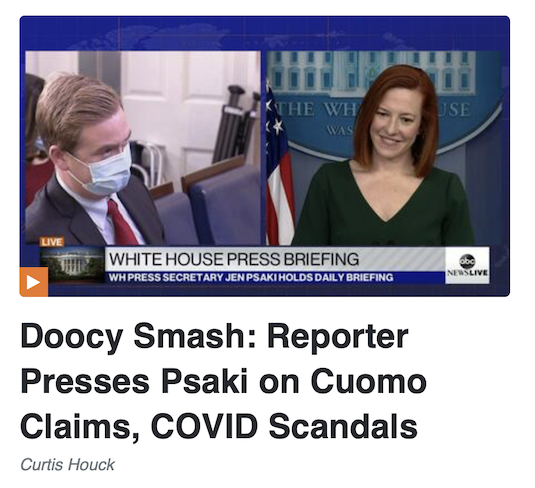 Media Research Center writer Curtis Houck's abject hatred for Biden press secretary Jen Psaki -- and man-crush on Fox News reporter Peter Doocy -- is continuing apace.
On Feb. 22, Houck attacked Psaki's appearance on a Sunday talk show, effectively accusing her of incompetence: "Along with struggling to answer basic questions during White House press briefings, Press Secretary Jen Psaki found herself paddling the struggle boat on Sunday with ABC's This Weekas chief Washington correspondent Jonathan Karl inquired about then-candidate Joe Biden's affection for scandal-ridden Governor Andrew Cuomo (D-NY)." The next day, Houck gushed over Doocy under the headline "Doocy Demolishes Psaki on Biden WH's Immigration Double Standard":
A day after struggling with questions about embattled OMB Director nominee Neera Tanden, White House Press Secretary Jen Psaki found herself being torched Tuesday by Fox News's Peter Doocy about the administration's immigration policies and specifically the reopening of a detention center both President Biden and Vice President Harris derided as an abomination under the Trump regime.

Worse yet for Psaki, Doocy drew follow-ups from CBS's Ed O'Keefe (who asked an excellent question earlier in the briefing about the Keystone XL pipeline) and McClatchy's Francesca Chambers. Later on, she faced stiff questions from New York Post's Steven Nelson on drones and government surveillance.
Houck served up more gushing over Doocy and sneering at Psaki in a Feb. 24 post:
After making his mark during Tuesday's White House press briefing, Fox News's Peter Doocy again tussled Wednesday with Press Secretary Jen Psaki over illegal immigration, wondering whether the term "kids in containers" was more apt for the detaining of illegal immigrant children since Psaki was turned off (read: triggered) by the description of "kids in cages."

Doocy started with this: "We spoke yesterday about immigration and this facility — HHS facility in Carrizo Springs, Texas for migrant children. And you said it is not kids in cages. We've seen some photos now of containers. Is there a better description? Is it kids in containers, instead of kids in cages? What is the White House's description of this facility."

Clearly not amused, Psaki insisted she would "give a broader description of what's happening here&rdquo where they were not and would not "separate" and "rip" kids "from the arms of their parents at the border" but instead "expand and open additional facilities, because there was not enough space in the existing facilities — and if we were to abide by COVID protocols, that's the process and the step."

She added how children were also having access to an education and medical care, so it was different than whatever the Trump administration did. Coincidentally, in-person education is something younger American citizens haven't been able to get for almost a year thanks to teachers unions.
Houck then complained that "Psaki went personal by wondering if Doocy was concerned about being accurate with viewers." Never mind, of course, that Houck's beloved Trump press secretary, Kayleigh McEnany, regularly attacked reporters, as did Houck for using the same aggressive tone with McEnany that Doocy is using with Psaki.
Under the ridiculous headline "Doocy Smash," Houck's Feb. 25 post gushed even more over Doocy:
Clearly on a roll since returning to the White House Briefing Room rotation on Tuesday, Fox News correspondent Peter Doocy continued his streak Thursday of asking the tough questions to Press Secretary Jen Psaki. This time, Doocy was dogged in seeking comment on the nursing home scandal and sexual misconduct allegations against Biden ally and Governor Andrew Cuomo (D-NY).

Despite the fact that ABC had ignored it through Thursday morning (while ABC, CBS, and MSNBC waited until then with CNN first noticing in the noon Eastern hour), Doocy began his questions by invoking former Cuomo aide Linsdey Boylan's claims in light of Cuomo chairing a virtual meeting of the National Governors Association with President Biden.

Doocy wondered if, given Boylan's disturbing claims about Cuomo, the White House was "worried about this becoming a distraction from an important meeting about COVID response."

Psaki's answer was standard for a spokesperson in that she insisted Biden "has been consistent in his position" that "[w]hen a person comes forward, they deserve to be treated with dignity and respect" and "[t]heir voice should be heard not silenced and any allegation should be reviewed."

Ruling? Pants on fire, Jen. Sure, one could say anyone and everyone should be "heard," but as we've seen with Tara Reade versus Christine Blasey Ford, not all allegations are actually heard in the public square. Psaki might as well have followed up with the adage about a tree falling in the forest.
Houck is not going to mention that he and the rest of his MRC crew smeared and disrespected women who accused Donald Trump of sexual assault and harassment and care about Tara Reade not as a woman but as a tool with which to bash Biden, so Houck may not want to beg comparisons here.
Again, Houck imputed sinister motives to Psaki's side of the exchange, claiming that "a peeved Psaki insisted that Doocy of routinely engaging in disinformation." Given that Fox News is very much a disinformation mill masquerading as a "news" channel, that concern is well founded.
Posted by Terry K. at 6:32 PM EDT
Updated: Friday, May 14, 2021 10:01 PM EDT