CNS' Weird (And Homophobic) Attacks on Chuck Schumer
Topic: CNSNews.com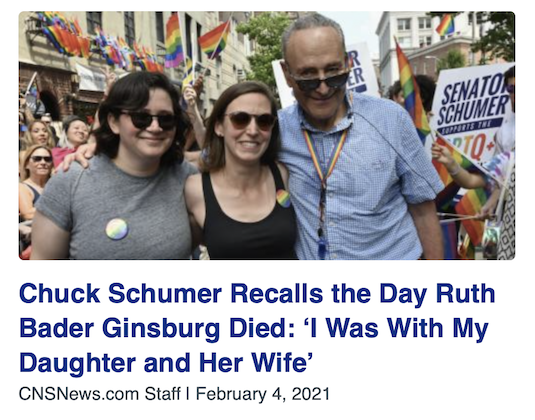 Like its coverage of Nancy Pelosi, CNSNews.com's coverage of Democratic Senate Leader Chuck Schumer is clickbait-driven, focused on isolated moments than any sort of cohesive or comprehensive reporting. CNS' reporting on Schumer in late January and early February followed this pattern. First, we have the usual isolated, context-devoid claims that CNS usually pushes:
Then, on Feb. 4, the attack took a weird turn under the oddly written headline "Chuck Schumer: 'Today I'm Honoring the Work of…an LGBTQ+ Icon'":
Senate Majority Leader Chuck Schumer (D.-N.Y.) sent out a tweet on Wednesday saying that he was that day "honoring the work of…an LGBTQ+ icon."

"Today I'm honoring the work of Harlem native Audre Lord, who was an LGBTQ+ icon and leading African American poet," Schumer said in his tweet.

"Lorde used poetry to confront issues of racism, sexism and homophobia," Schumer said. "Her work continues to inspire us to speak out against injustice."
That's the entirety of the anonymously written article. Why does it exist? We can presume that given how much CNS hates LGBT people, this is an attempt to tar Schumer as a someone who doesn't hate gays, which in CNS' eyes is a horrible, dreadful thing.
The same day, another anonymously written article appeared that's even less relevant -- given that rehashes without explanation a Schumer speech that was more than four months old -- under the similarly odd headline "Chuck Schumer Recalls the Day Ruth Bader Ginsburg Died: 'I Was With My Daughter and Her Wife'":
Then-Senate Minority Leader Chuck Schumer went to the well of the Senate on Sept. 21, 2020 to talk about the process to confirm a successor to Supreme Court Justice Ruth Bader Ginsburg, who had died three days before that.

"The stakes of this vacancy concern no less than the future of fundamental rights of the American people," Schumer said.

"I was with my daughter and her wife to celebrate the Jewish New Year, and they thought to themselves and mentioned at the table: Could their right to be married, could marriage equality, be undone?" Schumer said.

[...]

On July 1, 2019, Schumer sent out a tweet with a photo of himself with his daughter and her wife participating in the Pride Parade in New York City.

"With my daughter Alison and her new wife Biz," Schumer said in the tweet. "Wouldn't have happened without the sacrifice at Stonewall.

"Here we are in front of Stonewall at #NYCPride. #Stonewall50 #Pride," said Schumer.
The homophobia is more blatant here; there's no journalistic reason to write a headline that way if the point wasn't to issue a personal attack on Schumer because his daughter is gay. The fact that both of these articles both lack bylines (but, according to the CNS archive, were posted from the account of editor Terry Jeffrey)is a tell as well; nobody wants to put their name on anti-gay attacks masquerading as "news" stories, apparently not even the biased reporters who work for CNS.
It's a sign of the sad, biased state of CNS that it thinks homophobic attacks are clickbait-worthy.
Posted by Terry K. at 2:33 PM EST