MRC Plays Down Sexual Harassment At Washington NFL Team
Topic: Media Research Center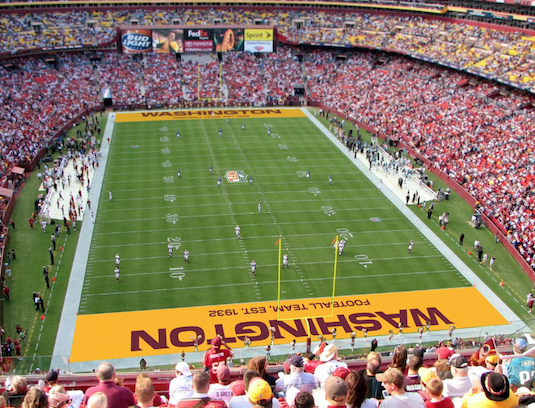 The Media Research Center has long been weirdly defensive of the name of the Washington Redskins, and considered it a sign of weakness that it finally abandoned that now-offensive name. In a March 3 post, the MRC's Matt Philbin is bizarrely angry that the Washington Football Team (the interim name of the team) is switching out its cheerleaders for a coed dance team:
The Washington Castrati … er, I mean The Washington Football Team, is dropping its traditional all-female cheerleading squad. It was once known as The Redskinettes. Then, for a season, the, um, Footballettes? Now it's going to be a "coed dance team."

Because that's what football fans really want to fill those commercial breaks and time outs … but no, it really isn't. It's just the price of doing business in 2021. The team has hired Petra Pope as senior advisor in charge of buzzwords and being all sensitive, and she told USA Today it's going to be a super "modern and diverse" dance squad, with a "skillset of being super athletic, which is what we're really honing in on."
But it wasn't until the sixth paragraph that Philbin got around to hinting why the team made the move (while somehow blaming it on a newspaper, for some reason):
It's been a bad year for the Washington Used-to-bes. After a decade of defying its greatest foes (sports journalists) team management panicked last summer when BLM started burning stuff. Although 90% of Native Americans rather liked the team name (or at least had better things to do than whine about it) The Redskins ceased to be. Then in August came allegations of sexual harassment by former Redskinettes (in The Washington Post, of course).

That episode ended in an out-of-court settlement. But clearly, owner Dan Snyder feels the team's fans haven't suffered enough through two decades of lousy football, exorbitant beer prices and the indignity of having to root for the team to be named later.
Actually, the settlement involved only one female employee who wasn't a cheerleader. Philbin isn't going to tell you the cheerleader-related incidents weren't any sort of run-of-the-mill sexual harassment -- there were things like a secret video of outtakes from a calendar photo shoot that captured the cheerleaders in the nude.
It seems like Philbin is bizarrely wistful for the days when men could objectify women without consequence.
Posted by Terry K. at 10:05 PM EDT
Updated: Monday, March 29, 2021 10:16 PM EDT