MRC Fails In Asserting That FDR's New Deal Was 'Disastrous'
Topic: Media Research Center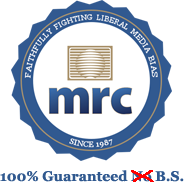 Joseph Vazquez devoted a March 31 Media Research Center screed to attacking New YOrk Times columnist Tom Friedman for approving of President Biden's stimulus plans. He took particular exception to this part: "Friedman said that Biden should "not only channel his inner F.D.R. but also a little Ronald Reagan and some rip-roaring capitalism." Friedman argued as if Reaganomics and FDR's disastrous New Deal welfare state belonged in the same sentence."
Vazquez's evidence that Franklin Roosevelt's New Deal was "disastrous" is a link to a review at the right-wing Foundation for Economic Education of a book called "FDR's Folly" by Jim Powell, senior fellow at the libertarian Cato Institute -- and, thus, brings a highly biased view of FDR to the table. It begins with a highly dishonest cherry-picking of unemployement statistics: "In 1931, the year before Franklin Roosevelt was elected president, unemployment in the United States had soared to an unprecedented 16.3 percent. In human terms that meant that over eight million Americans who wanted jobs could not find them. In 1939, after almost two full terms of Roosevelt and his New Deal, unemployment had not dropped, but had risen to 17.2 percent." This omits the pertinent fact that Great Depression unemployment peaked at 25.6 percent in May 1933.
Powell's book has been dismissed as a work of revisionist history designed to preach to fellow conservatives and libertarians and is not necessariliy reflective of reality, byt Vazquez won't tell you that.
Further, as we've previously noted, unemployment statistics from the 1930s did not count people employed by government work programs -- a key piece of FDR's New Deal -- as actually being employed, thus making the unemployment rate artificially high, and it can be argued that FDR cutting back on spending and raising taxes in 1936 caused a recession in 1937-38 that raised unemployment rates.
Vazquez went on to complain that Friedman "used California's 2020 decision to ban the sales of new internal combustion engine cars by 2035 as an example" of the government directing capitalism to achieve needed goals, adding, "The Institute for Energy Research rebuked California's ban as placing 'Californians into a financial dilemma of not being able to afford a vehicle.'" Vazquez didn't mention that the Institute for Energy Research is
funded by fossil-fuel interests
, making their conclusions a tad suspect.
Posted by Terry K. at 3:04 PM EDT