WND Pushes False Claim That Pro-Lindell Boycott Hurt Company's Stock
Topic: WorldNetDaily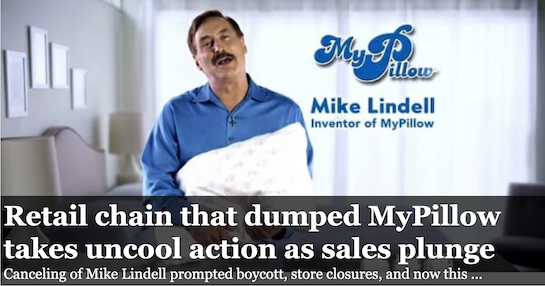 It's good that WorldNetDaily is getting more proactive about correcting false articles (though maybe it should do a better job of fact-checking before publication). But there are others that still need correction. Art Moore wrote in a Jan. 28 WND article:
Amid a boycott in response to its politically motivated decision to drop Mike Lindell's MyPillow products, shares of Bed Bath & Beyond plunged 36.4% at the close of trading Thursday.

The retail chain suffered its biggest one-day loss since going public in June 1992.

The consumer organization Media Action Network launched the boycott of Bed, Bath & Beyond after the retail chain stopped selling Lindell's products due to his support of President Trump's claim that fraud affected the outcome of the 2020 election. Retailers Wayfair and Kohl's also have stopped selling MyPillow products.

Lindell, famous for his TV ads, employs more than 1,500 people at his Minnesota plant. He recounted to WND last May the remarkable transformation in his lifethrough his faith in Jesus Christ.

"This isn't about pillows. It's about the continual punishment of conservative speech," Media Action Network founder Ken LaCorte said in an announcement of the boycott.

"And we've had enough."
Just one problem: There's no actual proof that a boycott or any Lindell-related action resulted in the steep share drop. As Media Matters summed it up:
The supposed "collapse" of retailer Bed Bath & Beyond's stock has obviously got nothing to do with its decision to not carry MyPillow products. Rather, the company's stock price had recently become artificially high as part of the current online craze of small investors buying up stocks that had been short-sold by large hedge funds. The stock price then eventually fell from those heights. (The most famous example of such stocks is video game retailer GameStop, but it also includes other companies such as AMC, Blackberry, and Nokia.)
Moore also failed to tell his readers that Lindell's conspiracy theories aren't "conservative speech" -- they are falsehoods. So there's a lot of work to be done to make a full correction here.
Posted by Terry K. at 12:22 AM EST