MRC Rushes To Limbaugh's Defense Afer His Death -- But Mentions Sandra Fluke Only Once
Topic: Media Research Center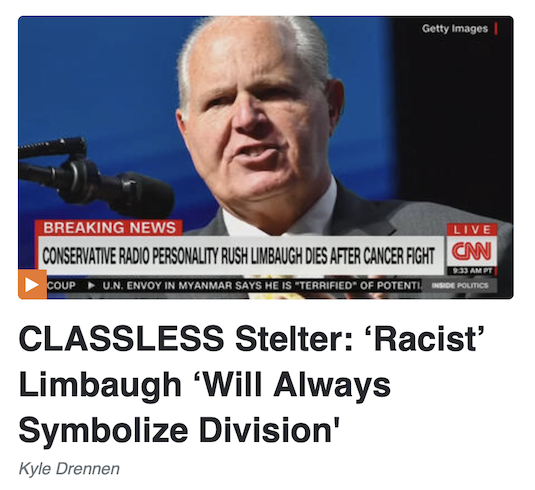 Right-wing radio host Rush Limbaugh's death brought the expected plaudits, under headlines like "Radio Icon Rush Limbaugh Delighted MRC Galas: 'Stay on the Truth'" and "Mike Pence Honors Rush Limbaugh: 'The Anchor of Conservatism'" and "Mr. Snerdley Pays Tribute to the Late, Great Rush Limbaugh as Only He Could." But as it did when Limbaugh announced he had been diagnosed with lung cancer a year earlier, the MRC lashed out at anyone who pointed out that Limbaugh was a racist, misogynist, divisive hater while almost failing to offer a coherent defense against the claims:
Again: Aside from the above-noted Jay Maxson example, none of this posts offer any sort of defense of Limbaugh -- they simply whine that Limbaugh was criticized -- accurately, one could say -- upon his death. (Also, note that the MRC so loved the word "despicable" to describe the non-right-wing media's response to Limbaugh's death that it appears in the headlines of three of these items.)
One post, however, did attempt to defend the arguably indefensible. Tim Graham devoted a Feb. 18 post to responding to an Associated Press obituary of Limbaugh that noted "As the AIDS epidemic raged in the 1980s, he made the dying a punchline," that "When actor Michael J. Fox, suffering from Parkinson's disease, appeared in a Democratic campaign commercial, Limbaugh mocked his tremors" and that "when a Georgetown University law student supported expanded contraceptive coverage, he dismissed her as a 'slut.'"Graham's response: There's context! And Rush (allegely) apologized!
Each one of these could be dissected and put into context -- for example, he apologized for making light of AIDS patients. But reporters skip over the apologizes where he apologized. He also apologized for suggesting law student Sandra Fluke was a "slut." He also apologized to Michael J. Fox, but Brent Baker has fuller context.

Adding context would crimp the "cruelty" and "malice" charges, but Sedensky left that out. There's also no sense of timeline -- the "AIDS Updates" and jokes about D.C. homeless advocate Mitch Snyder are from 1990, before Limbaugh's show became a widely distributed national show.
Graham linked to no evidence that Limbaugh ever apologized for his "making light of AIDS patients." And Limbaugh didn't merely "suggest" Fluke was a "slut" -- he out-and-out called her one, the MRC gave him a pass for doing so, and Limbsugh's so-called apology wasn't much of one and it came only after advertisers threatened to quit the show.
Graham's post, by the way, was the only one of the Limbaugh defense posts in which Fluke was mentioned by name.
The MRC had the same hates as Limbaugh did, so it couldn't understand why his targets -- or anyone who's not in their right-wing media bubble -- might object to the offensive things he said. Because to Graham and the rest of the MRC crew, they weren't offensive.
Posted by Terry K. at 9:50 PM EST
Updated: Sunday, March 14, 2021 11:30 PM EDT