The Big Lie About Election Fraud Moves To Brazil, And WND Buys Into It
Topic: WorldNetDaily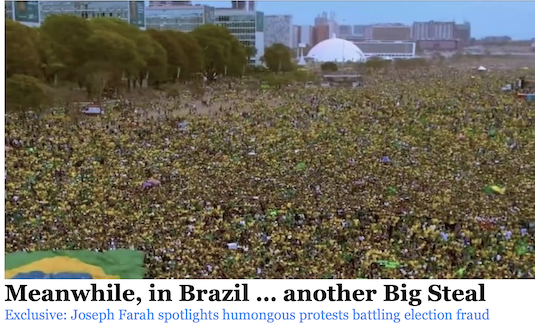 WorldNetDaily has kept an eye on presidential elections in Brazil -- unsurprising since it likes the very Trumpy right-wing authoritarian leader there, Jair Bolsonaro. Scott Lively used an Oct. 24 column to fret that a Bolsonaro loss might mean a decrease in hate for LGBT people there:
On Oct. 30, 2022, the people of Brazil will chose a new president in a run-off election featuring conservative incumbent Jair Bolsanaro and the Marxist former President Luiz Inácio Lula da Silva, aka Lula. Current polling in the corporate media shows Lula in the lead, raising the nightmare specter of a return to the extreme homofascism that marked the Lula regime from 2003-2010.

It was during Lula's regime that Brazil's LGBT Brownshirts drove my friend and ministry ally Julio Severo and his young family into hiding in a foreign country. He died there in 2021, partly in consequence of the dire poverty they faced as Brazilian ex-pats living illegally in exile. My ministry has taken up the task of helping his widow, Sarah, and seven young children to survive without him.

[...]

Allow me at this point to remind the reader that the slur "homophobe" is an invention of the LGBT movement to characterize literally ALL disagreement with its political agenda as mental illness. A phobia is a anxiety disorder, and the purpose of the "homophobia" slur is to frame disagreement as hateful bigotry driven by an irrational fear of homosexuals.

"Homophobia" was originally a psychiatric term for a person's fear of his own homosexual inclinations back in the days when "science" admitted the truth about sexual health and actually helped people overcome same-sex attraction disorder. But after the LGBT movement took permanent control over the American Psychiatric Association (APA) in a political coup in 1973, the "science" was edited to serve the new agenda. And the term "homophobia" was re-purposed to create an anti-Christian/anti-naturalist pejorative equivalent to the anti-homosexual slurs "fag" and "dyke." All such slurs are dehumanizing and antisocial, and "homophobe" should be condemned alongside the other two – but of course the only standards upheld by the left are double-standards.

[...]

I am urging Christians around the world to join me in prayer that Lula does not return to power in Brazil. And I include especially in that call to prayer our Russian brethren, who since 2013 have set the standard in their own law banning "gay" propaganda to children, and who have influence in Brazil as a part of the BRICS alliance. Ukrainian believers too should pray with us, because they face under pro-LGBT Zelensky the same agenda as Brazilians will again suffer under a second Lula regime – and if prayer can save Brazil that fate, it can save Ukraine (and I pray that even now). But mostly I appeal to American Christians, because it is our government that has been the Whore of Babylon pushing LGBT perversions across the entire globe, and thus we have a special duty to try and mitigate the damage.
After Bolsonaro lost, he pulled another Trumpy move by crying election fraud ... and WND bought into it. Editor Joseph Farah-- already a pro-Trump election fraud dead-ender despite a complete lack of credible evidence to support it -- rushed to Bolsonaro's defensein his Nov. 17 column:
While Americans continue to grumble about the elections stolen in Arizona and elsewhere, the blackout news media refuse to cover it – with the notable exception of WND, Gateway Pundit and Real America's Voice

But our neighbor to the south, in Brazil, haven't left the streets for weeks because of the electoral cheating that has taken place there.

Brazilians packed the streets in admirable civil protest again Nov. 13, on Republic Day – to the tune of over 3 million people.

In fact, the party of President Jair Bolsonaro presented its report on the Really Big Steal, announcing it will apply to have the election annulled since the results could not be validated.

Since the massive fraud during the runoff election on Oct. 30, millions of Brazilians have been protesting on the streets every day against fraud by communist convicted criminal Luiz Inácio Lula da Silva, the supposed winner.

[...]

Even before Election Day, Biden had a not-so-subtle message for Bolsonaro: According to Foreign Policy magazine, "Over the past year, U.S. President Joe Biden has deployed top administration officials to meet with their Brazilian counterparts and convey a simple message to President Jair Bolsonaro: Don't derail Brazil's democracy."

In other words, the fix was in.

[...]

Further, Bolsonaro was a friend of President Trump – so of course he had to go.
In fact, not even the Bolsonaro-controlled Brazilian military has found any evidence of election fraud. But lack of evidence has never stopped WND before, so the narrative continues. Art Moore wrote in a Dec. 1 article:
For the 32nd consecutive day, millions of Brazilians are on the streets of cities throughout the nation in perhaps the largest pro-democracy protests in history, contending left-wing presidential challenger Luiz Inácio Lula da Silva's declared victory over conservative populist President Jair Bolsonaro was fraudulent.

Brazil's Superior Electoral Court announced Tuesday the certification ceremony of da Silva, a member of the Workers Party, will take place at 2 p.m. on Dec. 12. The inauguration is scheduled for Jan. 1.

On Wednesday, however, Bolsonaro filed a petition with Brazil election authorities formally contesting the results, alleging some voting machines malfunctioned and that any votes cast through them should be annulled.

[...]

Establishment media largely have ignored the massive protests, said investigative reporter Matthew Tyrmand.

"This is the largest democratic protest in possibly human history, and the global media is crickets on this," he said in an interview with Tucker Carlson on Fox News' "Tucker Carlson Tonight."

What's clear, he said, is that the Brazilian people "don't want to be led by a convicted criminal."
Moore didn't mention that Tyrmand has been busted for telling lies about the Brazilian election before. He also didn't mention that the Brazilian military found no election fraud, though he did note that the mlitary "has a special role in the Brazilian constitution giving it authority to adjudicate separation of powers disputes."
Posted by Terry K. at 12:50 AM EST