MRC Doesn't Understand What Metaphors Are, So It Smears 'View' Co-Host As 'Racist'
Topic: Media Research Center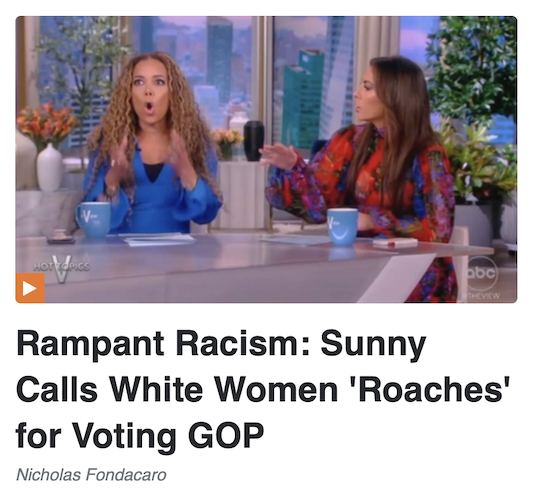 Nicholas Fondacaro -- whose Media Research Center job is to hate-watch "The View" -- put quite the inflammatory headline on a Nov. 3 post: "Rampant Racism: Sunny Calls White Women 'Roaches' for Voting GOP." Despite this framing, the truth was actually quite different:
For a while now, NewsBusters has been documenting and calling out the racism of Sunny Hostin, a co-host of ABC's The View. But even we were shocked Thursday when she suggested white women were "roaches" if they voted Republican. And being the wealthy elitist that she is, Hostin suggested they "were voting against their own self-interest" and supposedly wanted to live in the dystopian world of The Handmaid's Tale.

Citing "the abortion issue," Hostin recalled reading "a poll just yesterday that white Republican suburban women are now going to vote Republican." "It's almost like roaches voting for Raid," she proclaimed.

This drew immediate applause from the radical liberal audience and pushback from self-proclaimed conservative co-host Alyssa Farah Griffin, who called the comment "insulting to the voter." Hostin responded by shouting about how "They're voting against their own self-interest! Do they want to leave it in Gilead? Do they want to be in The Handmaid's Tale?"
Hostin did not call white women "roaches" -- she used a metaphor. Fondacaro has apparently never heard of metaphors, so he dishonestly decided to take Hostin out of context as an excuse to treat her statement as literal.
Tim Graham tried to further things in a Nov. 8 post:
In her Daily Mail column for Election Day, Meghan McCain responded directly to her old friend (and co-host of The View) Sunny Hostin, who characterized white women voting for Republicans to "roaches voting for Raid"– voting for their own demise.
In fact, McCain wasn't directly responding to Hostin at all -- her column didn't even reference Hostin by name, and she following Fondacaro in taking one word outof context ("we've heard women described as 'roaches' and 'Nazis' for valuing their best judgement over the orders of Democrats and the liberal media"). It seems McCain is just as shaky on metaphors as Fondacaro is.
This is fairly run-of-the-mill incompetence on the part of serial liar Fondacaro and the MRC. So why revisit this now? Because in pretty much every hate-watching post Fondacaro has written about "The View" since then, he has described Hostin as a "racist" and linked back to the above post as evidence.
That's right -- Fondacaro is smearing Hostin as a "racist" because he doesn't understand metaphors. How does such a fundamentally dishonst guy continue to be employed at the MRC?
Posted by Terry K. at 2:22 PM EST