CNS Touts Rand Paul's Medical Credentials, Censor His Lack Of Medical Expertise On COVID
Topic: CNSNews.com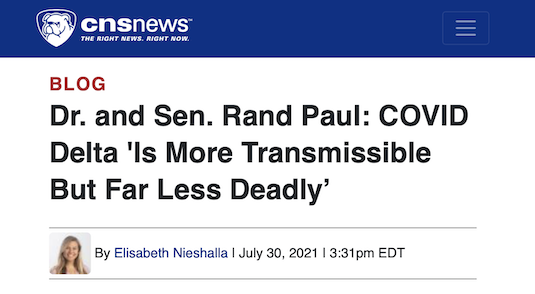 CNSNews.com loves Republican Sen. Rand Paul, and it especially loves to hype his medical credentials whenever he speaks out on coronavirus-related issues or other medical-adjacent issues:
Just one problem: Paul has no training in viruses or epidemiology, He's an opthamologist -- an eye doctor. His experience as a doctor is not directly relevant to anything COVID-related. None of the above articles mention what Paul's medical specialtiy is -- or that it doesn't really bring anything to discussions of COVID or transgender surgery.
That's dishonest reporting -- but hiding the truth about Paul serves CNS' editorial agenda.
Posted by Terry K. at 1:18 AM EDT