MRC's Jean-Pierre-Bashing Watch
Topic: Media Research Center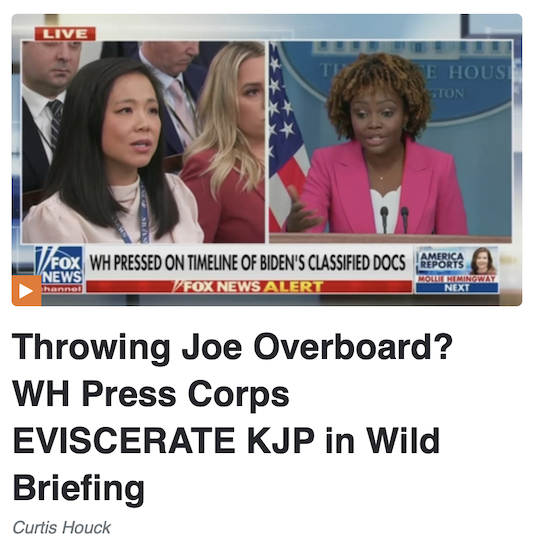 The Media Research Center continued its attacks on White House press secretary Karine Jean-Pierre, portraying her as incompetent for not answering questions to its satisfaction over the discovery of classified documents by President Biden outside the normal places they should be (which the MRC has also obsessed over). For the Jan. 17 briefing, Curtis Houck cheered that the "inept" Jean-Pierre was peppered with question from non-right-wing reporters even as he complained that she ignored right-wing outlets:
Tuesday's White House press briefing marked another installment of a terrible, horrible, no good, very bad day for the inept Press Secretary Karine Jean-Pierre as, while she ignored journalists from the Daily Caller, Fox News, and Newsmax about President Biden's classified documents scandal, she ran into a proverbial buzzsaw from outlets such as ABC, the AP, CBS, CBS News Radio, NBC, and NPR with fiery questions about the scandal.
Houck complained further that Jean-Pierre wouldn't take the bait in his writeup of the Jan. 18 briefing, praising not only a current Fox News employee but a former one as well:
As we've documented over the last week (see here, here, here and here), Wednesday's White House press briefing marked yet another tough day at the office for the empty and inept Press Secretary Karine Jean-Pierre as she kept up her stonewalling on President Biden's classified documents scandal, while reporters from the likes of the ABC, the Associated Press, CBS, the Fox News Channel, Gray Television, NBC, and even an independent journalist from Angola fired off hardballs.

The AP's Josh Boak led off the unsuccessful questioning by wondering if Jean-Pierre could give a justification "against visitor logs for" Biden's Wilmington, Delaware home "given the frequency with which [he] works" there, but Jean-Pierre only told him to review statements from the White House counsel and Secret Service.

Formerly with Fox News Radio, Gray Television's Jon Decker brought the hardball a little later, invoking Biden's September 60 Minutes interview where he denounced Trump hoarding classified documents as "irresponsible": "[D]o you think it was proper for President Biden to comment on an ongoing DOJ investigation?"

[...]

After not being called on Tuesday, Fox's Jacqui Heinrich had a turn and focused on more public press access seeing as how "we're in sort of an information blackout." When Jean-Pierre said "no" to whether she'd have someone speak at a briefing, Heinrich tried once more before returning to the previous concern raised about any national security concerns.
Houck did not offer evidence to back up his claim that Jean-Pierre declining not to answer questions made her "inept."
Meanwhile, Tim Graham gleefully touted criticism of Jean-Pierre from anonymous White House reporters (funny how anonyous sources are suddenly credible when they're spouting right-wing narratives, eh, Tim?) as reported by CNN's Oliver Darcy, whom the MRC normally hates and whom Houck himself obsessively denigrates as a "Benedict Arnold" for for the sin of escaping the right-wing media bubble. Graham went on to whine:
Then Darcy added a comical rebuttal from an anonymous White House source in a statement to CNN: "A lot of this sounds more like theater criticism than concern about ability to report facts for the American people's benefit." Wrong! Reporters in this case are upset over lies about the Biden documents scandal.

[...]

Anyone watching the briefing in recent says [sic] isn't really seeing a question-and-answer session as much as a question-and-stonewall session.

[...]

Can Jean-Pierre last at the White House if this document scandal goes on for months? Surely, Team Biden wishes they had a more talented stonewaller like Jen Psaki to handle the newly angered press corps.
We don't recall anyone at the MRC complaining when their beloved Kayleigh McEnany stonewalled reporters -- but then, her stonewalling was for the conserative cause.
Despite the MRC previously denying that Jean-Pierre was being attacked as a diversity hire, Kevin Tober did exactly that in his writeup of thte Jan. 23 briefing:
During Monday's White House press briefing, a handful of members of the White House press corps continued pressing the incompetent diversity hire, White House Press Secretary Karine Jean-Pierre over the fifth batch of classified documents found in President Joe Biden's home in Delaware and his regime's lack of transparency over the scandal.

First out of the gate on this topic was a series of spicy barbs thrown by ABC's Mary Bruce who asked Jean-Pierre: "You have said though from this podium many, many times over the last two weeks that this President takes the handling of classified material very seriously, and yet we continue to learn about more documents being found and discovered at his home."

Due to those facts, Bruce asked: "Why should the American people believe that this President takes classified material seriously and the handling of it?"

Of course, Jean-Pierre, like all the prior times she's been asked, had no real answer. "The American people heard from the President directly on this when he was asked by your colleagues at least twice now about how he sees this process," she mumbled.
Houck surprisingly whined more about a reporter who dared to deviate from questioning about Biden documents than about Jean-Pierre for the Jan. 24 briefing:
Tuesday afternoon's White House press briefing brought about plenty more hardballs on President Biden's classified documents scandal that the ever-inept Press Secretary Karine Jean-Pierre refused to answer, but along the way, Angolan reporter Hariana Veras temporarily brought the briefing to a halt with two long stemwinders of leftist commentary demanding gun control.
The next day, Houck once again tried to dunk on Jean-Pierre by praising a national security expert who was brought in, though he too was denigrated as a "crutch":
White House Press Secretary Karine Jean-Pierre brought in National Security Council Coordinator for Strategic Communications John Kirby Wednesday afternoon to serve as a crutch amid weeks of hardballs on the Biden classified documents scandal and, sure enough, Kirby ended up exposing Jean-Pierre's repetitive, tiresome answers by actually providing general explanations for why handling classified information is incredibly serious.

ABC's MaryAlice Parks went first and cited "bipartisan outrage and frustration over the last few days that there are just more and more disclosures of classified documents showing up in places where they were not supposed to be."

[...]

Jean-Pierre eventually had a turn, but she went back to shutting down, refusing to answer questions from AP's Aamer Madhani on whether "all former presidents" should "scrub...their homes and offices" for classified documents and ABC's MaryAlice Parks on whether the Biden-Harris administration would commit to ensure they'd leave office with no classified documents.
Any excuse to take a shot at Jean-Pierre, it appears.
Posted by Terry K. at 9:06 PM EST
Updated: Friday, February 10, 2023 10:08 PM EST