CNS Cranked Out Highly Biased Coverage Of Omnibus Bill Passage
Topic: CNSNews.com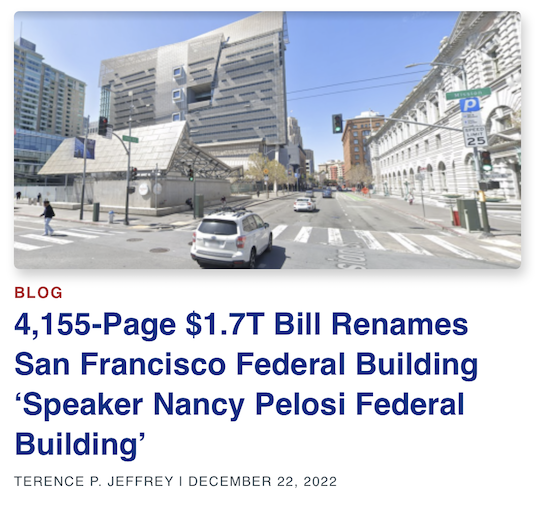 CNSNews.com's assault on the omnibus spending bill passed by Congress before Christmas kicked off with some stenography from Melanie Arter:
The Biden administration's goal is to get as many illegal immigrants into the United States as possible, and the White House's $3.5 billion funding request for the border will aid them in that goal, Rep. Greg Steube (R-Fla.) said on Tuesday.

"Yes, of course, it's going to aid those people that are coming in because their goal is to get as many illegals as possible, and it's so frustrating as a member of Congress that sits in the Judiciary Committee, and we deal with immigration," he told Fox Business' "Mornings with Maria Bartiromo."
Arter made no attempt to seek out an alternative view to such a ridiculous talking point. The usual biased attacks followed:
Craig Bannister touted an unscientific Twitter poll:
Tuesday night, Twitter Owner Elon Musk began running a poll on his giant social media platform, to see what people think of the $1.7 trillion spending bill being considered by Congress – the results are extremely lopsided.

'Should Congress approve the $1.7 trillion omnibus spending bill?' Musk's poll asks.

In the end, more than seventy percent of the 3.1 million Twitter users who voted said "No," while fewer than thirty percent said "Yes."
Editor Terry Jeffrey cherry-picked a single item out of the bill as part of its war on Nancy Pelosi (though he's actually just parroting a Republican congressman who did the same):
The 4,155-page $1.7-trillion omnibus spending bill that the Senate approved today on a 68-29 vote includes language on page 610 that renames the federal building in San Francisco the "Speaker Nancy Pelosi Federal Building."

Sec. 636 (a) of the bill states: "The Federal building located at 90 7th Street in San Francisco, California, shall be known and designated as the 'Speaker Nancy Pelosi Federal Building.'

[...]

Sen. Mike Lee (R.-Utah) pointed out this fact in a speech on the Senate floor on Wednesday—noting that Scott Parkinson (who serves as vice president of government affairs at the Club for Growth) had originally noted this element of the massive bill in a tweet.
And this was all before the bill even passed the Senate. When it did, a Dec. 22 article by Micky Wootten made to list all 18 Republican senators who voted for it -- and posted a tweet from a Republican congressman listing them -- in an apparent form of Heathering. This was followed by even more Republican whining about the bill:
When the House passed the bill, Wootten served up another article prominently listing the nine Republican members who supported it.Arter followed with an article featuring a Republican congressman who "had plenty to say about the Democrats' omnibus spending plan, none of it good."
Notice something missing here? None of these articles featured a Democrat who said nice things about the bill -- which once again makes a mockery of CNS' mission statement to "fairly present all legitimate sides of a story." The first and only article CNS article that did that was an anonymously written Dec. 30 piece -- nine days after its omnibus coverage started -- complaining that "House Speaker Nancy Pelosi (D.-Calif,) put out a statement on Thursday announcing that the $1.7 trillion omnibus spending bill that President Joe Biden signed into law that day would send $30 million to San Francisco for 'community projects' including $2 million for a center that serves 'LGBTQQ+ youth, especially trans and non-binary youth.'"
Posted by Terry K. at 1:20 AM EST
Updated: Thursday, January 26, 2023 9:46 AM EST