Another Purportedly Non-Biased Group Gets Space At The MRC
Topic: Media Research Center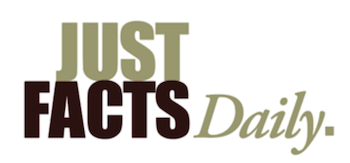 NewsBusters published a Jan. 13 post by James D. Agresti that seems designed to fit the Media Research Center's media-bashing narrative:
NBC News reporter and political director Chuck Todd recently railed against "misinformation" and singled out President Trump and "the right" for having an "incentive structure" to spread it. Todd, who according to NBC, "is responsible for all aspects of the network's political coverage," also stated that Republicans criticize the media for "sport" and "the loudest chanters of fake news" are "the ones who, under a lie detector, would probably take our word over any word they've heard from the other side on whether something was poisonous or not."

Speaking directly to those unsupported claims, a scientific survey commissioned by Just Facts shows that many people are indeed misinformed—but contrary to Todd—this is a bipartisan affair. In fact, the survey found that the most commonly believed misinformation accords with left-leaning narratives spread by the press, and Democrat voters are more likely to accept these falsehoods than Trump voters. Furthermore, sizable portions of Trump voters have swallowed some of these media-promoted liberal fictions, as well as some conservative ones.
A good number of the questions in the survey seem designed to push a conservative narrative, particularly regarding taxes and school choice and energy (though it does conceded that "the earth has become measurably warmer since the 1980s." Indeed, Just Facts' front page seems to reflect a conservative mindset; one article pushed the right-wing narrative that undocumented immigrants commit crimes at a higher rate than native Americans despite the data being questionable at best.
Despite that -- and the fact that this article is published at an indisputably conservative outlet, where Agresti has published previous items -- Just Facts insists on presenting itself as non-biased. Agresti has even written a lengthy attack on the Media Bias Fact Check website for daring to suggest that it has a conservative bias, attacking the website's reasoning as "flagrant and simplistic" and accusing it of being "either inept and/or dishonest."
It seems that, like another purportedly unbiased group the MRC has given space to, AllSides, Just Facts is a stealth conservative organization, cloaking its agenda in "science." Ask yourself this question: If they weren't, would the MRC be allowing them to write for it?
Posted by Terry K. at 1:39 PM EST