Not Meeting In The Middle: CNS Attacks Springsteen Over Super Bowl Ad
Topic: CNSNews.com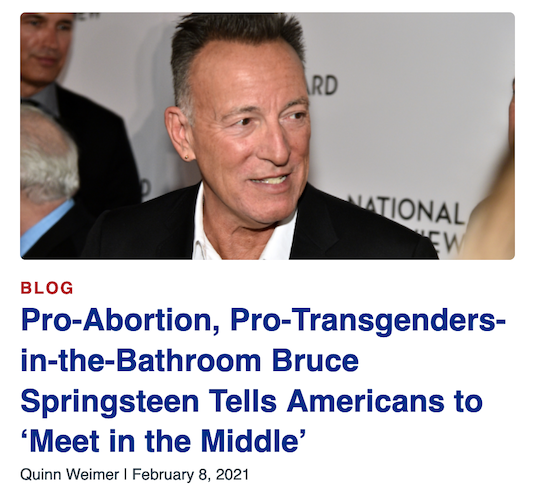 Quinn Weimer spent a Feb. 8 CNSNews.com article ranting at Bruce Springsteen over a Super Bowl ad for Jeep that implored Americans to meet in "the middle":
Rock-and-roll star Bruce Springsteen called for a "ReUnited States" in a sentimental Jeep commercial broadcast during the Super Bowl. "The Boss," who wishes for Americans to meet in "the middle" socially and politically, has a long history of radical views, including support for abortion, socialized medicine, and allowing transgender biological males into girls' restrooms.

[...]

Despite his call for Americans to meet in the middle, Springsteen himself has repeatedly endorsed and supported left-wing causes such as allowing transgender "women" (biological males) into girls' bathrooms and supporting abortion across the board.

At an Obama rally on Oct. 24, 2012, Springsteen claimed he was very grateful for "universal healthcare" (socialized medicine), a "more regulated Wall Street," and added, "I'm concerned about women's rights and women's health issues around the world."

"I don't have to tell you the danger to Roe v. Wade," said Springsteen. "I'm also concerned about the growing disparity of wealth between our best-off citizens and our everyday citizens."

Springsteen has an estimated net worth of $340 million.

Regarding transgenders and bathrooms, Springsteen canceled a 2016 show in Greensboro, North Carolina because the state passed the Public Facilities Privacy and Security Act, which designated bathroom use based a person's biological sex, and prohibited transgender "women" (biological males) from using real women's restrooms.
Weimer apparently believes that meeting in the middle requires liberals to abandon all their sincerely held beliefs and become right-wingers like her, and that she is not required to adjust her views at all. Meeting in the mddle requires compromise, and Weimer clearly doesn't think she has any obligation to do so.
How ironic that Weimer twisted a plea for compromise into a partisan political attack -- declaring any view that doesn't align with her right-wing worldview to be "radical" -- and a nasty personal attack on the person who made it.
Posted by Terry K. at 11:49 AM EST
Updated: Sunday, March 7, 2021 11:50 AM EST