WND Pushed Bogus Claims That Antifa Led Capitol Riot -- Until Reality Hit
Topic: WorldNetDaily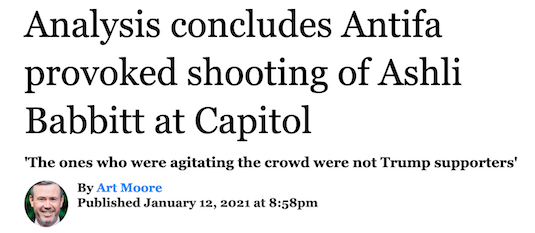 After the right-wing Capitol riot, one of the first things WorldNetDaily columnists did was push the claim that it was instigated by Antifa agitators, not any actual Trump supporters.
The "news" side of WND also pushed this as well. A Jan. 6 article by Bob Unruh uncritically repeated that "Social media was filled with charges that the protesters were Antifa operatives disguised as Trump supporters." A Jan. 7 article by Unruh repeating Republican Rep. Paul Gosar's claim that the Capitol riot had "all the hallmarks of Antifa provocation," adding in a tweet, "Look at the folks breaking the glass. All Antifa – your little buddies." He also cited Republican Rep. Mo Brooks tweeting that "Congressman told me he was warned on TUESDAY by Capitol Police officer that intelligence suggest fascist ANTIFA was going to try to infiltrate the Trump rally by dressing like Trump supporters" as well as disgraced ex-New York City police chief Bernard Kerik tweeting, ""President @realDonaldTrump supporters pulling Antifa terrorists away from building. There's plenty of these videos." Unruh waited until the third-to-last paragraph of his 23-paragraph item to note someone who said the rioters didn't look like Antifa.
Art Moore declared in a Jan. 12 article:
An analysis of videos of the death of Air Force veteran Ashli Babbitt at the U.S. Capitol indicates Antifa activists provoked the fatal gunshot from a police officer.

Japanese investigator Misako Ganaha explained in a video interview with Epoch Times reporter Joshua Philipp on his "Crossroads" program that she analyzed two lengthy videos, affording two different angles of the incident near the House chamber.

[...]

Ganaha, who lives in Okinawa, Japan, said it was clear to her that the two men were not Trump supporters.

She said she's seen the same Marxist "agitate and divide" tactics employed by leftists in her home country.

Clearly there were Trump supporters inside the Capitol building, she said, but "the ones who were leading the crowd, or agitating the crowd, were not Trump supporters," she said.
The problem, of course, is that numerous fact-checks have found no evidence of Antifa involvement in the riot -- WND's columnists are lying.
While their lies have been allowed to stand, Moore's article was a different matter. His article now begins with a lengthy correction:
CORRECTED Jan. 13, 2021 at 6:00 p.m. EST: Based on fact checks by AFP and Lead Stories, this story has been corrected to include comments from the FBI indicating there was "no credible intelligence suggesting Antifa involvement in Wednesday's criminal activity" at the U.S. Capitol on Jan. 6, 2021. The text of the story has been amended to remove the "Antifa" name. The original headline of "Analysis concludes Antifa provoked shooting of Ashli Babbitt at Capitol" has been amended to: "Video analysis suggests 'agitators' provoked shooting of Ashli Babbitt at Capitol." The original subheadline has been changed from "The ones who were agitating the crowd were not Trump supporters" to: "FBI maintains: 'No credible intelligence suggesting Antifa involvement.'"
Ouch. Nevertheless, Moore wrote an article the same day the correction was appended to his earlier one that claimed, "Another key question is whether or not there were facilitators inside the Capitol and outside it who instigated or enabled the attack to be carried out. Videos shows officers and other people removing barriers and opening doors to let the crowd in and people smashing windows as Trump supporters boo and demand they stop, yelling 'Antifa.'" This was followed by embedded tweets from someone claiming without evidence that Antifa was instigating the violence. Moore did not repeat the statement fro his correction that the FBI cites no credible intelligence suggesting Antifa involvement.
While WND is showing a concern about the accuracy of the information on its website these days that it has rarely exhibited in its 23-year history, Moore -- just like fellow writer Bob Unruh, who we caught making false claims that forced a similar walkback -- is unlikely to find his job at WND to be in danger. Who else would work for WND, given its well-earned reputation for fake news and conspiracy theories?
Posted by Terry K. at 12:35 AM EST
Updated: Sunday, February 7, 2021 11:04 PM EST