WND Pushes Yet Another Bogus COVID Claim
Topic: WorldNetDaily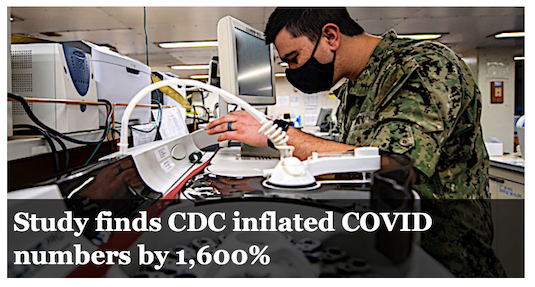 WorldNetDaily writer Art Moore has had to walk back an article or two in recent weeks after getting busted for pushing false and misleading information. And it looks like it's time for him to walk back another one. He wrote in a Feb. 10 article:
A peer-reviewed study contends the Centers for Disease Control and Prevention violated federal law by inflating Coronavirus fatality numbers.

The figures were inflated by at least 1,600%, according to the Public Health Initiative of the Institute for Pure and Applied Knowledge, which published the study, titled "COVID-19 Data Collection, Comorbidity & Federal Law: A Historical Retrospective."

The study asserts that the CDC willfully violated multiple federal laws, including the Information Quality Act, Paperwork Reduction Act and Administrative Procedures Act, reported the National File.

[...]

Among the notable findings in the study is the conclusion that the CDC "illegally enacted new rules for data collection and reporting exclusively for COVID-19 that resulted in a 1,600% inflation of current COVID-19 fatality totals," the watchdog group All Concerned Citizens said in a statement provided to National File.

"The research demonstrates that the CDC failed to apply for mandatory federal oversight and failed to open a mandatory period for public scientific comment in both instances as is required by federal law before enacting new rules for data collection and reporting," the group said.
Moore's biggest mistake here is trusting the National File, which is a right-wing conspiracy site that has been busted for publishing lies and currently being sued by a senator after publishing photos it falsely claimed were him in a Hitler costume.
The falsehoods start right off the bat with Moore's claim that the study was "peer-reviewed." As one fact-checker pointed out, the journal in which it was published "did not show up in rankings designed to measure how often journals are cited or used," and its editor also happens to run the Institute for Pure and Applied Knowledge. And the institute has been busted for false information on coronavirus in the past, as PolitiFact detailed:
PolitiFact has previously fact-checked a false claim by the institute's leader James Lyons-Weiler. A study published by the National Center for Biotechnology Information also debunked Lyons-Weiler's claim that the virus behind the ongoing pandemic was created in a lab.
On top of that, the other fact-checker noted, Lyons-Weiler has ties to the anti-vaccine movement. And even then, the study does not say what National File claims it says, according to PolitiFact:
In this case, the study does not definitively say that the CDC inflated COVID-19 deaths. Rather, it calls into question guidelines the CDC issued in March 2020 that were designed to more accurately capture mortality data related to the coronavirus. The study's authors called the guidance "a capricious alteration to data collection has compromised the accuracy, quality, objectivity, utility, and integrity of their published data."

[...]

Ultimately, the study's ten authors — at least one of whom is not a medical expert — conclude that "further federal investigation is justified." They do not prove or conclude that the CDC inflated COVID-19 death data or violated federal laws.

Additionally, experts who study the data say that it is far more likely that official counts of coronavirus deaths are too low.
Further, Moore parroted the National File's reference to a "watchdog group" called All Concerned Citizens. A Google search turned up no evidence of the existence of the group outside of that reference, but yet another fact-checker noted that a Facebook post referencing the alleged organization identifies as its spokesman one of the authors of the study -- self-dealing at its worst and most unethical.
In short: This is a bogus story all around. When will we see that walkback, Mr. Moore?
Posted by Terry K. at 1:32 AM EST
Updated: Saturday, March 13, 2021 10:23 PM EST