MRC Is Sad Fringe-Right Blog's Conspiracy Theory Got 'Censored'
Topic: Media Research Center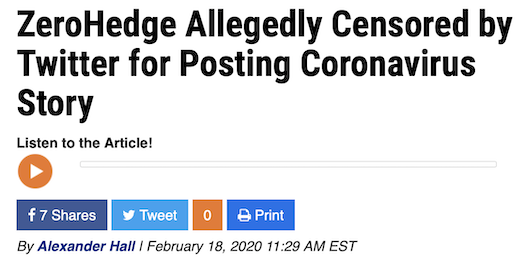 For some reason, the Media Research Center really hates it when right-wing websites get caught pushing fake news and conspiracy theories. Alexander Hall complained in a Feb. 18 post:
The origin of the coronavirus is still being debated, but Twitter has responded to one skeptic outlet by censoring it.

The ZeroHedge founder reportedly, under the pseudonym Tyler Durden, asked "Is This The Man Behind The Global Coronavirus Pandemic?" and theorized about the coronavirus' true origins. ZeroHedge was then suspended from Twitter. Forbes claimed that a spokesperson from Twitter indicated that "ZeroHedge was removed for violating its platform manipulation policy, which the social media giant describes as 'using Twitter to engage in bulk, aggressive or deceptive activity that misleads others and/or disrupts their experience.'" However, The Daily Mail cited a resurfaced research paper from the South China University of Technology, which appears may lend some credence to ZeroHedge's initial reporting.

ZeroHedge founder "Durden" said that he was suspended from Twitter after Buzzfeed claimed that his blog had doxed a Chinese scientist whom Durden argues was a "public figure."
Note that Hall doesn't portray ZeroHedge as pushing bogus conspiracy theories -- it's just a "skeptic outlet."
Perhaps that's because Hall really wants to believe ZeroHedge's conspiracy theory. After acknowledging that credible outlets like the Washington Post and New York Times point out that ZeroHedge's conspiracy theory is "debunked" and "fringe," Hall went all in:
Durden purportedly showed a "help wanted" notice from the lab itself, which, translated from Chinese using Google translate, called for new hires who will use "bats to research the molecular mechanism that allows Ebola and SARS-associated coronaviruses to lie dormant for a long time without causing diseases."

In addition, sources such as The Daily Mail have cited a research paper: "The possible origins of 2019-nCoV coronavirus," by scholars Botao Xiao and Lei Xiao. The research paper appears to have been scrubbed from ResearchGate, but MRC TechWatch was able to view using the Wayback Machine to see ResearchGate's cached information.

The paper's abstract observed that "The 2019-nCoV has caused an epidemic of 28,060 laboratory-confirmed infections in human including 564 deaths," and how "the genome sequences from patients were almost identical to the Bat CoV ZC45 coronavirus."

In other words, these "scholars" from South China University of Technology suggest that "the killer coronavirus probably originated from a laboratory in Wuhan."
In fact, the research paper being cited has not been peer reviewed and offers no evidence of a direct connection between the laboratory and coronavirus, beyond a map noting the distance between the laboratory and the Wuhan seafood market linked to the spread of cornonaviarus, nor does it offer any proof that the coronavirus originated at the laboratory.
Meanwhile, Hall himself is censoring certain inconvenient facts -- namely, the dubious track record of both websites he cites. ZeroHedge is a pro-Trump blog that has long pushed fake news and conspiracy theories, and Hall remains weirdly unbothered by the pseudonymous "Tyler Durden" despite the fact that his employer has long (and hypocritically) railed against anonymous sources in the media. The Daily Mail, meanwhile, is so unreliable that even Microsoft and Wikipedia warn against trusting it.
This isn't the first time the MRC has defended ZeroHedge after it got caught pushing fake news. In November, Corinne Weaver complained that Twitter "censored" an acount that had repeated a false story from ZeroHedge claiming that Ukrainian officials had drawn up an indictment against Hunter Biden. She complained that an NBC report "suggested the blog that ZeroHedge "first disseminated" on the allegation was 'misconstrued,' it did not cast doubt on the original Interfax-Ukrainian piece." In fact, as the NBC report pointed out, the Interfax-Ukraine report did not mention an indictment.
Posted by Terry K. at 5:25 PM EST