The MRC's Parler Game
There's a big reason the Media Research Center has given a lot of attention to alt-right Twitter alternative Parler: key MRC funder and board member Rebekah Mercer also funds Parler. Not that it will tell you that, of course.
By Terry Krepel
Posted 3/8/2021
---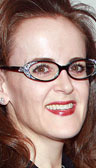 Rebekah Mercer
Like Gab, Parler is a Twitter wannabe that has gained a reputation as the place right-wingers go when they get kicked off Twitter for being too extreme. And like Gab, the Media Research Center has promoted Parler as a "free speech" alternative for right-wingers who enjoy playing the victim by whining about how they got kicked off Twitter for their extremism and lies (which the MRC strangely insists on portraying as mainstream conservatism).

While the MRC and its writers did not have the courage of their convictions by abandoning Twitter to join Gab, they are joining Parler (while hedging their bets by not quitting Twitter). The tipping point appears to be right-wing activist Dan Bongino buying a stake in Parler. Alexander Hall gave Bongino and Parler some free promotion in a June 16 MRC post:
Bongino declared on the June 16 episode of The Dan Bongino Show that this platform is "the social media alternative to the tech tyrants which have declared war against conservatism, liberty, and everything we stand for." He heavily cited founder and President of the Media Research Center Brent Bozell's opinion piece at Fox News, which declared that the "fate of democracy" will be decided by how conservatives fight for free speech online.

Bongino explained his rationale for partnering with Parler: "When I see my problem I try to solve it. Sometimes it works out, sometimes it doesn't. I didn't like the political establishment I ran for office" He then cited how he "didn't like what was out there in the podcast space, started my own." Then cited how he "didn't like what the Drudge Report was doing with their hard-left turn we started Bongino Report.com, why? 'Cause talkers talk, and doers do."

Bongino described how this spurred him to take action on his own, "So I'm putting my own skin in the game" with his Parler partnership because "I don't like what Twitter is doing to us, and I don't like what SnapChat's doing to us, and I don't like what Facebook's doing to us, I don't like what Reddit's doing to us" citing how it banned r/The_Donald. "So I took an ownership stake in Parler and I'm going to put my own skin in the game, and I know, I know for a fact that we're gonna succeed, I know it."
A few days later, MRC writer and NewsBusters managing editor Curtis Houck announced he had started a Parler account, declaring (on Twitter) that Bongino's "urging on his show finally convinced me, along with Twitter deciding law and order is offensive." Houck didn't mention that because Bongino now owns a piece of Parler, it's in his financial interest to promote its use by others. The next day, MRC executive Tim Graham announced he had joined Parler at Houck's urging.
Around the same time, the MRC's "news" division, CNSNews.com, published an article touting how "conservatives are flocking to Parler, which considers itself an 'unbiased social media network,' after two conservative accounts were banned from Twitter earlier this week."
The MRC, however, won't tell you that Parler may not be the "free speech" bastion it's been made out to be.
The Huffington Post reported that Parler's user agreement and community guidelines not only bans numerous forms of speech, users forfeit their right to sue Parler over posts and indemifies Parler in case a user gets sued over a post and requires the user to pay Parler's legal fees. That's the opposite of free speech, in the monetary use of the word. Parler is now trying to frame itself as something of a "good censor" who only kicks out people for good reasons, unlike Twitter.
Parler also has the issue of imposters and trolls posting under the names of prominent people -- many of them Republican Party officials and politicians -- and it's turning into a right-wing echo chamber as liberals have declined to take part in the conservative migration.
Instead, the MRC served up more Parler puff pieces. A July 31 post by Joseph Vazquez touted how Parler CEO John Matze appeared on Fox Business (of course)to talk about how "his site is doing its part to defend freedom of speech. Vazquez let Matze lie about the state of censorship on Parler by redefining the word: "There is no censorship of any kind. We do have clear rules about violence, any illegal activity — anything that you couldn't do in public, you couldn't do on Parler — but there is no ideological censorship or ideological bias of any kind."
Vazquez didn't mention how much Parler users have to sign away in order to use the platform, nor did he note any of the other problems Parler has. Then again, this was little more than a commercial for Parler.
Damage control
It was left to CNS to do a little damage control for Parler. An Aug. 5 CNS article featured an interview Rob Shimshock -- CNS' commentary editor, by the way, not an actual reporter -- conducted with Parler's CEO. It sure reads like damage control:
John Matze, CEO of social media company Parler, committed not to ban users for "hate speech," stated that his company would fix an "awkward" "fighting words" clause in its community guidelines, and called the decision by Big Tech companies to censor the America's Frontline Doctors video "ridiculous," in an exclusive interview with CNSNews.com.

"We refuse to ban people on something so arbitrary that it can't be defined," Matze said when asked whether Parler has banned or ever will ban users for "hate speech." "You see these sites trying to enforce these arbitrary rules and you notice that people are getting kicked off for the most random and arbitrary things like misgendering people. It's absurd. So no, we won't be pursuing that policy."

The Parler CEO also commented on the subjective nature of the "Fighting Words or Threats to Harm" portion of the company's community guidelines, which, as of press time, gives as an example "any direct and very personal insult with the intention of stirring and upsetting the recipient—i.e., words that would lead to violence if you were to speak in that fashion in person."

"We just hired a chief policy officer who's a real lawyer," Matze said. "She's actually overhauling that specific clause that you brought up because she said it's a really awkward clause to have online....Our goal here is to maximize free speech, maximize online discussion, while maintaining an actual community feel."

[...]

The Parler CEO discussed with CNSNews a variety of other topics, including the platform's content moderation system, its recent growth from 1 million to 3.3 million users, its plan to implement a "groups" feature, the dropping of an indemnification clause in its user agreement, and the company's plans to combat other kinds of tech censorship.
Shimshock made sure to gloss over the fact that Parler is only now having a "real lawyer" review its policies doesn't exactly inspire confidence in the company, as does its walking back of certain policies that contradict its reputation in right-wing media as a "free speech" platform, like not allowing users to sue Parler and forcing users to pay Parler's legal fees.
Shimshock also pushed the false idea that the only reason the America's Frontline Doctors video was taken down by other social media sites was because "a doctor posited [hydroxychloroquine] as a cure for the coronavirus." In fact, the video included several other pieces of false or misleading information; as one actual doctor summarized, video participants claimed "that there is no need for masks, and that schools can open right away without any effect on viral spread. In addition, they continue promoting the false claim that this virus is less deadly than the flu, and that tracking its spread and numbers is unimportant."
Mercer money
It turns out there's a reason for all this MRC enthusiasm for Parler -- one it has yet to tell its readers.
It was revealed in November that conservative financier Rebekah Mercer is a key investor in Parler -- so much so that she's considered a co-founder. If that name sounds familiar, it should: As ConWebWatch has documented, not only is Mercer's family donated millions of dollars to the MRC over the years, making it one of its largest benefactors, Rebekah Mercer sits on the MRC's board of directors.
But the MRC has censored that connection, even as its promotion of Parler ramped up around election time:
This lack of disclosure further affects what little credibility the MRC has. Meanwhile, Parler was turning into more of a cesspool than it already was as pornography became prominent on the site; the normally porn-hating MRC was silent about that too.
Riots and demise
The fallout of the Jan. 6 right-wing riots at the Capitol revealed that it was planned in part on Parler and that Parler users made explicit threats of violence there beforehand. And when Parler was held accountable, the MRC rushed to defense mode once again. Hall huffed in a Jan. 8 post hyperbolically headlined "TRUMPED! Google PURGES Parler App; Apple Threatens to Remove It":
Big Tech's crusade against conservatives continued furiously Friday night. Google removed the Parler app from its store and Apple threatened to do the same.

Free market advocates repeatedly told conservatives the solution to Big Tech censorship was building their own platform. Now Google has removed a free speech platform from its store, blocking millions from accessing the app.

[...]

Popular conservative podcast and YouTube host Dan Bongino partnered with Parler and took an ownership stake in Parler.
The next day, Hall whined that "The "Amazon Employees For Climate Justice" group published a shrill demand that the company's leadership do whatever it can to get Parler wiped off the internet," rehashing his earlier lament: "Free market advocates repeatedly told conservatives the solution to Big Tech censorship was building their own platform. Now Google has removed the free speech platform Parler from its store, blocking millions from accessing the app. Amazon appears to be taking it a step further by undermining the ability of the website to even operate online."
Hall also touted how "Conservative stars Rush Limbaugh, Mark Levin, and Lou Dobbs left Twitter in disgust after it purged sitting President Donald Trump" and were moving to Parler. In all of these instances, Hall censored both the Mercer connection and the riot planning and incitement to violence that appeared on Parler.
Later that day, Hall ranted:
The tech tyrants came after Parler with a vengeance. Apple and Google have refused to carry the platform as a downloadable app, and Amazon has gone one step further by denying the fledgling platform access to its servers.

"Amazon on Saturday kicked Parler off its Web hosting services." Buzzfeed reported Jan. 9.

"Amazon's suspension of Parler's account means that unless it can find another host, once the ban takes effect on Sunday Parler will go offline," the article explained further.
Again, Hall censored the Mercer connection and the riot planning and incitement to violence.
Meanwhile, P.J. Gladnick huffed: "One thing that could be said for Standard Oil's John D. Rockefeller. Although he was a monopolist, he never openly gloated nor mocked the competitors that he suppressed or destroyed. The same cannot be said of the twenty-first century blatant monopolist, Jack Dorsey of Twitter. Not content to act in tandem with other social media monopolists in order to attempt to destroy his competitor, Parler, he rubbed salt in the wound he helped create by gloating about it with a mocking tweet." Of course, Rockefeller was much worse to his competitors than Twitter's Dorsey ever has been.
On Jan. 11, Hall highlighted how "Free speech platform Gab said it archived a hoard of 'disgusting' tweets replying to President Donald Trump's account before it was banned." Hall would only admit that Gab was "controversial," but was on censorship patrol here too: as ConWebWatch has documented, it's an even worse cesspool of far-right hate and conspiracy theories than Parler is. In addition to the usual information he was hiding, Hall omitted a couple other things: Gab and Parler were feuding before Parler got pulled off Amazon's web-hosting service, and Parler was so poorly built that people were able to download Parler messages that included geolocation data, meaning that it would be quite easy to identify Parler users who took place in the Capitol riot.
Kayla Sargent joined in with a post headlined "Fighting Back":
The left is trying hard to shut down free speech-oriented social media platforms like Parler and Rumble. Now, these companies are fighting back.

Parler and Rumble have filed suit against Amazon and Google respectively, in an apparent effort to fight Big Tech censorship.

Apple and Google purged Parler from their app stores, then Amazon took things a step further. It totally removed the app from its servers. Parler decided to return fire against Amazon, and in a lawsuit filed on Jan. 11, accused Amazon Web Services Inc (AWS) of "violating Section 1 of the Sherman Antitrust Act" and "breaching [its] contract with Parler."

Like her MRC compatriots, Sargent censored both the riot incitement that occurred on Parler and the Mercer conflict of interest.
Sargent and the MRC have yet to tell its readers that the lawsuit was swiftly thrown out of court because Amazon can't be forced to host Parler's hate since that's a breach of Parler's hosting contract with Amazon.
Joseph Vazquez spent a Jan. 14 post complaining that "The Washington Post Editorial Board praised the shutdown of free-speech platform Parler by the company owned by the same 'world's richest person' that owns The Washington Post." Vazquez couldn't complain that the Post editorial didn't disclose that Jeff Bezos owns the Post -- instead, he huffily acknowledged it by complaining that the editorial "even admitted that Bezos owns both the newspaper and the company it praised for shutting down a tech competitor" -- but he didn't disclose that his paycheck comes in part from Parler's major funder.
The same day, Alexander Hall complained:
The censorship frenzy that began with the suspension of President Donald Trump put the conservative movement on notice: Conform and comply or be destroyed.

The conservative solution to Big Tech censorship isn't as simple as "just build your own platform." Despite years of the right being told just that. Multiple Big Tech companies worked together to deplatform free speech app Parler, a move which the platform's CEO suggested may prove fatal.
Also on Jan. 14, Sargent cheered how Texas Attorney General Ken Paxton (R) has demanded answers from several Big Tech companies about the suppression of the free speech-oriented platform Parler." Not only did Marsh and Hall fail to disclose their financial ties to the funder of Parler, Marsh failed to tell her readers that Paxton is under federal investigation for corruption.
Alex Christy grumbled in a Jan. 15 post that folks on CNN argued that Parler can't be fixed to get rid of the hate. He worked in some good old-fashioned Soros fearmongering as well: "CNN was roughing up Facebook on Friday, using a report from the Tech Transparency Project -- which is described as 'nonpartisan' but is transparently funded by leftist George Soros."
Vazquez returned on Jan. 21 to help then-Parler CEO John Matze play the victim:
Parler CEO John Matze flipped the script on Amazon, which had accused his platform of inciting violence and removed it from its web services as a result.

Matze and his family have since gone into hiding after reportedly receiving death threats.

Matze accused Amazon Web Services (AWS) of running a "PR campaign" with other tech companies against his company Parler. He said that these companies claimed "falsely, you know — without any evidence really other than a couple of articles that didn't have any evidence either — that, you know, Parler, somehow, was responsible for inciting violence." Matze said that such an accusation against his company was "crazy because their statements alone — on the first day that it was released, you know, had over a thousand death threats to our lawyer alone. Our employees are harassed, you know. We're harassed."

Matze didn't mince words during the Jan. 18 edition of &Hannity and fired back at Amazon: "[T]he one inciting violence is AWS — Amazon — who incited, you know, economic violence against our company and has, you know, created people who actually want to threaten us and our employees too."
Vazquez didn't note any example of Matze offering evidence that anyone from Amazon Web Services explicitly threated Matze or his family. He also let Matze's denial that Parler incited violence go unchallenged, even though there's plenty of evidence to support the claim that it did. And, of course, Vazquez said nothing about the fact that his paycheck is funded partly by the same women who funds Parler.

More victimization came from Alex Schemmel in a Feb. 2 post complaining that Bezos' successor as Amazon CEO is the man who runs Amazon Web Services, "the division of Amazon that canceled services to the free-speech site Parler following the Jan. 6 riot in the U.S. Capitol building," disingenuously adding, "Parler is the free-speech alternative to Twitter that conservatives began flocking to after social media firms started aggressively censoring conservative content." Schemmel certainly knows that "conservative content" is not the reason AWS deplatformed Parler -- unless he's telling is that hate and violence is now considered "conservative." He too failed to disclose the Mercer conflict of interest.

Meanwhile, other things were happening with Parler: In a bid to get back online, it signed a deal with with a Russian cybersecurity firm that has ties to the Russian government, and Matze was fired as Parler CEO reportedly after tangling with Rebekah Mercer. The MRC devoted no posts to those developments; a Feb. 8 post by Hall noted that Matze was Parler's "ex-CEO" but didn't explain why he was fired.
Parler's return -- and more Mercer-censoring
Hall sounded a lot like a paid hype man-slash-PR representative for Parler in a Feb. 15 post:
The wildly popular free speech platform Parler has made a sudden return after being nuked from the internet by Amazon Web Services back in January.

"Parler, the world's #1 free speech social media platform with over 20 million users, is announcing its official relaunch today, built on sustainable, independent technology and not reliant on so-called 'Big Tech' for its operations," the social media platform revealed on Monday in a press release. "Parler's relaunch—open to Americans of all viewpoints—is available immediately."

Parler's interim CEO Mark Meckler explained how Parler has risen from the ashes of being deplatformed earlier this year: "When Parler was taken offline in January by those who desire to silence tens of millions of Americans, our team came together, determined to keep our promise to our highly engaged community that we would return stronger than ever."

The platform explained in its press release that "Parler's new platform is built on robust, sustainable, independent technology." It also specified that the platform will only be available first for "its current users only in the first week, with new users being able to sign up starting the following week."

The email assured readers that Meckler is a "free speech advocate" with "expertise in launching, growing and developing effective business and technology models for two of the largest grassroots organizations in modern American history, Tea Party Patriots and Convention of States."
The mention of Meckler (Hall linked to Meckler's, um, Twitter account) as interim CEO might come as a surprise to MRC readers who were barely told that Matze had been fired. But Hall was eager to throw Matze under the bus:
Meckler has been tapped to temporarily lead the company as it overhauls its leadership after its previous CEO left amid controversy.

Ex-Parler CEO John Matze explained to Axios on HBO that Parler's negotiations to bring Trump onto their platform never materialized. "I didn't like the idea of working with Trump, because he might have bullied people inside the company to do what he wanted. But I was worried that if we didn't sign the deal, he might have been vengeful and told his followers to leave Parler," Matze stated.

Matze had also written a memo to employees with dubious claims regarding why he had been terminated. "However, Fox News contributor and Parler co-owner Dan Bongino doesn't see eye to eye with Matze's version of the ousting," Fox news reported. "Bongino said there were 'two separate visions for the company' and the 'free speech vision' originated from Bongino and other owners of the company."
Hall linked to a Fox News article on the controversy that included a fuller quote from Matze stating that "the Parler board controlled by Rebekah Mercer decided to immediately terminate my position as CEO." Yep, that's the same Rebekah Mercer whose family has donated millions of dollars to Hall's employer and sits on the MRC board.
Weird how Hall didn't mention that detail; indeed, Hall made no mention of Mercer at all, even though she's reported to have played a major role in firing Matze. As NPR reported:
In an interview with NPR, Matze claimed that there was a dispute with Mercer over just how far Parler would take its openness to free speech. He said that if the company wanted to succeed, Parler would have crack down on domestic terrorists and any groups that incite violence, including the Trump-supporting conspiracy theory QAnon.

"I got silence as a result," Matze said.

Matze said that after the attack on the Capitol, he felt that the site had to step up its content-policing efforts.

"To me, it was a clear indication of what could have happen if we didn't change the ways were being done," he said.
It has since been claimed that, according to other Parker officials, the Parler board stripped Matze of his entire ownership stake, despite his being a co-founder. Further, seemingly contrary to its right-wing reputation of allowing all speech no matter how offensive, Parler has not only reportedly banned far-right provocateur Milo Yiannopoulos, it also allegedly suspended Matze's account for a time. Meanwhile, despite having an interim CEO, Mercer appears to be the one running the show these days at Parler.
But fully reporting the happenings around Parler was not Hall's concern. It was time for him to go back into hype-man mode:
Conservatives and free speech commentators are abuzz over the fact that Parler has come back online.

"The internet is a better place with @parler_app!" Conservative commentator Brigitte Gabriel proclaimed on Twitter.

Parler had originally been kneecapped by multiple tech companies in January.
Hall conveniently didn't mention those pesky posts filled with hate and threats of violence that were the actual reason Parler was "kneecapped." But the truth isn't really his concern.
CNS similarly touted Parler's return in a Feb. 15 article by Craig Bannister, who was also in PR mode by describing Parler as a "free speech social media platform" and censoring all mention of Mercer. Bannister also spun a fanciful tale of why Parler got deplatformed: "Parler was taken offline after Big Tech companies cancelled services that enabled it to have an online presence. Big Tech had demanded Parler join social media platforms, such as Twitter and Facebook, in censoring conservative content." Like Hall, Bannister also apparently believes hate and violence are acceptable "conservative content."
Again: For the MRC, the victimization narrative means everything. The truth means nothing -- and neither does full disclosure of a obvious conflict.
The latest from