Right-Wing Fact-Checker Attacks Other Fact-Checkers
Topic: CNSNews.com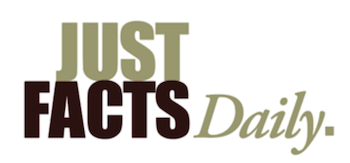 We've identifed Just Facts, run by James Agresti, as a fact-checker with a clear right-wing bias that leads it to bend the truth to fit conservative narratives, despite the Media Research Center's attempt to suggest otherwise and its own dubious insistence that it cares only about "rigorously documented facts about public policy issues." Agresti peddles more misinformation in an Aug. 27 column published at the MRC's "news" division, CNSNews.com. He writes in attacking other (non-right-wing) fact-checkers for failing "to get even basic facts correct":
In the final presidential debate between Hillary Clinton and Donald Trump, Clinton said that "half of all" illegal immigrants in the U.S. "actually pay federal income tax."

A Pulitzer Prize-winning fact check organization named PolitiFact looked into Clinton's claim and reported: "While there is no official figure, experts estimate that about half of all undocumented workers pay federal income taxes, if not more."

In reality, the polar opposite is true. Data from the IRS, the Social Security Administration, and the Congressional Budget Office show that roughly half of illegal immigrants file federal tax returns, but virtually none of them pay federal income taxes. Instead, they file these returns to claim refundable child tax credits, which give them cash welfare payments for every child they have.

Are we supposed to believe that PolitiFact doesn't understand that "paying income taxes" is not the same as "filing tax returns to get welfare?"
Agresti aggressively misses the obvious: If these undocumented workers did not pay those income taxes -- and have been documented doing so by the IRS and other federal offices -- they would not be eligible to get those child tax credits. The fact that these workers got the tax credits does not negate the fact they paid into the system.
Agresti cited a couple other examples of picayune hair-splitting he didn't agree with -- even though he did the exact same thing, then parroted the MRC narrative that fact-checkers are just a bunch of nasty liberals:
So what's the common thread here? They all mislead in ways that support progressive political agendas. This is not a coincidence. I've examined countless fact checks that are rife with deceit, and in nearly every case, it's the same story: They mangle the truth in ways that advance leftist narratives.

Why would they do this? I can't read their minds, but this can only boil down to two factors: incompetence and/or dishonesty.
So what's Agresti's excuse for his truth-mangling attack on PolitiFact in an attempt to advance a political narrative -- incompetence or dishonesty?
Posted by Terry K. at 12:37 AM EDT