MRC Takes Another Cheap Shot At Sandra Fluke
Topic: Media Research Center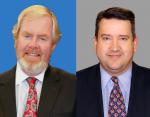 You might recall that the Media Research Center was one of the most vociferous defenders of Rush Limbaugh following his three-day misogynistic tirade against Sandra Fluke, with MRC chief Brent Bozell refusing to offer any meaningful criticism and launching an "I Stand With Rush" website and his MRC underlings enthusiastically endorsing Rush's misogyny.
Fluke's loss in her race to be elected to a California state senate seat gave the MRC an opportunity to another cheap shot at Fluke. In their Dec. 27 column, Bozell and Tim Graham sneer: "Even that paragon of permissiveness Sandra Fluke couldn't exploit her Limbaugh-victim aura to win a state Senate seat in libertine California."
How does advocating for birth control make one a "paragon of permissiveness"? Bozell and Graham don't explain, perhaps because the exact opposite is true: Fluke is demonstrating her responsibility.
Apparently Bozell and Graham think every woman who takes birth control is a slut or a prostitute, just like Limbaugh said.
Even that paragon of permissiveness Sandra Fluke couldn't exploit her Limbaugh-victim aura to win a state Senate seat in libertine California. - See more at: http://newsbusters.org/blogs/tim-graham/2014/12/26/bozell-graham-column-cultural-winners-and-losers-2014#sthash.f0FvhpK5.dpuf
Even that paragon of permissiveness Sandra Fluke couldn't exploit her Limbaugh-victim aura to win a state Senate seat in libertine California. - See more at: http://newsbusters.org/blogs/tim-graham/2014/12/26/bozell-graham-column-cultural-winners-and-losers-2014#sthash.f0FvhpK5.dpuf
Even that paragon of permissiveness Sandra Fluke couldn't exploit her Limbaugh-victim aura to win a state Senate seat in libertine California. - See more at: http://newsbusters.org/blogs/tim-graham/2014/12/26/bozell-graham-column-cultural-winners-and-losers-2014#sthash.f0FvhpK5.dpuf
Posted by Terry K. at 6:24 PM EST
Updated: Friday, January 2, 2015 6:24 PM EST