For The MRC's Graham, Ted Cruz Is He Who Must Not Be Criticized
Topic: Media Research Center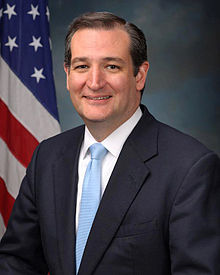 As we saw with his attempt to whitewash Scott Walker's "Molotov" gaffe, Media Research Center director of media analysis Tim Graham is not afraid to play defense for conservatives he deems sufficiently conservative. That extends to trashing anyone who dares criticize his sainted conservatives.
Which explains the Heathering job Graham unleased on conservative Washington Post columnist Jennifer Rubin in a Dec. 15 NewsBusters post for committing the offense of criticizing right-wing darling Ted Cruz. Graham's headline sneered that Rubin is a "So-Called WashPost 'Conservative' Blogger," and it just went from there:
The most dishonest advertising in The Washington Post isn't selling soap or shoes or automobiles. It doesn't come phonier than this: "Jennifer Rubin writes the Right Turn blog for The Post, offering reported opinion from a conservative perspective."

Rubin spent 2012 insisting that every conservative presidential contender was unelectable except Mitt Romney, who was neither conservative nor electable, as it turned out. Rubin's still at it, as in her latest screed from Sunday, headlined "Senate passes spending, GOP still despises Ted Cruz: The cromnibus passes despite Ted Cruz's ego trip."

Which part of the GOP? The wing of the party that endorsed Barack Obama in 2008? Notice how Rubin sounds very much like your standard-issue liberal Post reporter, suggesting the "far right" is going to ruin the Republican Party. Just like she saw sweet victory in Romney, she was wrong in thinking Ted Cruz's Obamacare filibuster would kill GOP hopes in 2014:

[...]

An actual conservative blogger would point out that it's a little odd for Republicans to take over the Senate and add seats to the House as they opposed amnesty and Obamacare, and then betrayed both campaign stands in the first spending bill after the electon. Jen Rubin's blog should be called "Establishment Turn," spinning the news from a "liberal Republican perspective."
And that's not even the only defense of Cruz Graham mounted this past week. Graham and Brent Bozell's Dec. 17 column expressed dismay that anyone would dare criticize Cruz for traying to derail a Senate appropriations bill:
Sen. Ted Cruz and Sen. Elizabeth Warren are polar opposites, a Tea Party conservative and an Occupy Wall Street socialist. Then there are the similarities: Both were elected in 2012, both have Harvard on their resume and both are mentioned as presidential material. But the media's read of the two demonstrates an unquestionable slant.

Both senators have shaken up the Senate over heavy spending and regulation. When Warren does it, she's promoted as a profile in courage, standing up for fairness. When Cruz does it, he's a selfish brat causing meltdowns.

[...]

All this provides a precise GPS location for our liberal media. To them, Ted Cruz is a dangerous extremist, but Warren is their heroine — compassionate, professorial and politically and economically correct. Anyone who expects objectivity from the press is badly out of touch.
Graham and Bozell carefully omit the actual offenses that were caused: Warren merely gave a speech and didn't try to derail the bill-making process. Cruz, meanwhile, along with Sen. Mike Lee, did delay a vote on a massive appropriations bill, a delay Senate Majority Leader Harry Reid took advantage of by advancing dozens of Obama appointees that Senate Republicans had delayed for months. Even solid conservatives like Charles Krauthammer were apoplectic at the move.
But as far as Graham is concerned, Cruz can do no wrong, and woe to anyone who dares criticize him. How does playing defense for a politican qualify under the "education" mission the MRC is supposed to have under its nonprofit tax status?
Posted by Terry K. at 10:19 PM EST
Updated: Sunday, December 21, 2014 11:24 PM EST