CNS Bases 'News' Article On Right-Wing Website's Rant
Topic: CNSNews.com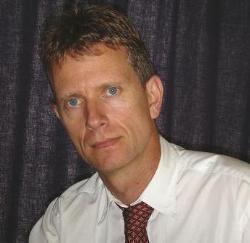 We have previously praised CNSNews.com's writer Patrick Goodenough for being an unusually fair and balanced writer for the ConWeb. But it appears he has been fully assimilated into the borg.
In a Jan. 14 CNS article, Goodenough fretted about Israeli "media bias" because the purported cause of "Reports claiming that Israeli Prime Minister Binyamin Netanyahu angered French President Francois Hollande by taking part in Sunday's mass rally in Paris":
Israeli media also charged that the prime minister had unceremoniously shoved his way to the front row, where he joined the leaders of France, Germany, Mali, the European Union, the Palestinian Authority (P.A.) and others.

The left-wing daily Ha'aretz cited an unnamed Israeli source as saying France had privately asked Netanyahu not to attend; that Netanyahu had agreed but changed his mind after learning that two political rivals were planning to go; and that France had then retaliated by inviting P.A. chairman Mahmoud Abbas to take part.

[...]

By contrast, a review of French media reporting on the rally finds no French officials – named or otherwise – cited as confirming tensions between Hollande and Netanyahu.

[...]

In an op-ed in the conservative Israel Hayom daily on Tuesday, Haim Shine, a member of board of governors of Jewish Agency, said the anti-Netanyahu media's coverage of the Paris visit "shows the degree to which they resent Netanyahu and the Israel he represents."


Note the pejorative labeling of Ha'aretz as "left-wing" while Israel Hayom is benignly described as "conservative." Actually, Israel Hayom appears to be as right-wing as Goodenough claims Ha'aretz is to the left.
This is the kind of pseudo-news CNS usually provides -- Goodenough offers no particular demonstrated expertise on "media bias" in Israel, and even CNS' parent, the Media Research Center, does next to nothing on the subject. Then he cuts to where he apparently got the idea for his article:
Writing on the Frontpage magazine site, Freedom Center fellow Daniel Greenfield said the sources of the reporting were "a major reason to be skeptical of the claims" about the Hollande-Netanyahu spat, adding that "the lack of French reports confirming it are suspicious."

"While it's entirely possible that Hollande really did not want Netanyahu to come, the sourcing on this story is from Ha'aretz," he said. "Ha'aretz is a left-wing Israeli publication that will print absolutely anything negative about Netanyahu that it can."

"Israel is in an election season now, and one of the domestic political attacks against him is that he alienated Obama and Europe. So this particular line plays all too well into the attack campaign by Ha'aretz's favorite candidates."
Strange that in an article that's supposed to be about biased news outlets, Goodenough doesn't identify the political Leanings of FrontPageMag. It's the digital platform for far-right activist David Horowitz and is not interested in actual "news" or unbiased research, as Greenfield's completely unsupported claim that Ha'aretz will "will print absolutely anything negative about Netanyahu that it can" amply demonstrates.
Greenfield goes on to sneer that "Haaretz is an untrustworthy source in general and a particularly untrustworthy source for anything involving Netanyahu," again without providing any evidence to back it up.
Horowitz and his FrontPageMag are so far out of the political mainstream that the last time we wrote about them, it was because a Greenfield rant about "the leftist hijacking of black identity" contained a doctored image of Hillary Clinton in blackface.
That's the level of discourse that takes place there. Why did Goodenough think this screed needed to be sanitized and elevated?
Posted by Terry K. at 10:24 PM EST