CNS Portrays Gays As Diseased To Fight Lifting of Blood Donation Ban
Topic: CNSNews.com
CNSNews.com is so unhappy with a federal decision to move toward lifting a ban on gay men donating blood that it's pulling out all the stops to portray gays as filthy and diseased.
In a Dec. 30 article noting the decision, Penny Starr makes sure to tell us that "men who have sex with men (MSM) have much higher rates of sexually transmitted diseases such as syphilis compared to heterosexual men," and that "men having sex with men are at highest risk for getting HIV and represent the largest number of new infections, as well as the higher syphilis rates and higher rates of drug use."
Starr also repeats the testimony of Family Research Council official Peter Sprigg against lifting the ban, but she doesn't mention that the FRC is a rabidly anti-gay group whose testimony can't be trusted as objective.
How dedicated is Starr to portraying gays as disease-ridden parasites? Her article includes, for no apparent reason, a picture of an alleged "skin rash caused by syphilis":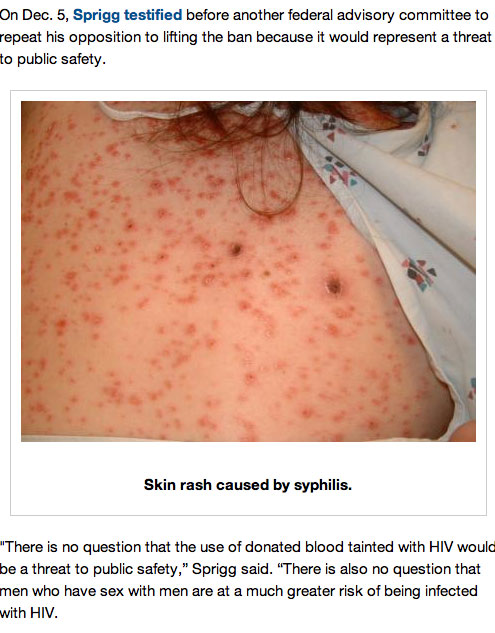 Starr does not source the picture, so it's unclear what the picture is actually of.
Starr's homophobic smear is a part of CNS'
overall
denigration
of LGBT issues as unworthy of being taken seriously by the federal government.
Posted by Terry K. at 8:01 PM EST