The MRC's 'No True Scotsman' Theory of Christian Violence
Topic: Media Research Center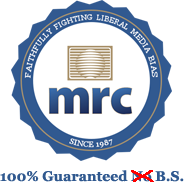 "No true Scotsman" is the informal name of a logical fallacy that seeks to exclude a person from a group for certain behavior by claiming that through engaging in that behavior, they aren't a "real" member of that group.
Or, as the Media Rsearch Center interprets it: If a Christian committed an act of violence or terror, he or she is not a Christian. The point, of course, is to drive home the point that Muslims who commit terroristic acts, i.e. the Charlie Hebdo attack, are acting in accordance with their group.
In a Jan. 7 MRC item, Kristine Marsh took offense when someone brought up an incident of a Christian who beheaded someone last year. Marsh insisted that the perpetrator was "heavily drugged man with fanatical 'Christian' beliefs," then huffed: "While this man was rightly described as a "religious zealot," if there's a beheading revival sweeping Christian denominations, we're unaware of it. It takes an awful lot of magical thinking to seriously compare one random psychotic event to a the near-weekly decapitations by ISIS – not to mention al Qaeda's fondness for sawing off infidels' heads on video – and other common atrocities committed explicitly in the name of Islam."
When another person on TV pointed out that Anders Breivik, who massacred dozens in Norway, was a Christian, Matthew Balan denied it in a Jan. 12 item, claiming that Breivik "considered himself to be a 'cultural Christian,' and condemned then-Pope Benedict XVI, as well as Protestant churches. So, just as in the case of the Lord's Resistance Army, Breivik isn't a serious Christian."
Yet all Muslims are somehow responsible when someone claims to kill in the name of Islam. Interesting.
Posted by Terry K. at 7:29 PM EST