CNS' Hollingsworth Pushes Questionable Talking Points on Financial Crisis
Topic: CNSNews.com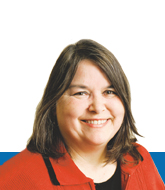 It's time for more uncritical stenography courtesy of CNSNews.com's Barbara Hollingsworth, as demonstrated in a Dec. 30 CNS article:
Another housing bubble is "very likely if we don't change our policies," warns Peter Wallison, a former member of the Financial Crisis Inquiry Commission (FCIC), which investigated the "avoidable" 2008 financial meltdown.

"It's going to happen again because we'll have the same kind of housing market again," explained Wallison, who is currently co-director of financial policy studies at the American Enterprise Institute (AEI).

Just six years after the overheated housing market bubble burst, triggering the Great Recession, Fannie Mae and Freddie Mac, which are still under government conservatorship, have been told to accept 3 percent down mortgages and to turn over a percentage of every loan they process to a government trust fund for affordable housing.
Hollingsworth is so lazy that she's literally transcribing her interview, as this sentence structure demonstrates:
Didn't you write that Fannie and Freddie's lowering of underwriting standards to help people buy houses they couldn't afford was "the root cause" of the financial crisis? CNSNews.com asked Wallison.

[...]

How can Fannie and Freddie, which were established to stabilize the nation's housing market, justify doing the same things that triggered a market collapse just six years ago? CNSNews.com asked him.
Since Hollingsworth is a stenographer instead of a reporter, she can't be bothered to seek out any view that contradicts that of Wallison. For instance, the fact that Wallison's assertion that Fannie and Freddie was the "root cause" of the financial crisis has been utterly discredited by actual experts. McClatchy reported:
Between 2004 and 2006, when subprime lending was exploding, Fannie and Freddie went from holding a high of 48 percent of the subprime loans that were sold into the secondary market to holding about 24 percent, according to data from Inside Mortgage Finance, a specialty publication. One reason is that Fannie and Freddie were subject to tougher standards than many of the unregulated players in the private sector who weakened lending standards, most of whom have gone bankrupt or are now in deep trouble.

During those same explosive three years, private investment banks — not Fannie and Freddie — dominated the mortgage loans that were packaged and sold into the secondary mortgage market. In 2005 and 2006, the private sector securitized almost two thirds of all U.S. mortgages, supplanting Fannie and Freddie, according to a number of specialty publications that track this data.

In 1999, the year many critics charge that the Clinton administration pressured Fannie and Freddie, the private sector sold into the secondary market just 18 percent of all mortgages.
Hollingsworth didn't mention the conclusion of the FCIC report that Wallison took part in found that delinquency rates for mortgages guaranteed by Fannie and Freddie "were substantially lower than loans securitized by other financial firms."
Further, Walliston and Hollingsworth's idea that Fannie and Freddie permitting 3 percent mortgages will somehow cause a new financial crisis (or played any significant role in the old one) are incredibly overblown. If Hollingsworth would have actually read the Bloomberg article she linked in her own article, she would have noticed this:
Laurie Goodman, director of the Housing Finance Policy Center at the Urban Institute in Washington, said Watt's move is an important first step in expanding credit. A study of Fannie Mae data by Goodman and other researchers found that credit scores had more bearing than the size of the down payment on whether borrowers defaulted.

The study concluded that allowing loans with down payments between 3 percent and 5 percent is likely to have a "negligible" effect on mortgage risk. These loans made up only about 1 percent of Fannie Mae originations when they were previously allowed.

[...]

Most lenders will welcome the loans as well, said Dave Stevens, CEO of the Mortgage Bankers Association in Washington.

"These loans will be underwritten more conservatively and will likely come with higher mortgage insurance costs," Stevens said. "History has shown that these loans, when properly underwritten, perform well."
But that's what you get when you let a stenographer do reporting: politically biased stenography.
Posted by Terry K. at 9:11 PM EST