WND's Farah Can't Stop Telling Lies About Obama
Topic: WorldNetDaily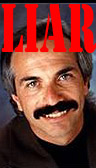 WorldNetDaily editor Joseph Farah is unusually proud of the fact that his website publishes misinformation -- indeed, he essentially bragged about doing so, since he admitted doing it to a Salon reporter without apologizing or promising to do better.
In keeping with his tradition of peddling lies, Farah devoted his Dec. 26 column to telling more of them. After invoking the racially charged image of lazy black men by asking, "Imagine how bad off America would be if Barack Obama had a work ethic," Farah manufactures offense that Obama watches ESPN once in a while instead of obsessing about politics all day:
Think about that statement.

No. 1, we already know Obama takes more vacations than any 50 families in America combined, right? And those outlandishly expensive vacations are paid for by you and me.

No. 2, we know he plays more golf than most pros. Do you think he pays for his golf outings? Of course not.

Now we know he spends most of his mornings watching ESPN!
Farah is simply lying out of spite. While Obama had taken 125 full or partial days on vacation as of August, George W. Bush had taken 407 vacation days at the same point in his presidency. We don't recall Farah complaining about Bush taking "more vacations than any 50 families in America combined" -- even though the number would have to be increase to "any 200 families in America combined."
Farah's claim that Obama "plays more golf than most pros" is also a blatant lie. One hostile website claims that, as of this writing, Obama has played 208 rounds of golf. That equates to less than one round a week. By contrast, your typical golf pro plays four rounds a week during a tournament, plus several more rounds of practice time.
Further, Obama's total is only one-fourth the amount reportedly played by President Dwight Eisenhower.
It appears that Farah doesn't understand how he's destroying what little credibility his "news" organization has by telling easily discredited falsehoods.
Posted by Terry K. at 10:46 AM EST